CNN
 — 

Her smile is bright, cheery, sometimes goofy and always contagious. But pictures can't completely capture her upbeat, positive vibe. At 21, Claire Bridges has a mature spirit that amazes those who love her as well as the doctors who had to operate on her heart and remove both legs to save her life.
"She had a will to live, perseverance and a sort of twinkle in her eye — I tell all my patients that's half the battle," said Dr. Dean Arnaoutakis, a vascular surgeon at the University of South Florida Health in Tampa who amputated Bridges' legs after complications from Covid-19.
"Most people would be despondent and feel like life had cheated them," said Dr. Ismail El-Hamamsy, a professor of cardiovascular surgery at the Icahn School of Medicine at Mount Sinai in New York City, who operated on Bridges' heart.
"But she told me, 'I feel like I'm the luckiest person on this planet. I have my whole life ahead of me. I can have kids, a future, so many things to look forward to.'
"There was not once that I looked into her eyes that I didn't feel her positiveness was true and genuine," he said. "Claire's story is one of just incredible resilience and positivity."
In January 2022, Bridges was a 20-year-old model with her own apartment, a gaggle of friends and a part-time job as a bartender in St. Petersburg, Florida. She was a vegan and "exceptionally healthy," according to her mother, Kimberly Smith.
When she caught Covid-19 that month, no one expected her be hospitalized. She was fully vaccinated and boosted.
But Bridges had been born with a common genetic heart defect: aortic valve stenosis, a mutation of the valve in the heart's main artery, the aorta. Instead of having three cusps, or flaps, that let oxygen-rich blood flow from the heart into the aorta and to the rest of the body, people with aortic valve stenosis are often born with just two. The condition makes the heart work extremely hard to do its job, often causing breathlessness, dizziness and fatigue.
"I could work out and stuff, but I could never play sports," she told CNN. "I couldn't run. I couldn't overexert myself."
Her mom added, "We could really tell she began to learn her limits as she got older — she would get out of breath, stop and take a break."
Whether due to her heart or another unknown reason, Covid-19 hit Bridges hard. Her health quickly spiraled out of control.
"Extreme fatigue, cold sweats — progressively every single day it would get harder to try to eat or drink anything," she recalled. "Then one day my mom found me unresponsive and rushed me to the hospital. I flatlined three times that night."
Bridges was put on dialysis, a ventilator and an exterior pump for her failing heart. She slipped into psychosis.
"I was thinking that everyone was trying to kill me, but I was holding on," she said, adding that she then saw a bright light and her late grandfather.
"He was sitting on a bench, fishing, and he was wearing a baseball cap," she said. "Then I saw my parents through a window. I don't know if I actually did or if it was in my delusion, but I thought, 'I can't leave them like this.' And my body just literally wouldn't give up."
While Bridges' spirit battled on, doctors struggled to save her life. Her organs began to shut down, further weakening her frail heart. Blood wasn't reaching her extremities, and tissues in both legs began to die.
Surgeons tried to save as much of her legs as possible. First, they opened tissue in both legs to reduce swelling, then amputated one ankle. Finally, there was no choice: Both legs had to be removed.
Doctors gathered around her bed to break the news.
"I remember looking up at them and saying, 'Well, thank you for saving my life. And oh, can I have bionic legs?' " Bridges said.
"Everyone was totally shocked that she was taking it so well," Smith recalled about her daughter. "But my entire family knew that if this tragedy had to happen to any of us, it would be Claire who would handle it the best. Upbeat and positive, that's Claire."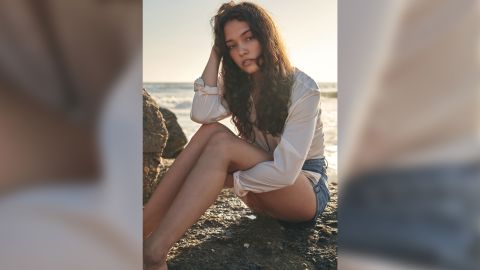 Losing her legs was only part of Bridges' struggle back to health. "There were so many things that she could have died from while she was in the hospital," Smith said.
Malnourished, Bridges was put on a feeding tube. She vomited, rupturing part of her small intestine, and "nearly bled out," Smith said. To save her, doctors had to do an emergency transfusion — a dangerous procedure due to her weak heart.
"She almost died while getting the emergency transfusion because they had to pump the blood in so fast," Smith said. "Then the next day she bled again, but they caught it in time."
Bridges developed refeeding syndrome, a condition in which electrolytes, minerals and other vital fluids in a malnourished body are thrown out of balance when food is reintroduced, causing seizures, muscle and heart weakness, and a coma in some cases. Without quick treatment, it can lead to organ failure and death.
In another blow, her hair began to fall out, likely due to the loss of proper nutrition. Her family and friends came to her rescue.
"I knew that the only way to stop me from sobbing every time I pulled chunks of hair out of my head was to just get rid of it all," Bridges said. "I told my brother Drew I was thinking about shaving my head, and without missing a beat, he immediately looked at me and said, 'I'll shave mine with you.'
"Then it snowballed into everyone telling me they would shave their heads, too," Bridges said with a smile. "It was actually an extremely sweet, fun and freeing time — plus I've always wanted to shave my head, so I got to cross it off my bucket list!"
Bridges credits her friends and family — along with members of the community who organized fundraisers or reached out on social media — for her upbeat attitude throughout the ordeal.
"I am very blessed to have such an amazing family and also friends and people in my community that are like family," she said. "People I didn't know, people that I haven't spoken to since elementary school or high school were reaching out to me.
"Yes, I allowed myself to grieve, and there were dark days. But honestly, my friends and my family surrounded me with so much love that I never had a second to really think negatively about my legs or how I look now."
Bridges' heart presented another hurdle: Already frail before her prolonged illness, it was now severely damaged. She needed a new valve in her aorta, and soon.
"We always knew Claire would need an open-heart surgery at some point," her mother said. "Doctors wanted her as old as possible before they replaced the valve because the older you are, the bigger you are, and there's less chance of needing another operation soon after."
Her doctors reached out to Mount Sinai's El-Hamamsy, an expert in a more complicated form of aortic valve replacement called the Ross procedure.
"Anybody who has an anticipated life expectancy of 20 years or more is definitely a potential candidate for the Ross," El-Hamamsy said, "and it's a perfect solution for many young people like Claire."
Unlike more traditional surgeries that replace the malfunctioning aortic valve with a mechanical or cadaver version, the Ross procedure uses the patient's own pulmonary valve, which is "a mirror image of a normal aortic valve with three cusps," El-Hamamsy said.
"It's a living valve, and like any living thing, it's adaptable," the surgeon said. "It becomes like a new aortic valve and performs all the very sophisticated functions that a normal aortic valve would do."
The pulmonary valve is then replaced with a donor from a cadaver, "where it matters a little less because the pressures and the stresses on the pulmonary side are much lower," he said.
The use of a replacement part from the patient's own body for the aortic valve also eliminates the need for lifelong use of blood thinners and the ongoing risk of major hemorrhaging or clotting and stroke, El-Hamamsy said. And because the new valve is stronger than the malfunctioning valve it replaces, patients aren't as likely to need future surgeries.
"Ross is the only replacement operation for the aortic valve that allows patients to have a normal life expectancy," he said, "and a completely normal quality of life with no restrictions, no modifications to their lifestyle and a very good durability of the operation."
The Ross procedure is more technically challenging than inserting a tissue valve or a mechanical valve, "some of the simplest operations that we as cardiac surgeons would ever do," El-Hamamsy said.
Because the operation takes a high level of technical skill, it's only available in a few surgical facilities at this time.
"It requires dedicated surgeons who want to commit their practice to the Ross procedure and who have the technical skills and expertise to do that," he added. "Patients need to know they should be undergoing the surgery in a Ross-certified facility."
When El-Hamamsy first met Bridges in a video call last spring, he wasn't sure he would be able to do the surgery. Only 127 pounds before she got sick, Bridges had lost nearly 70 pounds during her hospitalization.
"She was so emaciated. There was no way I could take her into the operating room the way she was," El-Hamamsy said. "I never expected that she would recover so quickly and keep her amazingly positive mentality."
Slowly, over many months, Bridges fought her way back to health. In rehab, she began to learn to walk with prosthetic lower limbs. As she got stronger, she has continued one of her favorite activities — rock climbing.
"At six months, I could hardly recognize her — she had gained weight back, her skin had fully healed over at the amputation sites, and she was a completely different-appearing person to the malnourished and debilitated girl I had met in the hospital," said Arnaoutakis, the vascular surgeon.
The heart operation was successfully done in December. Today, Bridges is in the middle of cardiac rehabilitation and looking forward to being fitted for prosthetic blades — J-shaped, carbon-fiber lower limbs that will allow her to run on a track for the first time in her life.
She's also returned to modeling, proud to show the world how well she has survived.
El-Hamamsy isn't surprised. "I told her from the day I met her on that Zoom, 'It will be such a privilege to look after you because you've inspired me. I've never met a young person with this level of maturity and outlook on life.'
"I still think of Claire every once in a while when I bump into difficulty with life or whatever. It's a reminder that happiness and positivity is a choice. Claire made that choice."