Five Texas women who say they were denied medically necessary abortions filed a lawsuit against the state Tuesday, saying its strict six-week ban put their lives at serious risk.
The lawsuit, filed on behalf of the women by the Center for Reproductive Rights, includes detailed accounts of their experiences and mirrors what reproductive rights experts warned would happen if the government took control of medical decisions away from patients and their health providers.
The five women ― Amanda Zurawski, Lauren Miller, Lauren Hall, Anna Zargarian and Ashley Brandt ― were each pregnant when their doctors informed them that their fetuses were not viable or would be born with severe abnormalities. Even more urgently, they learned, their own lives were at risk because of the pregnancies.
But because of a 2021 Texas law banning abortions once cardiac activity can be detected in the embryo or fetus, they would not be allowed to receive abortions in their home state, forcing them to either proceed down a dangerous path or seek care several states away.
One of the most harrowing accounts in the lawsuit comes from 35-year-old Zurawski, an Austin woman who was nearly 18 weeks pregnant last August when her doctor diagnosed her with an "incompetent cervix," meaning the organ had prematurely dilated and there was no possibility of her pregnancy resulting in a viable baby.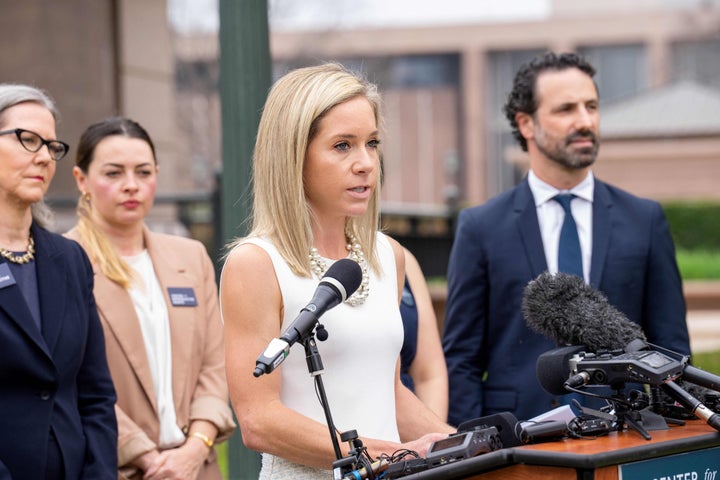 Those complications began to make her sick, but because she was still stable and the fetus had a heartbeat, the hospital told her the Texas ban meant there was nothing her doctors could do except wait for her to go into labor. Because there was a possibility she could deliver in the coming hours, doctors told her to stay within 15 minutes of the hospital ― eliminating the option of traveling out of state for an abortion.
On her way home from a check-up with her obstetrician days later, Zurawski "developed chills and started shivering, and by the time she got home, she had a temperature of 101 degrees and was not responding to her husband's questions — all signs of sepsis," the lawsuit lays out.
It wasn't until doctors confirmed she was septic ― a life-threatening reaction in the bloodstream to an infection ― that the hospital agreed to induce labor on a baby that would die shortly after birth.
Her infection persisted, landing her in the intensive care unit and causing severe scar tissue to develop in her uterus and fallopian tubes. One of her fallopian tubes remains closed and non-functional. Because of the damage to her reproductive organs, her doctors have told her she will likely have to attempt in vitro fertilization to become pregnant again ― a process that's often invasive, expensive and unsuccessful.
"I love Texas, and it kills me that my own state does not seem to care if I live or die."

– Lauren Hall, plaintiff
Zurawski joined other plaintiffs outside the Texas Capitol on Tuesday after announcing their lawsuit.
"What I needed was an abortion, a standard medical procedure," she said. "An abortion would have prevented the unnecessary harm and suffering that I endured, not only the psychological trauma that came with three days of waiting but the physical harm my body suffered ― the extent of which is still being determined."
The four other women in the lawsuit received similar news from their doctors mid-pregnancy and were all denied abortions because of the Texas ban. When it became clear their own health and lives were at risk, they were forced to travel out of state for abortions ― three of them to Colorado and one all the way to Washington state. Doing so can cost patients hundreds or thousands of dollars in travel costs, and even then it's not always an option, as Zurawski's case demonstrates.
Hall, who traveled to Seattle for an abortion after finding out that her non-viable pregnancy could cause her to hemorrhage, said she was scared she would not get proper care in Texas if that happened, and she had visions of herself bleeding to death on her bathroom floor.
"I love Texas, and it kills me that my own state does not seem to care if I live or die," she said Tuesday at the state Capitol.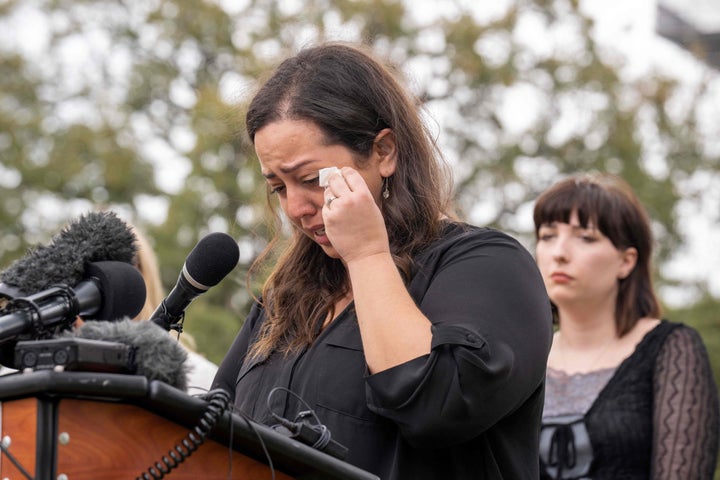 Though the Texas ban includes an exception for any "life-threatening physical condition" or "serious risk of substantial impairment of a major bodily function," Tuesday's lawsuit makes the case that the law may force hospitals ― wary of lawsuits and prison time for abortion providers ― to navigate a dangerously gray area and put off care until mothers are at death's door.
″[W]ith the threat of losing their medical licenses, fines of hundreds of thousands of dollars, and up to 99 years in prison lingering over their heads, it is no wonder that doctors and hospitals are turning patients away — even patients in medical emergencies like Amanda, Lauren M., Lauren H., Anna, and Ashley," the lawsuit says.
Vice President Kamala Harris extended her support to the plaintiffs on Tuesday and said she met with Zurawski to hear her story firsthand.
"Many extremist 'so-called' leaders espouse 'freedom for all,' while directly attacking the freedom to make one's own health care decisions," Harris said in a statement. "Like the overwhelming majority of Americans, the President and I believe women ― in consultation with their doctors ― should be in charge of their reproductive health care, not politicians."