8 Foods You Should Never Try To Cook In A Cast Iron Skillet
The cast iron skillet enjoys a well-earned reputation as a kitchen workhorse. This tool is both reasonably priced and shockingly durable, as proven by the fact that cast iron skillets are regularly passed down through generations of home cooks. Another point in favor of the cast iron skillet comes in the form of its versatility: "With a well-seasoned cast iron skillet, you can cook nearly everything," said Tiffany Swan, a trained chef, food scientist and recipe developer behind Salt + Sage.
But that "nearly" is doing some heavy lifting, because there are, without question, dishes that aren't well-suited to this particular type of pan. We asked a group of professional chefs and food scientists to share the foods that they'd never cook in cast iron, and they provided this list of eight dishes to avoid.
Tomato Sauce
Our consulted chefs largely agreed that acidic foods don't interact positively with unenameled cast iron, and they cited tomato sauce ― like marinara sauce, Bolognese sauce or shakshuka sauce ― as a prime example of an acidic dish that can wear down cast iron. Bryan Quoc Le, a food scientist and author, explained that "the acidity found in tomatoes is high enough to extract the iron from the cast iron." Tomatoes naturally include a high amount of citric acid (up to 9% of their body weight, according to Le), and "since the cast iron is bare and not alloyed with chromium, the surface will continue to oxidize and be stripped of the surface iron in the presence of tomato-based dishes," he said.
The risk of iron particles leeching into your sauce is really only relevant if you're making "a long-simmered tomato sauce," as brief contact with tomatoes won't release enough acid to affect the pan's surface, Swan noted. Also, the damage caused by the iron particles in the sauce is primarily flavor-related ― the leeching "is minimal enough that you don't need to worry about iron poisoning or ruining the seasoning of the pan," she said.
Dishes With Wine-Based Sauces, Like Chicken Piccata Or Coq Au Vin
Another example of an acidic dish that can react to cast iron, chicken piccata (breaded chicken cooked in lemon sauce) thrives in a pan with an enameled surface that won't have an impact on its finished flavor. The lemon itself can leech iron from the pan (much as tomato acid can). And another problem arises when you deglaze the pan with white wine, as many chicken piccata recipes require.
"If you're making chicken piccata and [plan to] make the sauce by deglazing the pan with wine, I would not recommend using cast iron," suggested Jeff Carter, the executive chef of Dancing Bear Appalachian Bistro in Townsend, Tennessee. "The cast iron will release flavors or seasonings into your white wine deglazing sauce and give it an off-putting flavor. If you must deglaze a cast iron pan, use stock or water ― never use acidic liquids like wine or vinegar."
The same goes for coq au vin. Deglazing a cast iron pan with wine isn't a great move, so it stands to reason that any "wine-heavy stews, sauces or braises" also don't thrive in cast iron, said professionally-trained chef and culinary educator Micole Rondinone. A dish like coq au vin, which involves chicken slow-braised in wine with mushrooms, pork lardons and vegetables, could be a victim of the wine's acidity pulling iron flavor from the skillet. Stick with an enameled Dutch oven or a deep enameled skillet for wine braises.
Adobo
According to chef Kevin Truong of Fil N' Viet in Austin, Texas, adobo, "a popular Filipino dish where meat or seafood is marinated in vinegar, soy sauce, garlic and other spices," shouldn't be prepared in a cast iron skillet, mainly because of the vinegar. "The high acidity of adobo from the vinegar will impart a metallic flavor in the dish," Truong said. Because the vinegar's acidity is so high, cooking a vinegar-based sauce in cast iron "could also mean you would have to re-season your cast iron skillet," he added.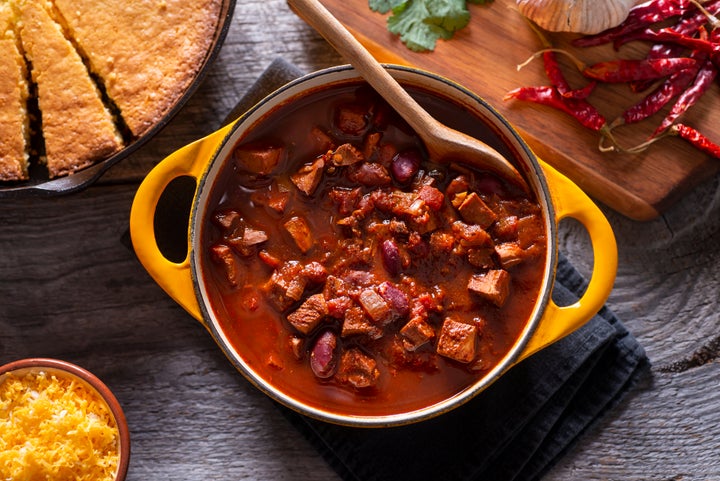 Brothy Beans
Boiling and simmering broth, water or other liquids in a seasoned cast iron skillet "will strip the pan of that nice patina and loosen the beautiful seasoning that you have achieved," said Gee Cuyugan, executive chef of Mercat a la Planxa in Chicago. If you'd like to skip the long process of re-seasoning your skillet, cook your brothy recipes in enameled or stainless steel pots.
Caramel
If you're making your own caramel sauce, keep in mind that caramel can easily absorb flavors ― and because most cast iron users don't thoroughly scrub their pans with soap after each use (as rigorous cleaning can remove the pan's seasoning), cast iron skillets are a poor choice for caramel-making.
"Caramel sauce will pull in the flavor or seasoning from your cast iron, making your dessert taste like the dishes made in your cast iron in the past," Carter warned.
Flaky Fish
Compared to nonstick pans and other lighter-weight cookware items, cast iron doesn't conduct heat with great efficiency. That's why Los Angeles-based chef Kai Chase chooses to avoid cast iron when cooking delicate, flaky fish like cod, sea bass, flounder and salmon.
"Flaky fish, such as salmon or flounder, are too delicate to cook in the cast iron skillet because it's a poor conductor of heat, unlike its nonstick counterpart," she said. "To cook a salmon filet, you need a pan that provides high heat transfer so the fish doesn't stick and break apart when you try to flip it ― a cast iron skillet can't do that."
Crepes
"For crepes, you need to be able to quickly and easily tilt the pan to be sure the batter/egg covers the pan's surface easily. That's really hard to do with a heavy cast iron skillet," explained Lisa Steele, author of the Fresh Eggs Daily Cookbook. "They're too heavy for me (and I would guess most people!) to lift with one hand and tilt to flip the food. Cast iron is nice to cook in generally because it retains heat so well, but this can also lead to overcooking or over-browning on crepes since they're so thin."
Omelets
On the topic of delicate dishes, "egg-based items like fried eggs and omelets are often difficult to cook correctly in cast iron," said chef/instructor Stephen Chavez of the Institute of Culinary Education.
Steele agreed that omelets don't make sense in cast iron. "Eggs in general tend to stick in cast iron, no matter how much butter or oil you use," she explained. "A good steel pan or an enameled skillet are both far better choices for omelets. You also want a very shallow pan with sloped sides so you can slide your spatula under to flip and/or fold the sides. But mostly, lifting the pan over and over to [flip an omelet] would be very tiring with a heavy cast iron pan."
Need a new cast iron skillet? Here are our favorites.
HuffPost may receive a share from purchases made via links on this page. Every item is independently selected by the HuffPost Shopping team. Prices and availability are subject to change.