When it comes to ice cream, the options in the freezer aisle of your grocery store are myriad these days, from full-fat dairy-based ice creams to brands like Halo Top that pack a surprisingly small number of calories (along with ingredients like erythritol, xylitol and guar gum). When it comes to what's "healthy" and what's not, there are a lot of factors at play.
In recent years, conversations about nutrition have shifted in a really positive direction, with support for mindful eating replacing old, harmful ideas about "guilty pleasure" foods. After all, eating foods that bring you pleasure "can catapult the brain into feeling happier and more positive, thanks to the surge of serotonin, which is considered essential and healthy," said Tracy Lockwood Beckerman, a New York City-based registered dietician and author.
Ice cream falls into this category, and "healthy" ice cream options can include low-sugar and dairy-free versions, as well as full-fat and dairy ice creams eaten in moderation.
We asked dieticians, nutritionists and doctors to recommend the healthiest ice creams sold at grocery stores, and they provided these eight suggestions, all available nationwide.
Haagen-Dazs Ice Cream
It's easy to be skeptical about the idea that full-fat dairy ice cream can be worked into a healthy diet, but our experts overwhelmingly agreed that it's very possible, as long as you pay close attention to the ingredients. Caroline Young, the registered dietician behind Whole Self Nutrition, argued that these ice creams "are typically the best options, unless you have a dairy allergy or intolerance. I find full-fat dairy to be the most satiating option, which makes sense, because fat is the main nutrient that makes food satisfying!"
When helping clients interpret ingredient lists and figure out which treats to add to their diets, Dr. Lisa Oldson, a physician specializing in internal medicine and obesity medicine who's also an instructor at the Feinberg School of Medicine at Northwestern University, urges them to pick "desserts made with actual food, rather than ultra-processed versions of dessert."
Oldson finds that many lower-calorie, dairy-free brands use additives and artificial components, and these chemical ingredients make it easy to overeat (since they're not as satisfying and hearty as natural ingredients) and can also put consumers at risk for "other health problems, including diabetes and dementia."
Oldson recommends Haagen-Dazs as her top ice cream choice for a healthy diet, since this brand uses only "cream, skim milk, cane sugar, egg yolks and vanilla extract" to make vanilla ice cream.
Elizabeth Quinn, a certified nutritionist and the creator of Whole Story Nutrition, agreed. "Haagen-Dazs only uses eggs to stabilize their dairy products," she said, so there are no gums (processed stabilizers). "Their ingredient lists are clean and natural. They do not use rBST-treated milk or cream," Quinn added.
A 2/3-cup serving of Haagen-Dazs vanilla ice cream contains 320 calories, 25 total grams of sugar, 21 total grams of fat and 6 grams of protein. Each pint container includes 2.5 servings.
Halo Top Ice Cream
While some of our experts expressed concern about Halo Top's artificial and processed ingredients (including synthetic sweeteners and coloring agents), Katherine Gomez, a registered dietician and medical reviewer at Psychemag, finds that Halo Top can be healthily incorporated into a balanced diet because the brand's "unique flavors include dairy, nondairy and keto options."
"It is creamy ice cream with low calories and no sugar," Gomez said. "It is also gluten-free, kosher and protein-rich."
A 2/3-cup serving of Halo Top vanilla bean ice cream contains 100 calories, 7 total grams of sugar, 2 total grams of fat and 6 grams of protein. Each container includes 3 servings.
Talenti Gelato
Gelato, the Italian version of ice cream, features numerous benefits from a health perspective. It contains less air than ice cream, which gives it a silkier texture. Some frozen-dessert fans assume that gelato's richer mouthfeel and more concentrated flavors mean this product contains more fat and sugar than standard ice cream, but the exact opposite is true.
Talenti gelato, which can be found at grocery stores nationwide, "is slow-churned, [so] it has a creamy texture and reduced fat," said Erin Lehman, a registered dietician who's a diabetes care and education specialist with Arden Nutrition. Talenti is lower-fat, lower-calorie, and just as satisfying and indulgent as any full-fat dairy ice cream out there.
A 2/3-cup serving of Talenti Madagascan vanilla bean gelato contains 260 calories, 30 total grams of sugar, 13 total grams of fat and 5 grams of protein. Each container includes 3 servings.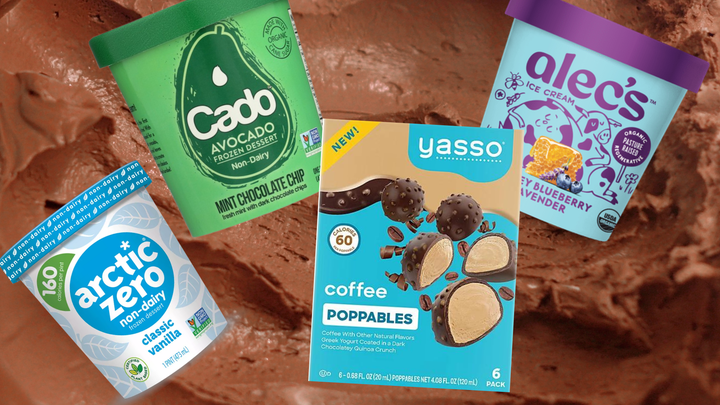 Arctic Zero Ice Cream
Arctic Zero has made a real name for itself in the nondairy ice cream space, thanks to its sizable range of flavors, widespread distribution and creamy texture that's very close to that of "real" ice cream.
It's a favorite brand of Mary Sabat, registered dietician, certified trainer and creator of Body Designs by Mary. It's made from purified water, organic cane sugar, allulose (a naturally occurring sweetener with fewer calories than sugar), sugar cane fiber, faba bean protein concentrate, gum blend, natural flavors, sea salt and monk fruit concentrate.
"These plant based ingredients make for a higher protein product with less sugar and more fiber," Sabat said.
In terms of pure numbers, Sabat points to the low calorie count and high nutritional value of a reasonably sized portion: "Each 2/3-cup serving contains 50 calories, 3 grams of fiber, 2 grams of protein and 0 grams of fat."
Alec's Ice Cream
"Organic" might feel like a buzzword with little meaning these days, but ice cream that genuinely meets the U.S. Department of Agriculture standard of organic (made using milk harvested from pasture-fed cows that aren't given growth hormones or antibiotic treatments) can easily be incorporated into a health-conscious, additive-free diet.
Pooja Mahtani, a functional medicine clinical nutritionist, considers Alec's Ice Cream, which makes dairy ice cream with organic milk, a prime example of healthy dairy-based ice cream.
"Alec's sources dairy from organic and pasture-raised cows, and contains a moderate amount of sugar compared to other brands on the market," Mahtani told us. "Further, there are no preservatives or additives in this ice cream."
A 2/3-cup serving of Alec's Tahitian vanilla bean ice cream contains 270 calories, 23 total grams of sugar, 18 total grams of fat and 5 grams of protein. Each container includes 2.5 servings.
Cado Avocado Frozen Dessert
By using avocado as its core ingredient, Cado Avocado Frozen Dessert manages to create a plant-based ice cream that's rich and creamy while also being vegan-friendly and packed with healthy vitamins.
"I would consider an ice cream 'healthy' [if it is] higher in protein than others and lower in sugar than others, while also offering some micronutrients," explained Morgyn Clair, a registered dietician and a health writer for Fit Healthy Momma. Cado, she said, fits into all of these categories because it "has lower sugar than other choices, [it's] high in healthy fats and fiber, and Vitamin E is present from the avocados."
A 1/2-cup serving of Cado nondairy vanilla bean frozen dessert contains 170 calories, 12 total grams of sugar, 11 total grams of fat and 0 grams of protein. Each container includes 3 servings.
Ben & Jerry's Ice Cream
Ben & Jerry's, the delightfully kitschy ice cream brand founded by (and named after) two Vermont hippies, is best known for its creative flavors and slumber-party-perfect pint containers. While neither of those characteristics necessarily point to Ben & Jerry's potential as a healthy treat, Barbara Kovalenko, a nutrition consultant at Lasta, assured us that the brand's ice cream can be enjoyed in moderation as part of a nutritious diet, largely because of its careful sourcing and focus on natural ingredients.
"Ben & Jerry's provides organic and fair trade options," Kovalenko said. To balance out the high calorie content, Kovalenko suggested that you "adhere to suggested serving sizes and treat yourself to it sometimes rather than making it a regular component of your diet."
Dr. Ellen Albertson, a registered dietician and psychologist and creator of The Midlife Whisperer, also pointed out that the higher fat content of Ben & Jerry's can make it easier to stick with smaller portions:
"The brand uses natural ingredients, no artificial fats, and non-GMO milk from cows that graze," Albertson said. "Plus, each scoop is packed with flavor, so a small serving is very satisfying."
A 2/3-cup serving of Ben & Jerry's vanilla ice cream contains 330 calories, 28 total grams of sugar, 21 total grams of fat and 6 grams of protein. Each container includes 3 servings.
Yasso Ice Cream Bars
Greek yogurt tends to be a popular choice among dairy fans who want to take a healthier approach, thanks to its dense texture, its slightly tangy flavor and its higher protein content. Yasso Greek Yogurt Bars echo more typical ice cream bars with their luxe, tongue-coating creaminess.
Molly Pelletier, a registered dietician who specializes in gut health, recommends them to anyone in search of a healthy ice cream option. "I'm a huge fan of Yasso Ice cream bars. Yasso bars are not only low in sugar, but also a good source of protein (8g per bar)," she said.
A single Yasso frozen vanilla bean yogurt bar contains 80 calories, 12 total grams of sugar, 0.5 total grams of fat and 5 grams of protein. Each container includes 4 servings.
Yasso also makes bite-sized Poppables, which Beckerman views as an ideal grab-and-go frozen snack. "Yasso Poppables are the healthiest on the market, thanks to the portion-controlled, probiotic-forward, poppablility of Greek yogurt coated in a dark chocolatey quinoa crunch," she said