CNN
 — 

It is a Final Four line-up the kind of which we've never seen before. And it should make for a thrilling season finale.
The culmination of the NCAA men's college basketball season is rapidly approaching, with just four final teams contesting to be crowned national champions.
And after a March Madness which has thrown up surprises around every corner, to have no No. 1, 2 or 3 seeds in the penultimate round seems only fitting – it is the first time since seeding was introduced 44 years ago that this has happened.
Saturday's Final Four begins with the 'Cinderella' team of the tournament, No. 9 Florida Atlantic University (FAU), facing No. 5 San Diego State before No. 5 Miami play No. 4 University of Connecticut.
Apart from UConn, none of the other three teams have ever been in this round; the first time in 53 years the Final Four has had three first timers.
FAU has been the story of the tournament so far.
Before it began, 237 schools in the nation could claim an NCAA tournament win in their history. FAU wasn't one of them.
A go-ahead basket with 2.5 seconds in the opening round against Memphis got the ball rolling, before victories against No. 16 Fairleigh Dickinson and No. 4 Tennessee set up an Elite Eight clash with No. 3 Kansas State.
Free throws from Owls guard Michael Forrest helped secure a famous 79-76 over Kansas State and the school's first ever Final Four berth.
They are just the fifth team since 1979 to reach the Final Four after entering without a tournament win.
Despite winning four games by a combined 19 points, FAU guard Alijah Martin says the players don't feel like your typical underdog team.
"We don't feel like we're Cinderella," Martin said. "We feel like we're supposed to be here, doing exactly what we're supposed to do."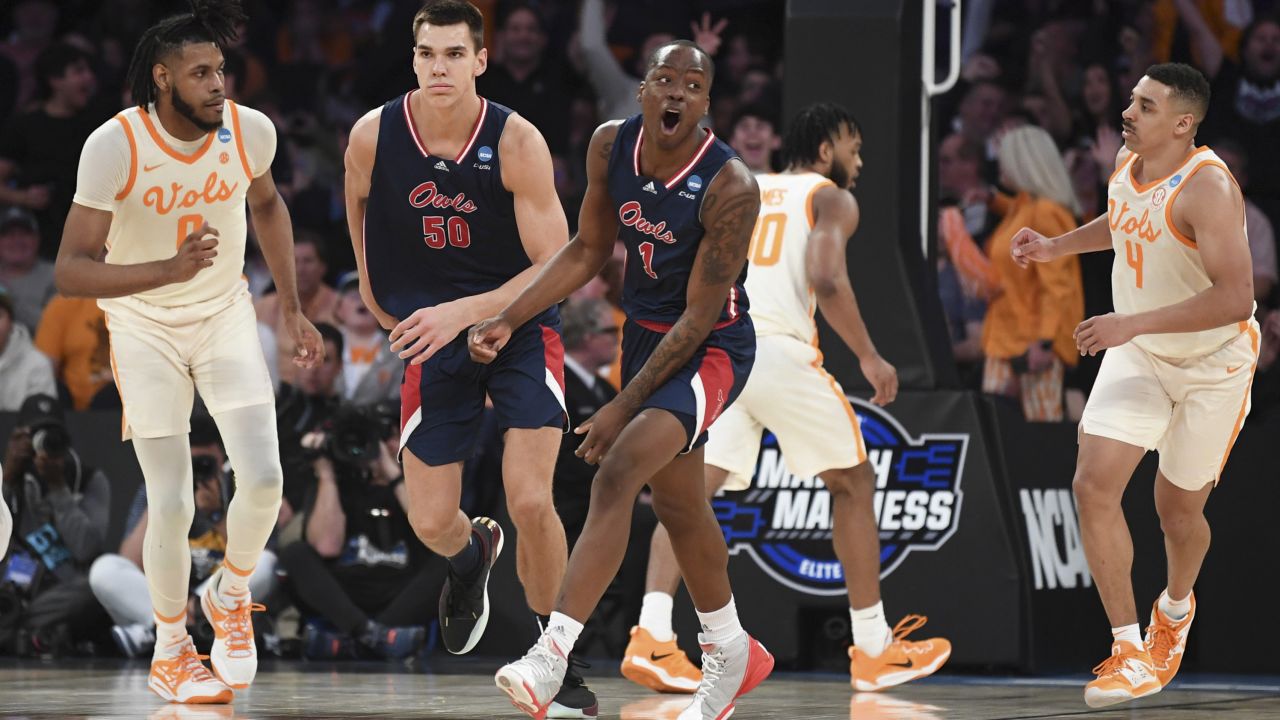 In the last four, FAU will face San Diego State, which clinched its own first-ever Final Four appearance with a closely contested 57-56 victory against No. 6 seed Creighton on Sunday, with a controversial foul call with the game tied at 56 going San Diego State's way.
Bluejays guard Ryan Nembhard was called for a foul on Aztecs guard Darrion Trammell with 1.2 seconds left in the game. Replays showed Nembhard's left hand on Trammell's right hip as he jumped up for the shot attempt.
Trammell would be awarded two free throws, missing the first but making the second to give the Aztecs the lead.
In their dream run to the semifinals, San Diego State beat overall No. 1 seed Alabama in the Sweet 16 round – previously it had had never won a Sweet 16 game, never beaten a No. 1 seed, never knocked off a top-ranked opponent.
The team has thrived off its excellent defense, holding Creighton to 2-for-17 shooting from behind the three-point arc, including 0-for-10 the second half, just two days after holding Alabama to 3-for-27.
"We're making the next step and it's something we've always talked about and I'm sure there were people that doubted we could do it, but we never doubted for a minute," San Diego State coach Brian Dutcher said.
The other side of the bracket also includes two teams who many didn't see reaching this stage.
For Miami is the third team this year reaching the Final Four for the first time in its school's history.
Led by 73-year-old Jim Larrañaga in his 12th year as head coach, the Hurricanes entered the tournament in inauspicious form, going 3-4 in January and suffering a damaging home loss to Florida State.
But ever since the start of the tournament over two weeks ago, Miami has been almost unstoppable, blowing away opponents and winning its first three games by a combined winning margin of 37 points.
In the Elite Eight, Miami faced No. 2 seed Texas – a formidable foe after an excellent season.
But a key 37-17 run the last 13 minutes against the Longhorns helped steer the Hurricanes to a famous 88-81 victory and sealed their place in the final four.
For Larrañaga, who remembers many of the seismic shocks over the years, positivity at the beginning of the year has been vital in their run through the tournament.
"It's the same exhilaration, just the jubilant attitude, because you just love when your players accomplish a goal they set out before the season," Larrañaga said.
"What we said the first day of practice, we've got to start visualizing right now what we want to accomplish and be working toward that every single day. And that's what these guys have done."
UConn, despite being a fourth seed, was fancied to continue a run of disappointing results in March Madness, having lost in the first round in the two years prior.
However, ever since their first tipoff, the team has been lights out. The Huskies won its first two games by an average scoring margin of 19.5 points, before demolishing No. 3 seed Gonzaga by 28 points in the Elite Eight.
The thumping victory was the biggest winning margin in the Elite Eight for 31 years.
As the only team left in the competition who has a title to its name, the pressure rests on UConn's shoulders to use experience and pedigree to once again hoist the national championship trophy aloft for the fifth time in the school's history.
But even with that expectation, forward Adama Sanogo says they are still proving a point to their doubters.
"We have something on our shoulders," Sanogo said. "Every time we play basketball we're trying to show people wrong."