According To This Viral Video, You're Probably Rolling Your Turtlenecks Wrong
While scrolling TikTok recently, I came across a video that rocked my fashion world. For all of my three-and-some-change decades on this earth, I've been rolling my turtlenecks wrong — and even sloppily. And, you probably are, too.
This realization came in the form of a video created by Mary Orton, a Wisconsin-based fashion blogger who has been sharing style tips and outfit inspiration since 2013 on her fashion and lifestyle blog, Memorandum.
In a video, she shared a simple turtleneck rolling trick.
"Instead of folding the neckline of your turtleneck outward so that the edge of the turtleneck neckline is visible, I like to often fold it inside for a cleaner look," Orton told HuffPost.
You can watch the video below to get step-by-step turtleneck rolling instructions.
As Orton said in the video, this turtleneck rolling tip went viral — and for a good reason. While this styling advice is so simple (it takes no extra time), it's not a styling method most people know about.
"My mom always did this when I was growing up. So it was always a trick I used," Orton said, "but … when I was an adult, I realized I never really saw anybody else doing it."
And this inspired the creation of the popular video.
Throughout history, turtlenecks have symbolized more than good style.
Aesthetics weren't exactly a priority when the turtleneck was invented.
According to Sarah Collins, a fashion historian and professor at Savannah College of Art and Design, "Turtlenecks first appeared in the 16th century when knights would wear them under their armor to prevent the skin from chafing [by] the chainmail that they wore."
"It served as a layer of protection and was not visible to on the outside," she said.
In the centuries following, it was a functional style worn by soldiers during World War I, during sporting activities and by people in the Navy.
As it evolved from a utilitarian item into a fashionable piece, turtlenecks also played a role in major social movements — just picture some historical figures and you can probably drum up an image of an influential person in one.
Throughout history, turtlenecks have been closely associated with anti-mainstream groups including the beatniks, bombshells (like Marilyn Monroe), Black Panthers and figureheads of the feminist movement like Gloria Steinem, Collins said.
"There is certainly symbolism and a psychology around it as the turtleneck has been associated with many fringe groups and anti-establishment groups all while being a practical and utilitarian article of apparel," Collins said.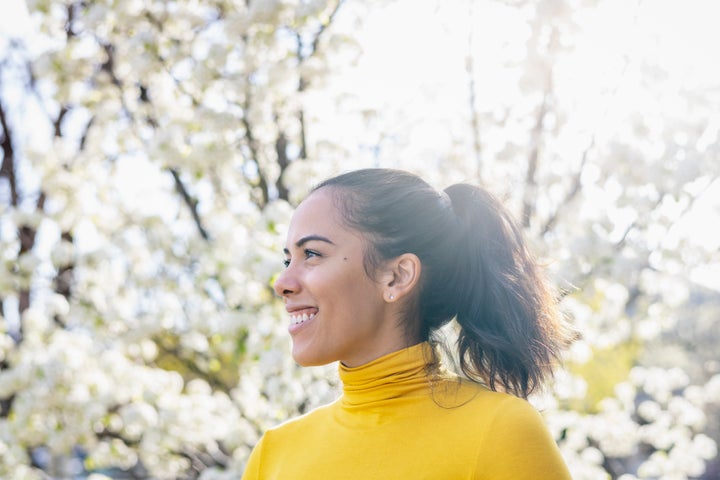 There are a few reasons Orton's way is the best way to roll your turtleneck.
When it comes to wearing your turtlenecks, you can create various fashion-forward styles by following the inward-rolling tip.
"I think it can be a hugely helpful trick for many reasons, some of these I outlined in the video but I wasn't comprehensive in the video," Orton shared.
First, it often makes the turtleneck look more expensive, "because turtlenecks often develop sort of a warbled edge that can make them look cheap or sloppy," she noted. Next, it's an ideal way of turtleneck-rolling if you're layering things like another sweater, blazer or vest, she told HuffPost and mentioned in the video.
"Another styling reason for the inward tuck is if you're wearing jewelry, it just allows for a cleaner canvas upon which jewelry can be layered," Orton said. She added that otherwise, your necklaces can get lost or snagged in the turtleneck fold.
Plus, according to Collins, when styling your turtleneck, it's " … great for displaying statement jewelry or even drawing attention to small, subtle necklaces." Which makes this tip doubly valuable.
This next tip, which Orton did not cover in the video, is a big pro behind the technique and something her followers commented on as well — concealing makeup stains.
"So many women, myself included, often decide what they're wearing for the day after they finish getting ready, and then pulling that turtleneck over your head and avoiding any makeup stains can be an Olympic sport," Orton said.
She added that as a result, you're often left with makeup stains on the inside of the turtleneck. But, by folding it inward, you can conceal those stains.
Lastly, this styling tip lets you adjust the height of the turtleneck, she said. Meaning you can fold it just a little bit for a high neckline or fold it really far — and even double it — for more of a mock neck, she said.
This trick may not be suitable for every single turtleneck out there.
"In the video, I say in complete jest that if you're not wearing your turtleneck this way then you're doing it wrong, and I promise that was hyperbole and a complete joke," Orton said.
According to Orton, there are certain turtleneck styles that are better rolled outward. This includes turtlenecks with a decorative edge or contrast piping along with certain chunky knit sweaters and some turtlenecks in very light fabrics like tissue tees.
"Wear your turtleneck in whatever way that makes you feel good — there really is no wrong or right way, this is just a good styling tip to have in your back pocket," Orton said.