This article is part of our series Battle of the Brands, in which we compare category-leading products to their counterparts to determine which are actually worth your money.
Losing things is the worst. Keys, backpacks, coats and wallets, for example, are all likely to be misplaced in the mad scramble of daily life. Thankfully, technology (of course) offers a solution in the form of Bluetooth trackers like Apple's AirTags or Samsung's SmartTags. These little trackers can be affixed to key chains or dropped in a pocket to help you keep track of life's necessities. So which is right for you?
We compared two popular devices, the Apple AirTag and the Samsung SmartTag+, looking at their tracking capabilities, ease of use, compatibility, battery life, privacy, security and value. First, however, you should be aware of something. Which tracker you pick depends on what phone you have. Apple's AirTags require an iPhone 11 or newer, and the SmartTag+ requires Android OS 11 or higher and a Samsung Galaxy Note 20 Ultra, Galaxy S21+, Galaxy S21 Ultra or Z Fold 2. The trackers will not work outside of their respective ecosystems. If you own neither an iPhone nor one of the listed Samsung Galaxy phones, these particular trackers aren't for you.
Feeling lost? No need. We're on top of it. Here's what you need to know before you decide which smart tracking device is best for you, whether it's for travel, school or just every day living.
Apple AirTag and Samsung SmartTag+ at a glance

| | | |
| --- | --- | --- |
| Price | $29 for one, $99 for a pack of four | $40 for one, $80 for a pack of two |
| Battery Life | 1 year, replaceable CR2032 | 100-130 days, replaceable CR2032 |
| Connectivity | UWB (Ultra-wide Band) Bluetooth | UWB (Ultra-wide Band) Bluetooth |
| Weight and Dimensions | 0.39 oz, 1.26-inch diameter, 0.31 inches high | 0.459 oz, 1.54 x 1.54 x 0.39 inches |
| Platform | iOS | Samsung Galaxy |
| Range | Approximately 60 yards | Approximately 130 yards |
| Water Resistance | IP67 | IP52 |
| Price | $29 | $40 |
A note on privacy and security

Before we get into a side-by-side comparison, it's worth noting that any Bluetooth tracker can be abused. Under no circumstances should you try to track someone without their knowledge and permission. It's highly illegal, depending on the jurisdiction. Both Apple and Samsung have included anti-stalking features in their devices, which I'll discuss below, but it's important to recognize the genuine privacy concerns trackers present.
Both devices are small, obviously. There's no point in a tracker so large you burn calories carrying it. The SmartTag+ is a hair larger, at about 1.5 inches on a side, while the AirTag is just over 1.25 inches in diameter. The SmartTag+ is a bit heavier, at 0.459 oz, compared to the AirTag's 0.39 oz., but you likely won't notice the difference.
The SmartTag+ has a small hole for attaching it to things, while the AirTag is typically Apple: smooth, like a tiny skipping stone, with no way to attach it to something unless you want to buy another accessory like a keychain holder or something akin. (You can also just drop both in a purse or pocket or sew them into the lining of a jacket if you wish.)
The AirTag has a waterproof rating of IP67, meaning you can briefly drop it in up three feet of water, and it will be fine. The SmartTag+ is rated at IP52, which provides limited dust protection and some water splashes. Don't drop this one in the drink.
Both devices use a replaceable CR2032 watch battery, which both companies say will last about a year. You can replace the battery when it runs out. There's no charging these things.
The SmartTag+ comes in a couple of different colors — black and what Samsung calls "denim blue," but it looks gray to me — while the AirTag comes in white. But it can be personalized with engraving if you order from the Apple Store.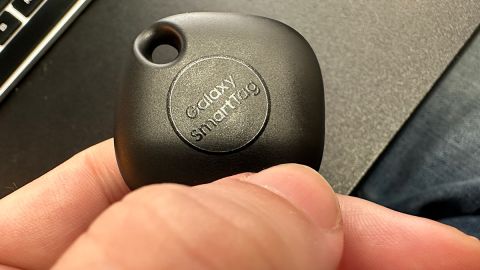 TL;DR: Both devices are small, lightweight and discrete. Because the Samsung SmartTag+ can more easily attach to objects thanks to a hole in the case, it gets points for being more versatile. But the AirTag is fully waterproof, rather than water-resistant, and it offers an extra engraving option.
Both trackers are simple to set up. Apple users just need to bring the AirTag close to the phone and pull out the tag that keeps the battery from operating. When you open the Find My app on your phone, it will offer to pair the tracker and assign it to an item to track, like luggage, a bike or a backpack. It will also inform you that it is attached to your Apple ID and that tracking people without their consent is a crime in many parts of the world. "AirTag is designed to be detected by victims and to enable law enforcement to request identifying information about the owner."
The SmartTag+ is also simple. Once you set up your Samsung SmartThing account (which requires an app to be downloaded from the app store on your Galaxy phone), you push the button on the tracker, and it will pair automatically with your phone. Unlike Apple, there's no warning against tracking people, or that law enforcement could use the tag to find you if you do.
TL;DR: Set up is easy for both devices, but we give points to the AirTag for its warning that you should only use this tracker responsibly.
Now we're getting into the good stuff. Both devices use Ultra-wideband (UWB) to detect the trackers. This is a low-power, long-range radio signal that allows for the directional location of the tracker. Both also utilize a network of other devices, so if you're personally out of range of the tracker, it will use the Bluetooth of surrounding devices to pinpoint its location in either the Find My app or the Samsung SmartThing app.
Apple leverages the enormous number of iPhones to locate the tag. If you've lost the AirTag anywhere around people, especially in the United States, you'll likely be able to find said tag. If someone with an iPhone passes within range of the tag, it will anonymously grab its location from that phone and relay that back to you via the Find My app. Once you get within range of the device — about 60 yards — you can use an augmented reality mode to home in on the tracker in the Find My app.
The Samsung SmartThing app does a good job of homing in on the SmartTag+ using the camera for AR directional location. Still, it's hamstrung by relying on Samsung phones for its network, and there just aren't as many of them in the United States as iPhones. If someone with a non-Samsung Android phone wanders by, it won't ping the phone, and you won't be able to find the tracker.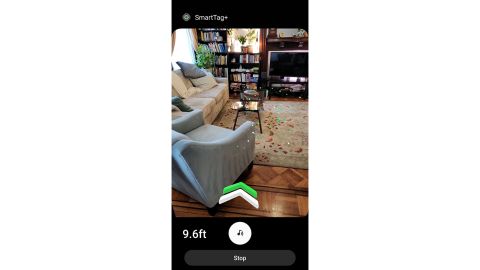 Both offer anti-stalker protection. If you have an iPhone that detects an AirTag moving with you that doesn't belong to you, you'll get a warning about that. And the AirTag will emit little chirps if it's away from its owner for more than three days.
The Samsung SmartTag+ will do something similar, but it's not automatic. You'll need to launch an "unknown tag search" using the SmartThings app on your Galaxy phone.
On the plus side, the Samsung SmartTag+'s alarm was much louder than the AirTag's. It would be easy to miss Apple's shy little cheeps, while the SmartTag+ is a noisome little beast.
TL;DR: The AirTag has a large network of devices — at least in the United States — making locating a lost item easy, and its Find My app is detailed and attractive. Its AR functions allow for a high level of precision. The SmartTag+ is about equally accurate, but it suffers from fewer devices in its network to help you find the tracker.
Apple is cheaper and lasts longer

Both devices are decently affordable, with the AirTag costing $29 for one and $99 for a pack of four on the Apple Store. Samsung's is $40 for one and $80 for a pack of two on the Samsung site.
Apple's AirTag will last longer — about one year — on a single battery, compared to the SmartTag+'s 100-130 days, which is kind of paltry. The Samsung tracker, however, does allow you to use its button to trigger routines if you're invested in the SmartThings smart home platform. Apple's AirTag has no button and offers no similar feature.
TL;DR: This one is easy to call: Apple wins on price and battery for once. Samsung's smart home integration is nice but hardly a killer feature.
Both trackers offer a relatively inexpensive way to keep track of things you might lose: keys, backpacks, coats, etc. And both trackers suffer from operating within their siloed ecosystems. The bottom line is while the Apple AirTag is a better device tracker, if you're on a Samsung Galaxy phone, you're stuck with the SmartTag+ and vice versa. So what phone you have will determine which tracker you should buy.
Plot twist! If you have neither an iPhone nor Galaxy phone, consider trackers from Tile, which work with iOS and Android. It doesn't offer AR-assisted locating, its network isn't nearly as robust as either Apple's or Samsung's and its most useful features require an annual paid subscription, making it more expensive in the long run. But it's a decent compromise if you're not invested in the two heavyweights' ecosystems.