An activist killed by Georgia state troopers while protesting the planned development of a police training center had their hands up at the time of the fatal shooting, according to lawyers for their family.
Manuel Terán, 26, was among dozens of people protesting at the intended site of the facility, dubbed "Cop City" by critics, outside of Atlanta when they were shot in January. Terán, who also went by the nickname Tortuguita, was nonbinary and used they/them pronouns.
Though authorities have so far maintained that Terán had a gun and fired on officers before they shot back, striking Terán 13 times, lawyers representing Terán's family said the activist had their hands raised when fired upon.
In a statement released to The Atlanta Journal-Constitution on Friday, civil rights attorneys Brian Spears and Jeff Filipovits said an independent autopsy commissioned by the family showed Terán was facing multiple individuals during the shooting and had their hands and arms raised in front of their body.
"Manuel's left and right hands show exit wounds in both palms," the statement said. "The autopsy further reveals that Manuel was most probably in a seated position, cross-legged when killed."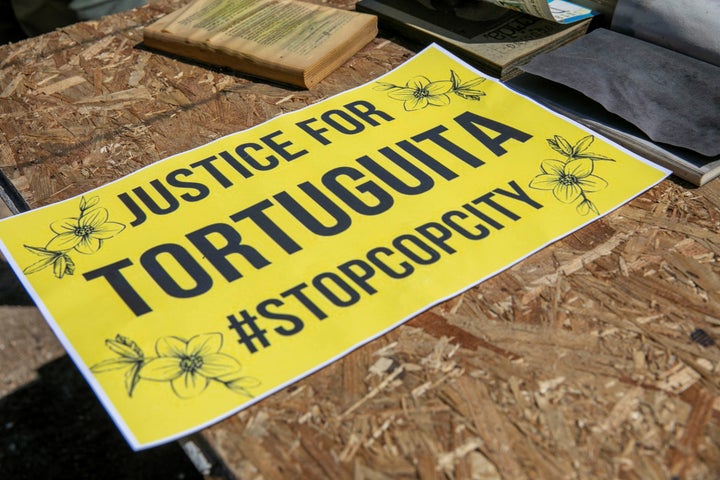 The Georgia Bureau of Investigation said Terán was fired on after an officer was shot in the abdomen and fired back in self-defense. A bullet that struck the trooper was linked to a gun found at the scene and belonging to Terán, according to the GBI, but there is no body camera footage of the shooting.
Lawyers for Terán's family said they have filed a civil lawsuit against the GBI demanding access to records, including an autopsy report from the bureau that it refuses to release.
"During its investigation, the GBI has selectively released information framing its narrative while actively preventing Manuel's family from obtaining any information," Filipovits said in the statement to The Atlanta Journal-Constitution. "The GBI will not even tell us what type of evidence it has. Now, it says that the city of Atlanta cannot release the public records sought by Manuel's family."
Critics of the new facility argue that the 85-acre (34-hectare) site would be turned into a training ground for urban warfare, while also wasting millions in taxpayer money and damaging the environment.
Earlier this week, more than 20 activists were arrested on suspicion of domestic terrorism, though the probable cause that authorities used for the charge may be shaky. More from The Intercept:
Police cited arrestees having mud on their shoes — in a forest. The warrants alleged they had written a legal support phone number on their arms, as is common during mass protests. And, in a few cases, police alleged protesters were holding shields — hardly proof of illegal activity — which a number of defendants even deny.
Attorneys for Terán's family plan to hold a press conference Monday to discuss details of their lawsuit against the GBI and the newest autopsy findings.
Belkis Terán, the activist's mother, spoke at a rally Thursday demanding justice for her child.
"Tortuguita is alive in our hearts," the mother said. "My prayer is that the blood of my son will speak in all our hearts. We are going to win."