Starbucks co-founder and former CEO Howard Schultz squared off with Sen. Bernie Sanders (I-Vt.) and Senate Democrats on Wednesday in a high-profile hearing about union-busting allegations against the coffee chain.
Sanders began the hearing by saying Starbucks had waged "the most aggressive and illegal union-busting campaign in the modern history of our country" over the past 18 months.
"That union-busting campaign has been led by Howard Schultz … who is with us this morning only under the threat of subpoena," Sanders added.
Throughout the hearing Schultz ― who stepped down as Starbucks CEO last week ― denied the company had violated workers' rights, dismissing recent rulings by administrative law judges that found otherwise.
"These are allegations and Starbucks has not broken the law," Schultz told Sanders.
Asked if he had ever threatened or coerced a worker to discourage them from unionizing, Schultz answered carefully. "I've had conversations that could've been interpreted in a different way than I intended," he said.
At one point, Schultz said he was offended by remarks from Sen. Bob Casey (D-Pa.), who said Starbucks had spent large sums of money on the anti-union law firm Littler Mendelson in order to bust the union.
"I take offense with you categorizing me or Starbucks as a union buster when that is not true," Schultz said, prompting laughter from some union supporters in the crowd.
Schultz has been personally implicated in unfair labor practice charges. The National Labor Relations Board's general counsel accused him of promising to improve pay or benefits if they chose not to unionize.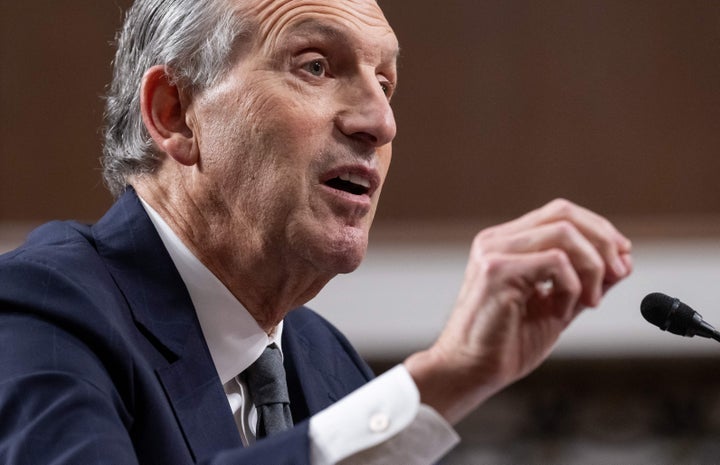 The NLRB general counsel has filed dozens of complaints against Starbucks alleging the company violated labor law over the past year and a half. According to the complaints, Starbucks illegally fired workers, closed stores, withheld raises and benefits, and made promises to workers to throttle the organizing.
In one recent case, an administrative law judge ruled that Starbucks had committed "egregious and widespread" violations and ordered the company to rehire seven union supporters who lost their jobs. The judge said Starbucks showed "a general disregard for employees' fundamental rights." Starbucks has appealed the ruling.
"That union-busting campaign has been led by Howard Schultz … who is with us this morning only under the threat of subpoena."

– Sen. Bernie Sanders (I-Vt.)
Baristas and their supporters lined the hallway outside the committee room more than an hour before the hearing, eager to see Schultz answer questions about how his company has tried to combat a union effort that's organized nearly 300 of Starbucks' 9,000 corporate-owned stores since 2021.
Schultz stood by his claim that Starbucks is better off without workers bargaining collectively.
"Starbucks doesn't need a union," he said.
The former CEO had initially declined an invitation to testify before the Senate Committee on Health, Education, Labor and Pensions. After Sanders threatened to subpoena him, Starbucks reached an agreement for Schultz to appear.
Union members tend to view Schultz as the architect of Starbucks' aggressive counter-campaign. A lead organizer for the union, Workers United, has taken to calling Schultz the "Al Capone of union-busting."
Two witnesses who testified at the hearing, Starbucks employee Maggie Carter and former Starbucks employee Jaysin Saxton, took issue with Schultz' insistence that Starbucks had run a clean campaign.
"That is not my experience working in a store that is unionizing," Carter said.
"They have definitely engaged in anti-union activity," said Saxton, whose firing is now the subject of a complaint at the NLRB.
Republican lawmakers largely defended Schultz and Starbucks from the tough questioning. Sen. Bill Cassidy (La.), the committee's ranking Republican, called it a "smear campaign," while Sen. Mitt Romney (Utah) criticized his Democratic colleagues for calling the hearing.
"It's somewhat rich that you're being grilled by people who have never had the opportunity to create a single job," Romney told Schultz.