Spring has officially sprung and people will be spending more time in the great outdoors as the season gears up. Whether you're looking for help in identifying plants along your morning hike or in designing the flower or food garden of your dreams, there is a mobile plant identification app that can help you. Ditto if you're wondering if that glossy leaf your loved one pulled up while camping is poison ivy, if that house plant your cat just nibbled on will make it sick, or for any particular reason you may have.
"We are driven to identify plants for many reasons," explains Erin C. Hill, Ph.D., an Academic Specialist in the Department of Plant, Soil and Microbial Sciences at Michigan State University (MSU). "Sometimes it is a curiosity about the world around us," she writes, and at "other times it is out of the desire or need to manage areas like gardens, agricultural fields, restored habitats, and/or natural preserves." Dr. Hill's responsibilities include collaborating on plant and seed identification as a member of MSU's Plant & Pest Diagnostics team.
In her article, Dr. Hill discusses how plant identification apps for smartphones have seen "significant improvements" over the past several years, and how these apps offer folks "the opportunity to take a photo and get an instant identification in many cases." With this in mind, we've tested five plant identification apps available on Android and iOS that you can use to quickly find out what plant you're interested in, whether you're hiking outdoors with loved ones or starting an indoor garden that you want your pets to be safe around.
Over the course of several weeks, we've tested FlowerChecker, LeafSnap Premium by Appixi, PlantID by Control, PlantNet and PlantSnap Pro on a Samsung Galaxy Z Fold 4 smartphone. Ultimately, we named PlantNet our top overall pick due to its level of accuracy that made the process of identifying our test plants a breeze.
Best plant identification app for mobile overall
During testing, we found PlantNet easy to use, accurate and fast. This free app guides you during setup, lets you search by map or flora, and suggests you enable geolocation (GPS) to improve its plant identification.
PlantNet was the fastest, most accurate plant identification app tested on our Android phone. We found the app easy to use, highly accurate and able to provide fast identification.
Pricing: Free
Supported platforms: Android, iOS, web
Supported languages: 45 languages including Arabic, Bulgarian, Chinese, Dutch, English, French, Greek, Italian, Japanese, Persian, Polish, Portuguese, Slovak, Spanish and Turkish
Key features: Collaborative user platform; searchable database containing over 45 floras and 46,050 species; plants are searchable by theme (invasive plants, useful plants, weeds and world flora) or by geographical flora map (plants found in Africa, Asia, Central America, Europe, North America and Oceania-Pacific); identify plants by their leaf, flower, fruit or bark; enable geolocation (GPS) to improve identification
PlantNet is a collaborative "citizen science project" dedicated to worldwide plant biodiversity monitoring. The mobile app launched in 2013 and the app, along with a web version, was made available for both botanists and the general public. Since then, anyone all over the world can use the app to take a photo of a plant and send it to the app for identification.
How PlantNet works
The app is based on image recognition and relies on member involvement, so it's important to provide it with quality images. So, first, you take a photo and send it to the app. Next, it automatically compares the image to the thousands of images other users have added to its botanical database. Then, the app lets you view a list of potential species that might match. You then "vote" for the species that seems to be the right one. The algorithm collects that information and analyzes it against the database's images from other users. It then decides the plant's identity and informs you of the decision. PlantNet claims its database contains over 45 floras and 46,050 plant species.
PlantNet's origins and sponsors
PlantNet was developed by computer engineers and botanists from a consortium that has gathered multiple French research institutes as sponsors of the project, including the French National Research Institute for Sustainable Development (IRD), the French Agricultural Research Centre for International Development (CIRAD), the National Institute of Agricultural Research (INRA), the French Institute for Research in Computer Science and Automation (INRIA) and the Tela Botanica network. It is supported by the Agropolis Foundation.
Easy setup, helpful advice
Installation of PlantNet on our Android smartphone was a breeze. Once installed, the app gave us the choice to follow its guided setup screens or to skip them. Initially, we planned to skip them but, ultimately, we decided to follow the guided prompts since the app advised us we'd get better, more accurate identifications if we did. In no time, we successfully created our account. Users can immediately join different Groups, which are collections of users who share common interests or geographical location. We joined some groups that interested us. PlantNet's five most popular groups each contain over 1,000 members. The app's most popular groups are:
Flowers of France,

Plants of Europe,

Medicinal plants, herbs, and foraging for wild edibles,

Cactus and succulents, and

Houseplants.
PlantNet also offers helpful advice on how to take a good plant picture for the app, and provides examples of what they don't want and what they do want, which we appreciated as we began testing.
Step 1: Use your smartphone's camera to zoom in on one flower (or leaf, fruit, stem),
Step 2: Click on the in-frame item to focus on it, and
Step 3: Take the picture, making sure it contains just one organ (item) and is centered, sharp, without fingers, and has a natural or neutral, blurred background.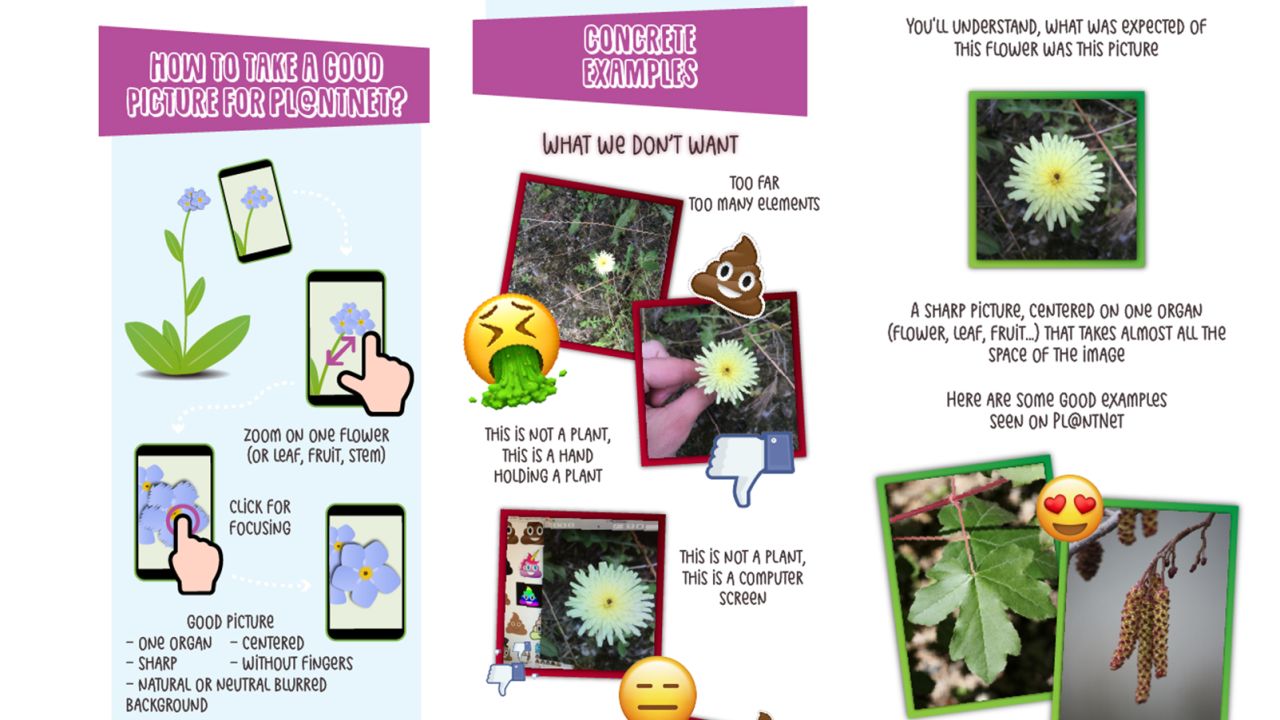 Accurate plant identification
PlantNet can identify plants and trees by analyzing a photo of their leaf, flower, fruit or bark. The app guided us to an easy-to-use screen where we could snap a plant's photo and ask for an identification back. We took a photo of each of our test plants both inside our local garden center and at home. We then asked PlantNet to identify each plant and waited for the answer. The whole process of snapping a pic and then receiving an answer took mere seconds each time. PlantNet correctly identified all of the plants we asked it to, down to the finest detail. The app was able to tell us that the flower in question was not only a tulip, for example, but that it was Didier's tulip (Tulipa gesneriana), a species of plant in the Liliaceae (or lily) family. Other apps we tested weren't so detailed and accurate.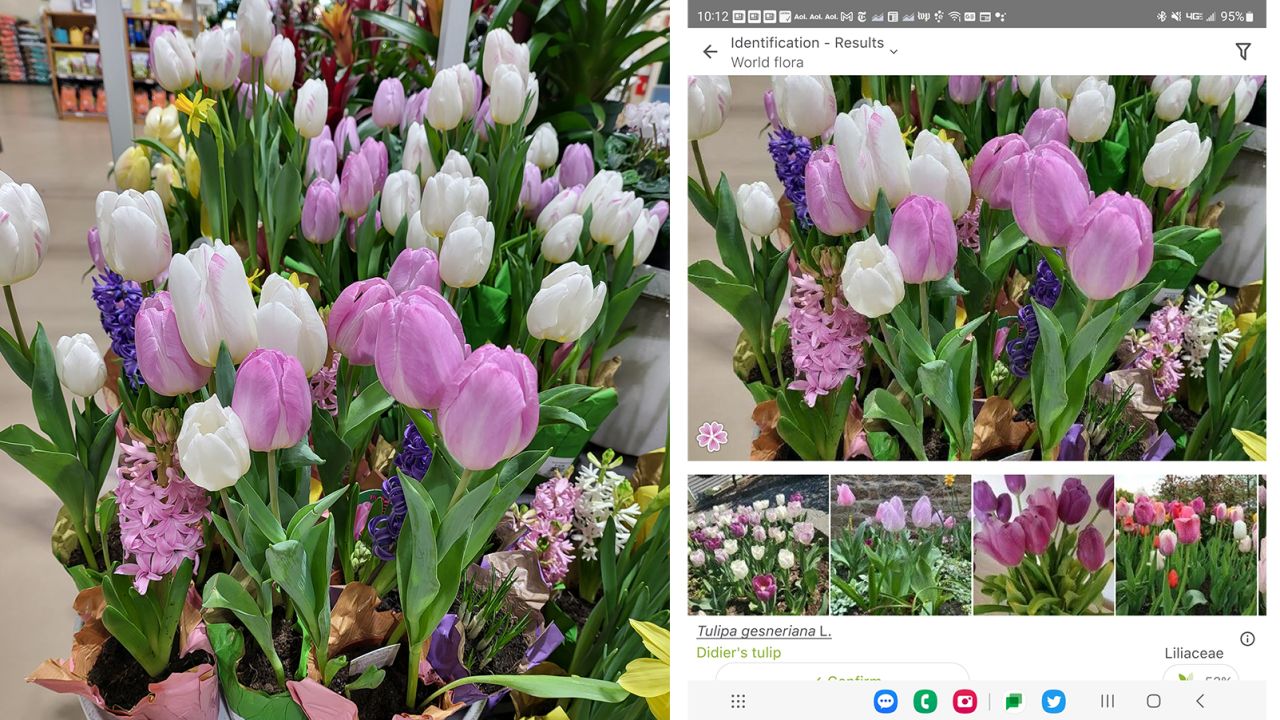 PlantNet recommended we enable its geolocation (GPS) feature to automatically and more accurately identify our plants, which we did. We could identify plants via the Map option or the Special Floras option. The Map option includes searches for plants found in Africa, Asia, North America, Canada, Central America, Europe, and Oceania-Pacific.
The Special Floras option includes search themes such as World flora, Useful plants, Weeds, Invasive plants, Useful plants of Tropical Africa and Useful plants of Asia. You can also have it identify plants commonly found in regions, parks and protected areas.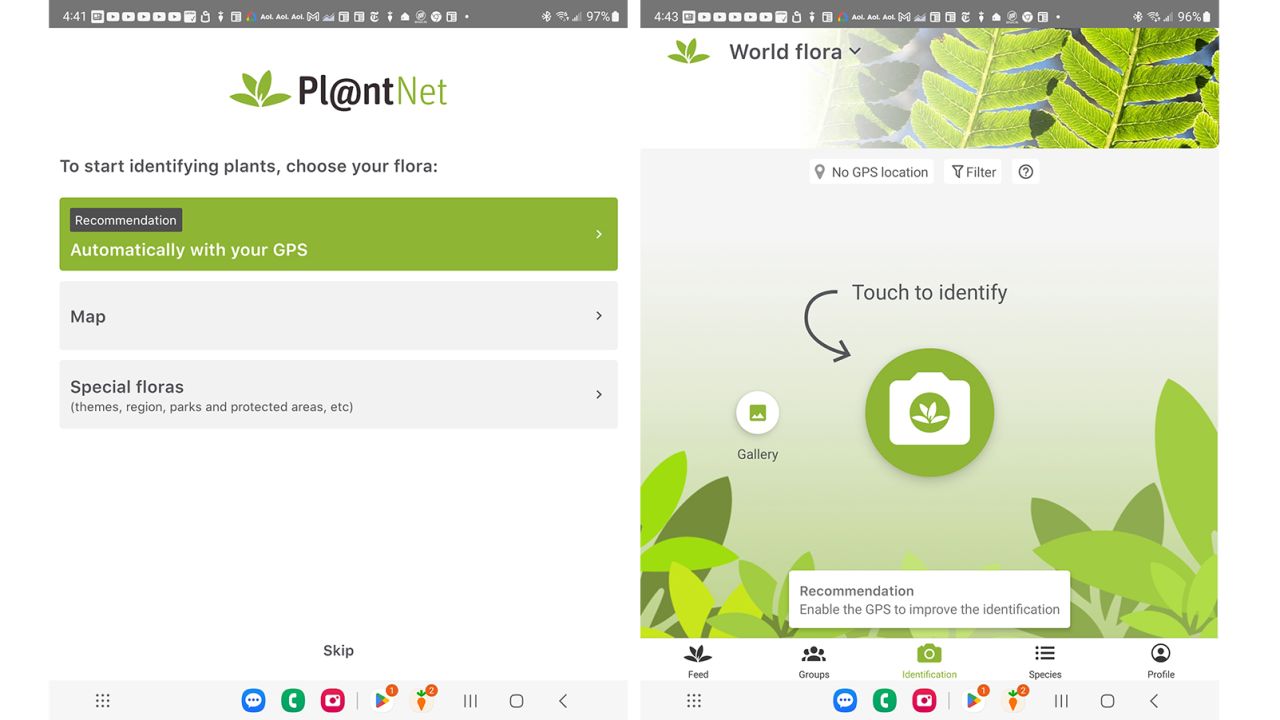 Like most of the other apps we tested, PlantNet is available in multiple languages. The app can be used by plant enthusiasts all across the world for this reason. But at 45 languages, it supports the most of all the apps we tested, including Arabic, Bulgarian, Chinese, Dutch, English, French, Greek, Italian, Japanese, Persian, Polish, Portuguese, Slovak, Spanish and Turkish.
There really wasn't anything we didn't like about PlantNet. This plant identification app does what it claims to do, and does it quickly and accurately.
PlantNet was fast and highly accurate in our plant identification tests. Given that PlantNet is also free and easy to use, we recommend it as the go-to plant identification app for most people.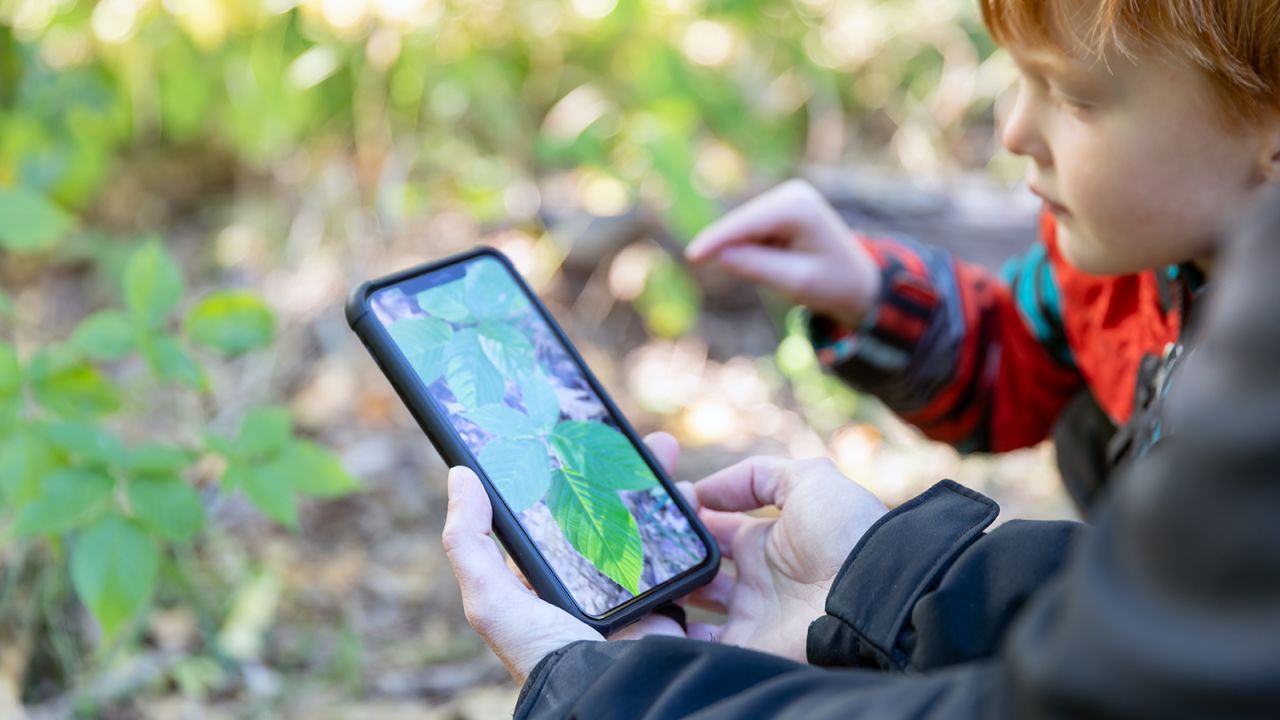 If you or your loved ones are outdoors in nature for any reason, it's important to avoid poisonous plants like poison ivy or poison oak since nobody wants the rash that can result from touching their leaves. Plant identification apps can help you identify harmless flowers and plants you may want to purchase for your garden or backyard but they can also help you avoid poisonous plants you may encounter. Just use your smartphone to snap a pic of the unknown plant to identify it before touching it.
But we're only human — what if you forget to take your smartphone on your hike or other outdoor activity? There are additional precautions you can take to avoid rashes from poisonous plants. Namely, be sure to educate yourself first before touching unknown plants. In its article, "Outsmarting Poison Ivy and Other Poisonous Plants," the U.S. Food and Drug Administration (FDA) discusses how you can recognize poison ivy, poison oak and poison sumac. To avoid getting rashes, the FDA offers the following tips (which we've condensed and summarized):
Tip 1: Educate yourself. The FDA advises you to learn what poison ivy, oak, sumac and other poisonous plants look like so you can avoid them. Watch the FDA's educational video on what to know.
Tip 2: Keep tools clean. According to the FDA, it is a good idea to wash your garden tools and gloves regularly. The FDA suggests wearing long sleeves, long pants (tucked into boots) and impermeable gloves if you think there's a chance you might be working near poison ivy.
Tip 3: Wash your pet. The FDA says most pets are not sensitive to poison ivy, but the oil can stick to their fur and cause a reaction in someone who pets them. So, wash your pet if it was playing outside alone or was on a hike in the woods with you. The FDA points out that your pet may have brushed up against poison ivy, oak or sumac. Use pet shampoo and water to wash your pet, and the FDA again advises wearing impermeable gloves while doing so.
Tip 4: Clean yourself. Wash your skin in soap and cool water as soon as possible if you come in contact with a poisonous plant. The FDA says the sooner you clean your skin, the greater the chance you can remove the plant oil or help prevent further spread.
Any new parent knows that baby-proofing the house is a crucial step in helping to keep their baby safe. Pet parents, too, need to be mindful of dangers lurking inside as well as outside the home. Did you know certain plants can be lethal to animals if ingested? In its article, "Potentially Dangerous Items for Your Pet," the FDA notes the plants and flowers that can be harmful if your pet eats them. According to the FDA, the potentially dangerous items listed "can vary in how toxic they are to pets. Some may be only mildly toxic while others may cause severe illness or even death."
The FDA continues by pointing out that "the degree of toxicity often depends on several factors," including the type of animal (cat, dog, or other species) that ate the item, how much the animal ate, and which part of the plant (bulb, flower or leaf) was eaten.
Related: How to start an indoor garden and what to buy for one, according to experts
You can also find toxicity information for plants from a pet poison control center such as the Animal Poison Control Center (APCC) of the American Society for the Prevention of Cruelty to Animals (ASPCA). You can contact its APCC regarding any animal poison-related emergency at 888-426-4435, 24 hours a day, 365 days a year. The ASPCA offers comprehensive, detailed lists of plants that are toxic and non-toxic to cats and dogs. The following are 10 plants commonly found in the home or in the yard that are toxic to dogs, cats and horses; they are listed in alphabetical order. Note the clinical signs of illness to watch out for.
We conducted part of our testing for this review in our local Pike's Nurseries garden center. In its How-To section of its website, Pike's Nurseries says that if pet parents have their heart set on owning a certain plant or plants, that they should do their "research and be strategic about placement (like hanging plants and tall shelves)."
Pike's Nurseries also suggests trying a faux version of a toxic houseplant to be completely safe. The following are some nontoxic house plants that the garden center says are safe for pets: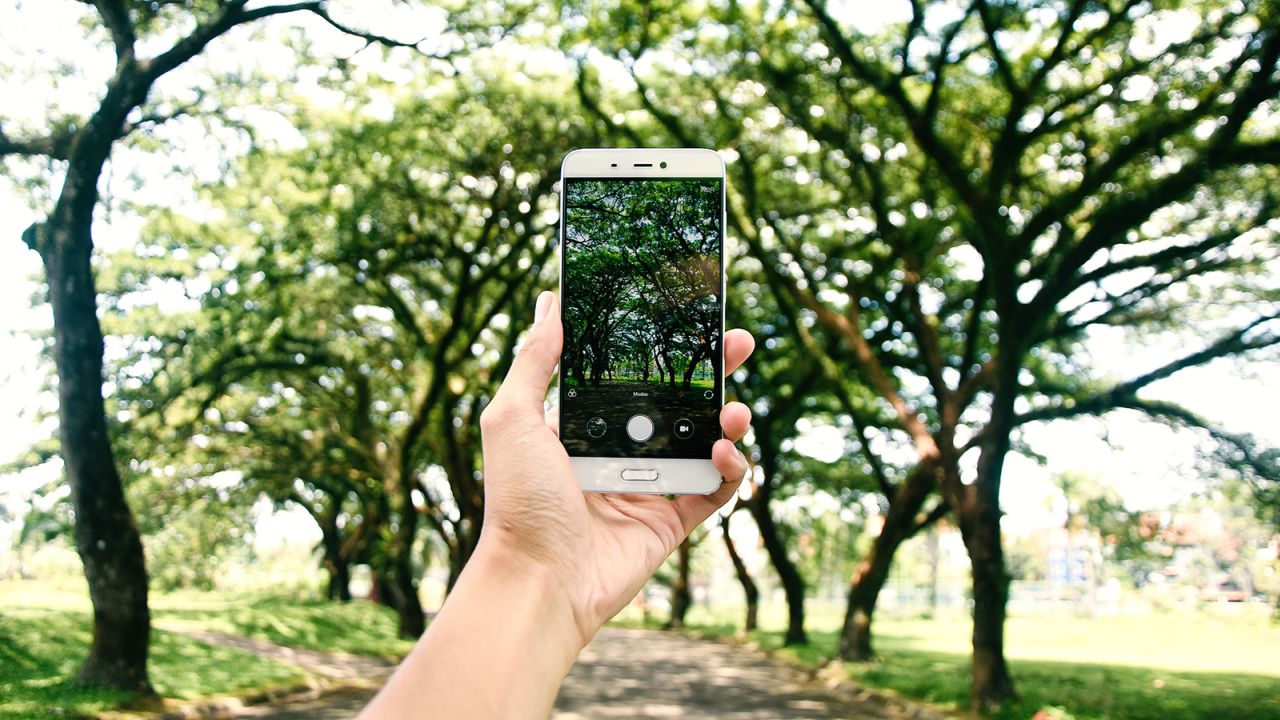 During our pre-testing research, we found a large number of plant identification apps from which to choose. We selected our five candidates to test based on desired features, user reviews, and availability on at least Android and iOS mobile platforms. We downloaded each of the five plant identification apps to a Samsung Galaxy Z Fold 4 smartphone. We evaluated the apps based on their ease of installation and use, key features, pricing, any notable differentiators and the overall user experience.
To test the accuracy of the identification processes, we made multiple trips to our local Pike's Nursery (which is one of 15 garden centers in the metro Atlanta region of the United States). With their permission, we snapped photos of different plants on display inside the store. We had all the plant identification apps try to identify some Tulipa gesneriana (Didier's tulips), Polyscias scutellaria (shield aralia or plum aralia), Ficus pumila (creeping fig or climbing fig) and Viola wittrockiana (garden pansy).
We then compared all the apps' accuracy and speed in their identifications. Since the plants were already identified by labels and signs in the store, all we had to do was note whether or not the apps' identifications matched the plants' store labels and signs. We also had all the apps try to identify a Schlumbergera (Christmas cactus), a plant we had inside our home during testing. We compared all the apps' accuracy as they tried to identify this plant, too.
For this review, we focused on how well each app would work for the average user, no matter the reason for using it — gardening, hiking, walking or various other outdoor activities. After all, if an app is hard to use, falters in key metrics such as accuracy or reliability, or otherwise presents obstacles while using, then the app can't be deemed useful as a practical matter.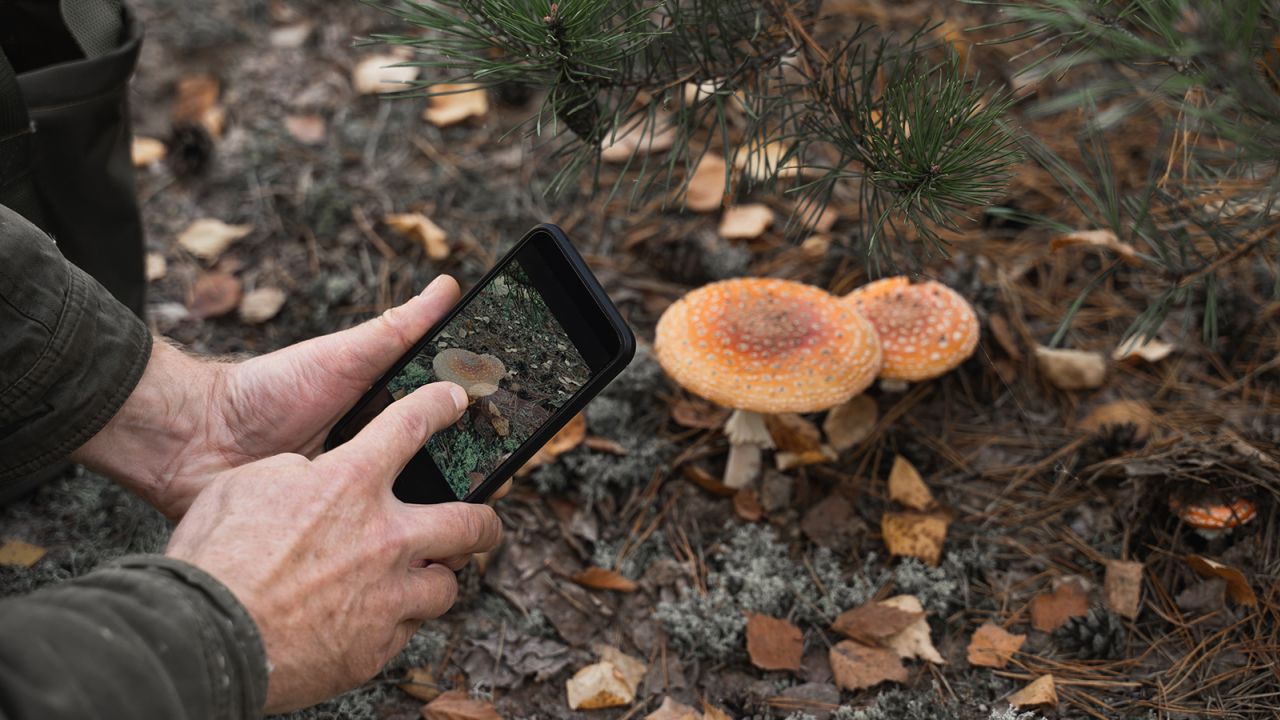 Pricing: Free to install but charges $1 per correct plant identification
Supported platforms: Android, iOS
Supported languages: English
Key features: Identification of plants, moss, lichens and fungi; identification is performed by international botanists and horticulture experts rather than by a computer algorithm. You take a photo of an unknown plant, send it to their team of experts and one or more of them will collaborate to identify it for you. They will provide the genus (taxonomy rank), species and the common name of the plant along with the level of certainty of the identification.
FlowerChecker is a plant identification app that is easy to install and use but its plant identification process is much different than the rest of the apps we tested. And that's because a team of human experts — botanists and horticulture professionals — do the actual plant identification work here, not artificial intelligence (AI) or other automation within the app.
When we took a photo of each of our test plants and sent off our "What is this?" queries, the expert would respond with the correct identification. The experts are touted as being, well, experts, and they may very well be. However, they remained anonymous. We would have liked it better if they were identified by full name, title or other credentials.
Also, the response time with FlowerChecker is unpredictable. It took as long as a day or more for us to get the results to some of our queries but, with others, we received results within an hour. There was just no way to tell in advance how long the question-and-answer process would take.
FlowerChecker uses an unusual pricing model. It's free to install but we had to pay one credit — or approximately one US dollar — before we could even see the results of our plant query. One credit per query can add up! So, the app gets the cash upfront, so to speak, for correct identifications. However, the good news is, the app only charges for accurate results. So, if the team cannot identify a plant correctly, the app lets you know you owe nothing, a nice touch.
Pricing: $5 per month (billed monthly) or $26 per year (billed annually). No free trial for Premium version
Supported platforms: Android, iOS
Supported languages: 23 languages including Arabic, Chinese, Dutch, English, French, Italian, Japanese, Polish, Portuguese, Spanish, Slovak and Turkish
Key features: Identification of plants, flowers, fruits and trees; searchable database containing over 32,000 plant species from all over the world; unlimited plant identification; unlimited reminders; step-by-step plant care guides; plant care reminders; ability to share identifications with friends; lets you create collections of your favorite plants
LeafSnap Premium is simple to install and setup is a breeze. It has some accurate and easy-to-use features, too, including a basic plant Identifier and a deeper, more accurate Advanced Identify function. The Advanced Identify function can identify a plant in three ways: from a photo of the whole plant, from a photo of its flower or from its leaf only. Being able to identify a whole plant from just its leaf can come in handy for pet parents. If you have a cat and see a leaf hanging from said cat's lip, for example, that may be enough to identify what the cat just bit into and whether or not that was a safe snack for kitty.
LeafSnap Premium's basic plant Identifier worked well, too, during our testing, providing mostly fast, accurate identifications in all of our test cases.
There's also a Diagnostics feature to help you figure out what to do to make your plant healthier, which can be handy if you're clueless about plant woes and how to fix them.
LeafSnap Premium is available for $5 per month or $26 per year. This app's annual cost is on the pricier end of the plant identification apps we tested, but it might be worth the expense if you need to use it for an extended period of time.
Pricing: After a three-day free trial, PlantID costs $10 per month (billed monthly)
Supported platforms: Android, iOS, web
Supported languages: English, Czech
Key features: Identification of over 12,000 plants including flowers, trees, bushes, fungi and lichens from all over the world; offers rock identification; Health Assessment feature identifies 100 plant diseases; uses machine learning (ML)
PlantID is a plant identification app that is easy to install, set up and, for the most part, use. PlantID adds a fun additional feature to plant identification: rock identification. This can be neat for those interested in rocks for gardening purposes or just as a hobby.
However, during testing, this feature brought up an unexpected result. When we took a photo of the tulips on display inside our local nursery, we asked the app to identify them. But we must have hit the wrong button in the app or included an item unseen to us in addition to the tulips in the photo. Why? Because we received a surprising and confusing identification: amethyst!
Perhaps the app spotted an amethyst near the plant in the photo we took? Whatever the reason, the app identified the flower as an amethyst instead of a tulip. But when we tried again and this time hit the correct button, the app correctly identified the tulips. And much to our delight, PlantID also correctly identified the rest of our test plants.
One thing we didn't like was PlantID's chintzy trial period. A three-day freemium potentially sets the user up to subscribe to the $10-per-month app before they realize the trial period has expired.
Pricing: After a seven-day free trial, PlantSnap Pro costs $20 per year (billed annually)
Supported platforms: Android, iOS
Supported languages: 37 languages including Arabic, Bulgarian, Chinese, Danish, Dutch, English, Finnish, French, German, Greek, Hebrew, Hindi, Indonesian, Italian, Japanese, Korean, Persian, Polish, Portuguese, Romanian, Russian, Spanish, Swedish and Turkish
Key features: Identification of plants, flowers, cacti, succulents and mushrooms; searchable database containing over 600,000 plants; the iOS version uses auto-detect, augmented reality (AR) and machine learning (ML); offers gardening tips and plant care instructions; lets you create collections of your favorite plants
PlantSnap Pro is a plant identification app that is easy to install, set up and use. To set up, you just need to give the app access to your smartphone's camera and gallery for the app to function. A couple of clicks later and the app is ready.
This plant identification app offers some neat features we appreciated. Its "auto detect" feature can automatically find the plant in your photo and it helps you with cropping options, too. The app also offers guides to help you care for the plant and recommends a few products to help you care for it, too. (But you can skip that recommendation part entirely if you prefer.)
The app has an active community of plant lovers who you can chat with to help resolve your plant issues, share photos, and dive into other plant-related discussions.
All good things aside, PlantSnap Pro's accuracy was more than a little off in two instances, which was disappointing. When we took a photo of a Christmas cactus on our table, the app incorrectly identified it as a Dracaena arborea. And inside our test nursery, the app identified Didier's tulips as just generic tulips.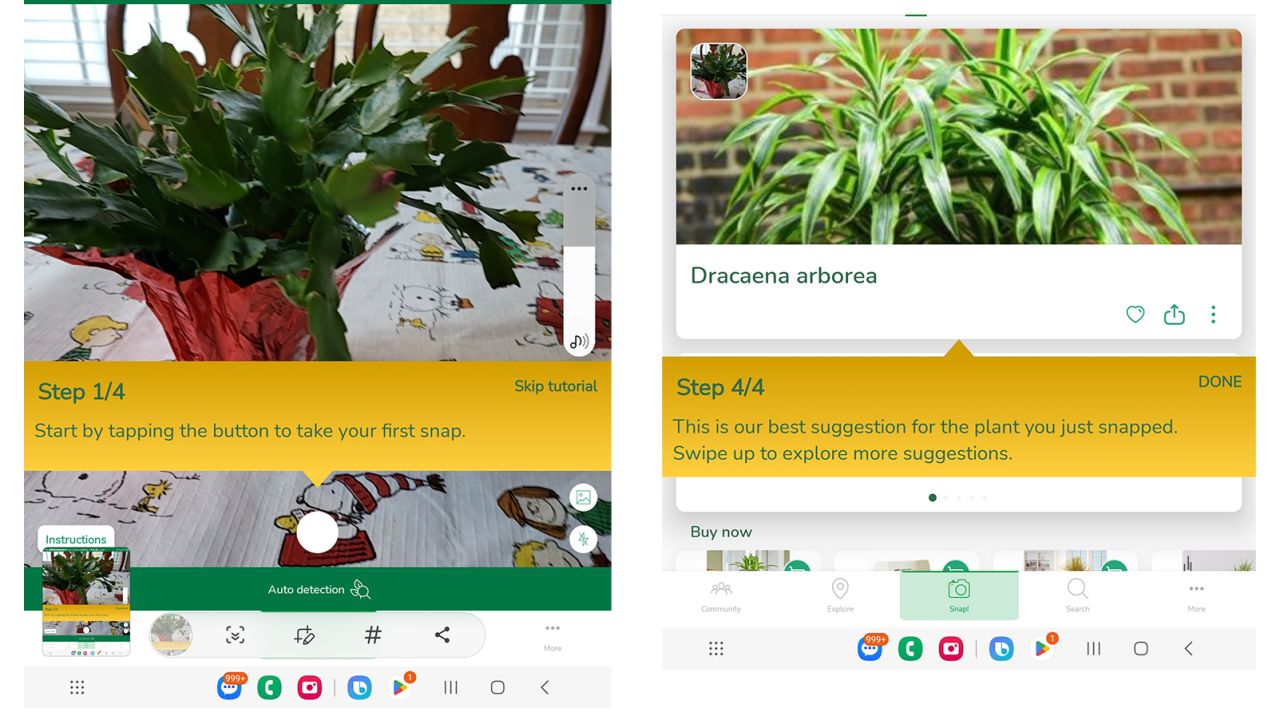 PlantSnap Pro offers a seven-day free trial, which is very much welcomed and gives you sufficient time to try out the app. Once you commit, its $20 annual cost is highly affordable.
Read more from CNN Underscored's hands-on testing coverage: