President Joe Biden on Friday called on Congress to make it easier for regulators to punish executives at failed banks ― including by taking their bonuses away.
Biden said federal law prevented his administration from holding banks accountable.
"When banks fail due to mismanagement and excessive risk taking, it should be easier for regulators to claw back compensation from executives, to impose civil penalties, and to ban executives from working in the banking industry again," Biden said in a statement.
Biden's proposal follows the federal takeover of Silicon Valley Bank in California after it was unable to honor withdrawal requests from depositors last week. Federal agencies also shut down Signature Bank in New York and took the dramatic step of guaranteeing all deposits at the two banks, despite many of their values greatly exceeding the $250,000 covered by federal deposit insurance.
The moves were designed to prevent depositors at other regional banks from yanking out their money in a panic, and the administration's swift action drew praise from Republicans and Democrats alike on Capitol Hill.
Lawmakers have harshly criticized Silicon Valley Bank for taking on too much risk, as well as bank regulators for failing to stop it — even though Congress passed a bipartisan law in 2018 that it was specifically warned would increase the risk a medium-sized bank would fail.
But some members of Congress have questioned why tech industry customers of Silicon Valley Bank should be bailed out by the government, even if the costs are covered by fees on other banks.
Biden's announcement on Friday puts the ball back in lawmakers' court and echoes the political rage over bonus pay going to executives at firms that got bailed out by the government following the 2008 financial crisis.
"Congress must act to impose tougher penalties for senior bank executives whose mismanagement contributed to their institutions failing," Biden said.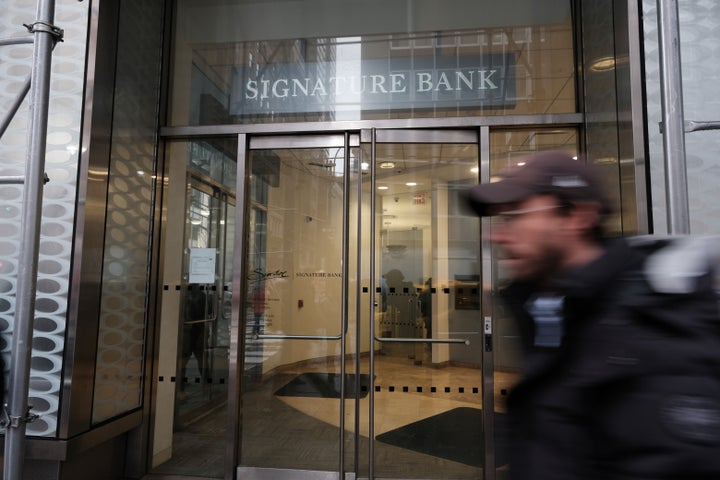 Pointing to reports that Silicon Valley Bank executives sold $3 million worth of company shares in the days leading up to the bank's failure, the White House said Congress should give the Federal Deposit Insurance Corp. greater power to claw back executive pay.
The Dodd-Frank financial reform law of 2010 gave the FDIC the ability to recoup compensation to executives at large financial institutions that fail and wind up in a new "orderly resolution" process. The White House said in a fact sheet that that power wouldn't apply in the case of Silicon Valley Bank.
Biden also called for the FDIC to be able to fine bank executives and ban them from holding jobs at other banks.
Sen. Sherrod Brown (D-Ohio), chair of the Senate Banking Committee, endorsed the idea of more penalties for bankers in a statement on Friday.
"Working people and small businesses have been forced to pay the price for executives' arrogance and recklessness too many times before," Brown said. "We need stronger rules to rein in risky behavior and catch incompetence."
Biden's endorsement of legislation to claw back bonuses, however, also highlights the lack of progress toward preventing similar failures in the wake of the Silicon Valley Bank collapse. The Democrats and Republicans who backed deregulation in 2018 have stood by their votes, and there is only middling support in Congress for reinstating the rules.
Sen. Elizabeth Warren (D-Mass.) and Rep. Katie Porter (D-Calif.) have introduced legislation, co-sponsored by dozens of Democrats across both chambers, to reverse the 2018 deregulation bill. But both Senate Majority Leader Chuck Schumer (D-N.Y.) and the White House have so far declined to explicitly endorse it.
"We appreciate those folks putting their ideas together and putting that on the table," White House press secretary Karine Jean-Pierre said at a briefing with reporters on Thursday. "So we're going to look closely at that bill."
Igor Bobic contributed reporting.