WASHINGTON (AP) — President Joe Biden is set to meet with two of America's closest allies to announce that Australia will purchase nuclear-powered attack submarines from the U.S. to modernize its fleet as concerns grow about China's influence in the Indo-Pacific region.
Biden was traveling Monday to San Diego for talks with Australian Prime Minister Anthony Albanese and British Prime Minister Rishi Sunak on an 18-month-old nuclear partnership given the acronym AUKUS.
The partnership, announced in 2021, enabled Australia to access nuclear-powered submarines, which are stealthier and more capable than conventionally powered vessels, as a counterweight to China's military buildup.
San Diego is Biden's first stop on a three-day trip to California and Nevada. He will discuss gun violence prevention in the community of Monterey Park, California, and his plans to lower prescription drug costs in Las Vegas. The trip will include fundraising stops as Biden steps up his political activities before an expected announcement next month that he will seek reelection in 2024.
Australia is buying up to five Virginia-class boats as part of AUKUS, according to two people familiar with the arrangement who spoke on the condition of anonymity to preview the plans. A future generation of submarines will be built in the U.K. and in Australia with U.S. technology and support.
The U.S. would also step up its port visits in Australia to provide the country with more familiarity with the nuclear-powered technology before it has such subs of its own.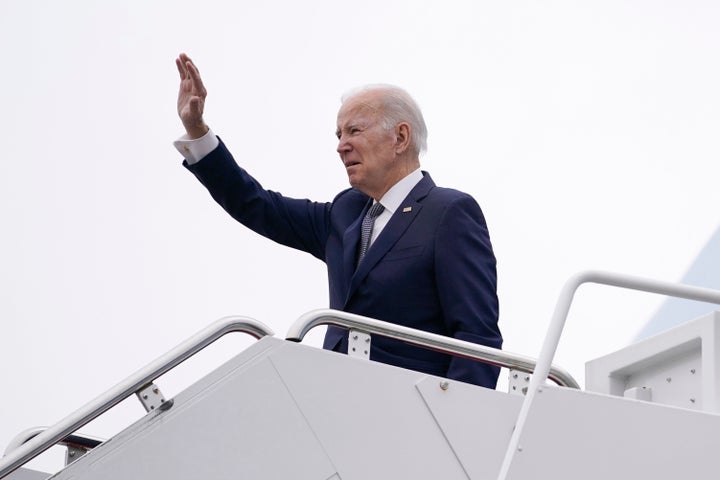 Biden will also meet individually with Albanese and Sunak, an opportunity to coordinate strategy on Russia's war in Ukraine, the global economy and more.
The secretly brokered AUKUS deal included the Australian government's cancellation of a $66 billion contract for a French-built fleet of conventional submarines, which sparked a diplomatic row within the Western alliance that took months to mend.
China has argued that the AUKUS deal violates the Nuclear Non-Proliferation Treaty. It contends that the transfer of nuclear weapons materials from a nuclear-weapon state to a non-nuclear-weapon state is a "blatant" violation of the spirit of the pact. Australian officials have pushed back against the criticism, arguing that it they are working to acquire nuclear-powered, not nuclear-armed, submarines.
"The question is really how does China choose to respond because Australia is not backing away from what it — what it sees to be doing in its own interests here," said Charles Edel, a senior adviser and Australia chair at the Center for Strategic and International Studies. "I think that probably from Beijing's perspective they've already counted out Australia as a wooable mid country. It seemed to have fully gone into the U.S. camp."
Before he departed for California, Biden spoke about steps the administration is taking to safeguard depositors and protect against broader economic hardship after the second- and third-largest bank failures in U.S. history.
Biden said the nation's financial systems are safe. He said he'd seek to hold accountable those responsible for the bank failures, called for better oversight and regulation of larger banks and promised that taxpayers would not pay the bill for any losses.
"Americans can have confidence that the banking system is safe," Biden said.