Celebrities Don't Just Show Up Looking Like This. Here's Who Makes The Magic Happen
A ton of work goes into all those fabulous garments. And the majority of the time, there's a whole team of people behind the creation and finesse of a look, even though their names and existence may not be acknowledged.
Celebrities don't just reach into their closets and pull out something to wear that looks amazing on them: There are, in fact, highly creative people behind the scenes putting together those looks and ensuring they fit properly. This includes stylists and tailors, who are responsible for all manner of red-carpet wardrobe awesomeness.
We talked to a few of them ― as well as some actresses who love them ― about what they do, how they do it and why they love it.
Stylists Have To Know Just About Everything About A Client
To be good at their jobs, stylists need to be able to curate relationships that are incredibly trusting and intimate ― they do see their clients in their underwear, after all ― while at the same time maintaining a high level of professionalism.
As actress Jaimie Alexander (of "Blindspot," "Thor" and "Agents of S.H.I.E.L.D." fame) explained, "[Ideally] it's very honest and communicative. It's important for me to speak up when I don't like something or if I feel uncomfortable. It's also important that we are on the same page when it comes to the look we are wanting to achieve."
Collaboration is key to the relationship and a large amount of time is spent discussing goals, options and likes and dislikes. While stylists dress people for all kinds of situations, red carpet events allow for experimentation and envelope-pushing. Stylist Ariana Weisner said that in her experience, clients are often more willing to take risks when it comes to dressing for awards shows. That makes it even more important to understand "the style and essence of the person themself," she said.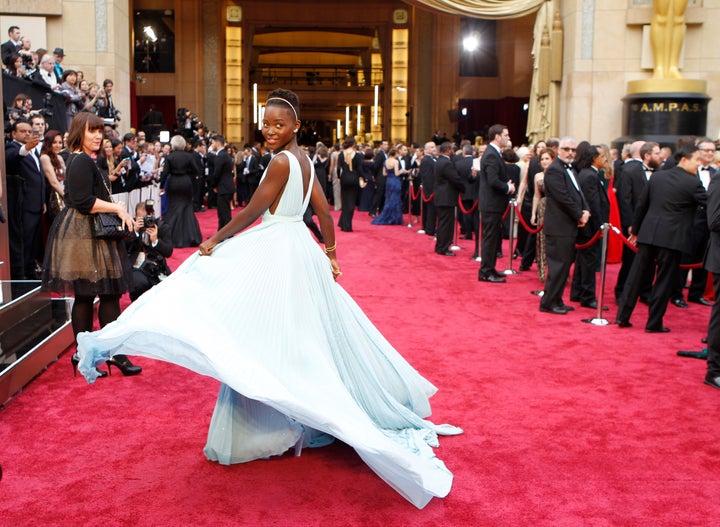 These high-profile award events give a stylist room to be more creative than they might normally be, as well as the opportunity to insert their personal signature into an overall image. As Weisner put it, "styling is a blend of what the event is, who the client is, and the stylist's aesthetic." There is so much more art and nuance than people realize.
It takes time, too. Styling can be quite demanding and rarely fits into a defined workday format.
"You're almost at their beck and call," said celebrity stylist Mindy Saad. "People email or text me at nine in the morning on a Sunday or late at night."
How Stylists And Tailors Prepare For A Red Carpet Event
As soon as Alexander confirms an event, she speaks with her stylist so they have as much time as possible to find a look.
After an initial conversation about direction, Weisner emails fashion designers to see who's willing to lend clothing, which can be a process in itself.
"You might be obsessed with a particular dress and know that this is the dress and the moment but you can't get the dress, so then you have to go to option B," Weisner explained. "A lot of times what you're putting your client in on the carpet might not have been your first choice."
That's why most stylists fit multiple garments for a single event ― anywhere from three to 15 to an entire rack. The fitting portion of the process almost always involves a tailor because most garments don't fit people (any people) perfectly off the rack or out of the showroom. There are always alterations involved.
A stylist may decide they want to get something custom-made. When the show "Atlanta" was nominated for an Emmy, stylist and costume designer Whitney Anne Adams styled actor Brian Tyree Henry.
"We wanted to do something big and bold and make a custom suit for Brian, so we found an amazing African wax print that we made into a tuxedo jacket," she said. While Adams said that two to three fittings are the norm for events, they only had one for the Emmy tuxedo.
"Which was, you know, a little nerve-wracking for our tailor. We went straight into fabric," she said.
Isa Kriegeskotte, who just opened a new studio in Bedford Village, New York, is one of the tailors who stylists and celebrities call on to perform amazing feats (like patterning and making a tux jacket) in very little time. Some celebrities have her as part of their team no matter which stylist or designer they're working with.
"A designer might just say, 'Isa is our tailor when we're dressing someone on the red carpet,'" Kriegeskotte said. Her work ranges from completely custom builds to making a size 0 dress fit a size 8 body (without it being obvious) to doing emergency hems the day of an event. She has even received partially made dresses from fashion houses that she's had to finish herself in a day ― or a night.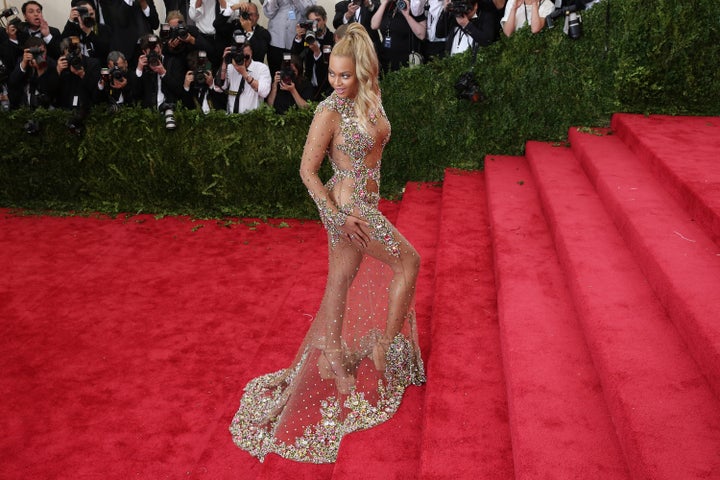 "The designer will send me fabric and the pattern," Kriegeskotte said. "I'll create panels and all kinds of things that I hide on the garment, making it look seamless." Often, she has to reverse what she's done after the person wears it so it can be returned to the showroom because "the next day they're sending it out to a photo shoot or something."
And another factor for red carpet looks? In contrast to items made for editorial photo shoots, "people have to actually be able to eat and walk around in the dress [for an event]. I had a fitting the other day and the dress looked fantastic on my client but she could hardly move in it," Saad said. Consequently, that dress was discarded as "not right" for the event.
In general, a stylist spends between 20 to 40 hours getting one outfit prepared for an event. And even then, there can be all kinds of last-minute issues that have to be dealt with, usually under very tight time constraints.
"I'd say 50% of the time you have a custom gown made and it just doesn't look as good in person as it did in the drawing, or it doesn't fit as well. It's just not as good. And then you're kind of screwed, right?" Weisner said. "And sometimes the client changes her mind the day of."
"When possible, I fit for two looks so that I have a backup in case something tears, gets stained or can't be ready in time for the event (for whatever reason)," Alexander said.
Why Stylists Do What They Do
Adams' favorite thing about her job is "seeing [a client's] face light up when they feel really amazing about what they're wearing." Saad loves that her job ― and fashion itself ― is constantly changing and that she gets the opportunity to work with different people all the time.
Weisner is all about the transformation: "Seeing a person go from sweatpants and no makeup to full glam ― to the most beautiful version of themselves," is her favorite part.
"Giving them the option to feel the most beautiful that they've ever felt is just so rewarding," Weisner added. She also loves the creativity that styling offers. It's a kind of creativity that doesn't function in a vacuum but rather thrives in a world of collaboration, attention to detail and a whole lot of trust.
Successful stylists and tailors are part magicians, part therapists, part cheerleaders, part self-esteem boosters, and all-around artists who make what they do seem effortless ― often to the point that people don't even realize they're there.
"I've always struggled [with my body image]," said actress Jo Armeniox. "I've always had an innocent, young-looking face with a voluptuous body. I didn't feel like I was allowed to have a lot of voluptuous parts. I was very confused by that, and [costume designer] Kate [DeBlasio] made me feel safe. She took the worry straight out of my soul."