Fast food franchise Chick-fil-A is under fire for being "woke" after conservatives caught wind of a seemingly innocuous statement about diversity that the company made months ago.
What appeared to be a tepid corporate nod to diversity, equity and inclusion provoked massive outrage this week with right-wingers opposed to any social justice efforts.
"Chick-fil-A restaurants have long been recognized as a place where people know they will be treated well," Erick McReynolds, Chick-fil-A's Vice President and Executive Director of diversity, equity and inclusion wrote in an online statement that dates back to at least last fall.
"Modeling care for others starts in the restaurant, and we are committed to ensuring mutual respect, understanding and dignity everywhere we do business," he continued. "These tenets are good business practice and crucial to fulfilling our Corporate Purpose."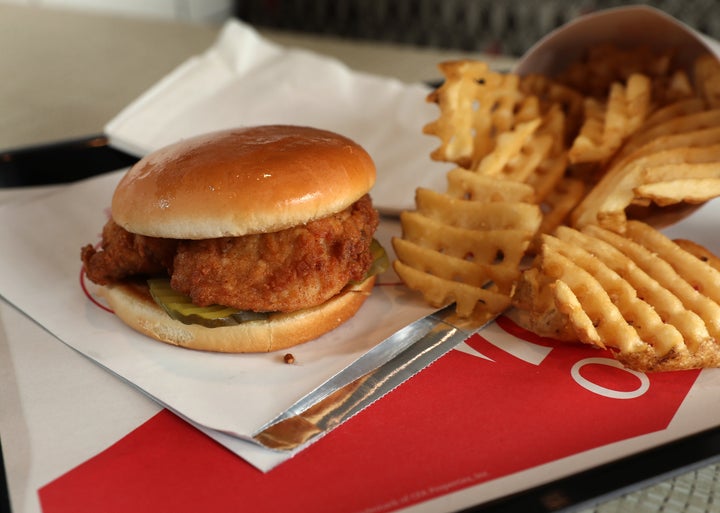 Though the months-old statement seemed uncontroversial, right-wingers took to Twitter to air their grievances.
Turning Point USA's Jon Root incorrectly complained, "Chick Fil-A just hired a VP of Diversity, Equity and Inclusion… Is this just checking off a corporate box or do they believe in this Marxist nonsense?"
In fact, McReynolds became Chick-fil-A's vice president of diversity, equity and inclusion in November 2021 after being the executive director of diversity, equity and inclusion since July 2020, according to his LinkedIn. He has worked at Chick-fil-A for more than a decade.
Wade Miller, executive director of Citizens for Renewing America, tweeted, "Everything good must come to an end. Here @ChickfilA is stating it's commitment to systemic racism, sexism, and discrimination. I cannot support such a thing."
Chick-fil-A is famously closed on Sundays in honor of the Christian Sabbath and promotes its fish sandwiches in spring during Lent, when many Christians abstain from red meat and poultry.
Founder S. Truett Cathy, a devout Southern Baptist, said he based his business on Biblical principles and the company's website says its mission is "to glorify God by being a faithful steward of all that is entrusted to us [and] to have a positive influence on all who come in contact with Chick-fil-A."
In a 2012 interview, Chick-fil-A chairman Dan Cathy said he believes in "the biblical definition of the family unit," prompting people to take a closer look at his company's charitable contributions.
Following extended criticism, the company ceased donations to the Salvation Army and the Fellowship of Christian Athletes, both of which have advocated for so-called "traditional marriage," in 2019.
The Chick-fil-A controversy comes amid a tense time for corporate inclusion efforts. In recent months, brands Bud Light and Target have both received backlash for their attempts to connect with LGBTQ customers.