Hong Kong
CNN
 — 

Chinese state-owned defense firms have maintained trade relationships with sanctioned Russian defense companies during the past year, even as many of the world's leading economies cut ties with Moscow and the companies driving its continued assault on Ukraine.
Customs records reviewed by CNN show key companies within both countries' vast military-industrial complexes have continued their years-long relationships, despite the horror Moscow has unleashed in Europe.
Records show that throughout 2022, through at least mid-November, Beijing-based defense contractor Poly Technologies sent at least a dozen shipments – including helicopter parts and air-to-ground radio equipment – to a state-backed Russian firm sanctioned by the US for its connection to leader Vladimir Putin's war in Ukraine.
Poly Technology's long-term trade partner – Ulan Ude Aviation Plant, a purveyor of military-grade helicopters – also continued to send parts and several helicopters to the Beijing-based company last year, trade data show.
Most of the helicopter parts included in the shipments to Russia were labeled for use in the multipurpose Mi-171E helicopter, designed for transport and search and rescue. According to the Stockholm International Peace Research Institute (SIPRI), China began importing this model of chopper from Russia more than 10 years ago.
Three shipments from Poly Technologies were labeled as including products for the operation or service of the Russian-made Mi-171SH, a military transport helicopter that can be equipped with weapons and has been used in Moscow's operations in Ukraine.
There is no evidence that any of the goods exchanged are directly feeding Russia's war.
The customs records came from two data sets. The first was provided by trade data firm Import Genius, whose information is collated by secondary sources from official Russian customs and shipment records.
Washington-based think tank C4ADS, which collates official customs records aggregated from multiple third-party providers, provided the second set.
CNN has not independently verified the data, which may provide a partial but not complete picture of the trade.
Military and security experts say the parts sent from the Chinese firm to Russia are fairly basic equipment for Russian-designed aircraft that could be part of existing contracts and standard business relationships between the companies.
But last year's trade underscores enduring ties between key players in the state-backed defense sectors on both sides – relationships that had strengthened over the past decade as Putin and Chinese leader Xi Jinping developed their strategic alignment.
Experts say such well-established networks could be leveraged if Beijing were to provide direct, lethal aid for the Kremlin's war effort.
Western leaders in recent weeks have warned China is considering that step. Beijing has denied this, derided the warning as a "smear," and repeatedly defended its "normal" trade with Russia and rejected what it calls "unilateral" sanctions against Moscow.
Beijing and Moscow's military ties have evolved dramatically since the height of the Cold War – a period marked by mutual hostility and ideological divergence.
While some frictions remain, the two authoritarian neighbors have grown close, especially under Putin and Xi, who together declared a "no limits" partnership just weeks before Russia invaded Ukraine.
That includes a growing security relationship.
Following the fall of the Soviet Union, a robust, but decidedly one-way weapons trade flourished in which Russia marketed its superior weaponry to China.
More recently, the rapid modernization of China's military has begun to shift that dynamic.
In 2021, Putin boasted that the two countries were "developing together certain high-tech types of weapons," according to Russian state media, and lauded their joint military exercises – which have also expanded in scope and geographic range.
On the frontlines of that relationship are the state-linked military contractors. Those are being integrated into an "an increasingly sophisticated supply chain," according to Alex Gabuev, a senior fellow at the international think tank Carnegie Endowment for International Peace.
Then came the Ukraine war.
So far, China has stepped carefully around sweeping Western penalties targeting those supporting Russia – although 10 Chinese companies have been hit by US restrictions related to the war.
But a major question for Western officials is whether existing defense relationships could be used by China to supply lethal aid for the Kremlin's war effort, which is widely believed to be running low on ammunition and arms.
Last month CNN reported that US intelligence officials believe the Chinese government is considering sending drones and ammunition to Russia.
On March 7, China's new foreign minister Qin Gang said that China "has not provided weapons to either side" of Russia's war, and denounced US concerns in the matter as hypocritical.
Observers of Chinese foreign affairs say its leaders are well aware of the reputational and economic damage if it is perceived to be backing Moscow militarily – and many are skeptical Beijing would take such a step to aid a nuclear-armed Russia at this time.
"Russia is losing this war in general terms … but it's not a loss that would lead to Putin's demise and democratization of Russia, so I don't see reasons for China now to do more than they are doing," said Gabuev.
The goods traded between Chinese and Russian defense firms in the data reviewed by CNN are not the munitions that Russia's military is thought to need most one year into its Ukraine onslaught. China is also not alone in continuing procurement from a Russia at war.
When asked by CNN about the shipments from China to sanctioned Russian firms, the Chinese Ministry of Foreign Affairs said it was "unaware of the situation," and that China "stand(s) firmly on the side of dialogue and peace."
The Kremlin did not respond to a request for comment from CNN.
But on February 27 its spokesman said Russia saw "no need to comment further" on claims that Russia asked China for military equipment which he said had already been refuted by Beijing.
Poly Technologies describes itself on its website as the core subsidiary of China Poly Group, a leading state-owned enterprise, "exclusively authorized by the Chinese central government for import/export of defense systems."
Poly Technologies was sanctioned by the US in 2013 under rules targeting firms supplying Iran, North Korea and Syria, and again in January of last year for alleged missile proliferation. China Poly Group did not respond to a request for comment.
The company's trade partner Ulan Ude Aviation Plant, a subsidiary of top state-owned manufacturer Russian Helicopters, which makes the widely used Mi-8/17 series helicopters long integral to Russian military transport, also did not respond to a request for comment.
Two other key companies appear in the customs data – China's AVIC International Holding, controlled by state-owned Aviation Industry Corporation of China, and Russia's United Engine Corporation (UEC), which is part of state-owned defense giant Rostec.
Their trade involved Russian-designed jet engine parts, many of which were labeled for an engine used in Chinese fighter jets.
Shipments from AVIC International to UEC made through July last year were listed as contractual obligations under warranty, and export records show UEC shipping parts for the same engine model to China including as recently as December, according to data from Import Genius.
AVIC International and UEC did not respond to requests for comment. The Wall Street Journal previously referenced shipments made from Poly Technologies and AVIC International Holding to Russian partners.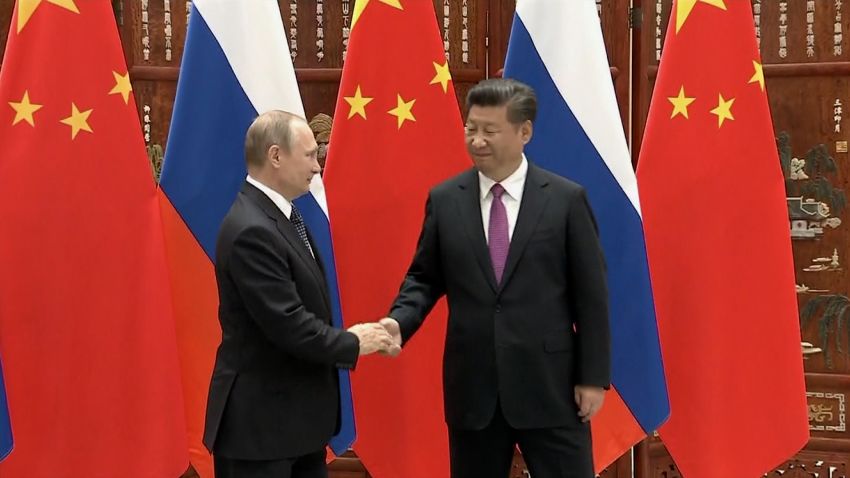 Report obtained by CNN shows Russia is getting military support from China
Washington's stance is that any company supplying or operating within the Russian defense sector risks being sanctioned.
But China may not be too concerned about the transactions shown in the trade data reviewed by CNN, according to Yun Sun, director of the China Program at the Stimson Center think tank in Washington.
"This type of export has to be approved by the government. But given the nature of these parts and the fact that (Poly Technologies) has been under US sanction since 2013, the government may not see the need not to approve," she said.
Some experts have raised questions about whether aviation parts coming from China to Russia – many of which are labeled as "used" or originating in Russia – could still be spare parts needed by a Russia at war.
Sun said it was no surprise Russia would continue fulfilling contracts for Chinese-purchased equipment, but warned goods going the opposite direction could be "reimported by Russia to supply their war attrition."
It's also unlikely that the full picture will ever be revealed.
"Neither China nor Russia wants Western intelligence to be aware of the depth and breadth of their strategic alignment," said Alexander Korolev, a senior lecturer in Politics and International Relations at the University of New South Wales in Australia.
If China were to supply lethal aid, Korolev added, "everything would be done to cover this up."
"And one way to cover it up is to make it look as if it's just a part of regular, long-term military technical cooperation – rather than a response to the war."