Editor's Note: The CNN film "Navalny" premiered in April 2022 and won the BAFTA Award for Best Documentary Feature. It is streaming on HBO Max, which is owned by CNN's parent company.


CNN
 — 

Dasha Navalnaya, the daughter of jailed Russian dissident Alexey Navalny, has called on Russian President Vladimir Putin to end the war in Ukraine and to release her father and political prisoners in the country, in an extensive interview with CNN's Erin Burnett on Friday.
"We will not stop fighting" until both of those goals are achieved, Navalnaya said.
Her father Navalny – an outspoken critic of the Kremlin and its war in Ukraine – is currently serving a nine-year jail term at a maximum-security prison east of Moscow after being convicted of large-scale fraud by a Russian court last year.
He was poisoned with nerve agent Novichok in 2020, an attack several Western officials and Navalny himself openly blamed on the Kremlin. Russia has denied any involvement.
After several months in Germany recovering from the poisoning, Navalny returned to Moscow, where he was immediately arrested for violating probation terms imposed from a 2014 embezzlement case that he said was politically motivated.
He was initially sentenced to two-and-a-half years, and then later given nine years over separate allegations that he stole from his anti-corruption foundation.
Navalny, who previously ran for political office in Russia, has long been a thorn in the side of the Kremlin.
Dasha said the "main goal" of her father's work and anti-corruption foundation "is for Russia to become a free state, to have open elections, to have freedom of press, freedom of speech, and just you know, to have the opportunity to become a part of the normal Western democratized community."
She described the experience of growing up in a family watched closely by the government, telling Burnett that she and her brother made a game out of trying to evade spies on public transport in Russia.
"We would look around the train and then start chatting with the guy who had the worst camouflage outfit and the black cap and the weird strappy bag on the side, and we would jump out – not out of the train but out of the the subway car," she said.
But Navalnaya also voiced escalating concern about her father's prison conditions now, saying that her family has had limited access to Navalny and that his attorneys are able to see him only "through a guarded veil."
"So we can't really know for sure his health circumstance and he hasn't seen his family in over half a year," she said. "I haven't seen him in person in over a year and it's quite concerning considering his health is getting worse and worse."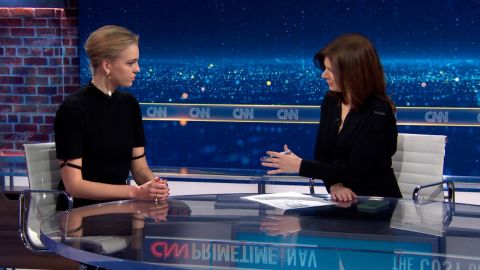 Concerns about Navalny's health have persisted for months. Footage during his sentencing last year showed Navalny as a gaunt figure standing beside his lawyers in a room filled with security officials.
Navalny himself has tweeted about difficult conditions in confinement, saying in November that he had been isolated from other prisoners in what he described as a move designed to "shut me up." Inmates in Russian penal colonies are typically housed in barracks rather than cells, according to a report by Poland-based think tank the Center for Eastern Studies (OSW).
The "real indescribable bestiality" of his incarceration, however, was limitations on visits with family, he said at the time.
Navalny's poisoning and subsequent legal problems drew intense interest from the Russian public and abroad. Russia witnessed large-scale anti-government protests in towns and cities across the country after his arrest, with authorities detaining around 11,000 demonstrators within a few weeks.
In June last year, Navalny was transferred from a penal colony in Pokrov to a maximum-security prison in Melekhovo in Russia's Vladimir region.
Throughout his incarceration, Navalny has nevertheless vociferously denounced Russia's invasion of Ukraine via social media, advocating anti-war protests across the country as "the backbone of the movement against war and death."
In a tweet thread about his prison conditions last year, he vowed to continue speaking out.
"So what's my first duty? That's right, to not be afraid and not shut up," he wrote, urging others to do the same. "At every opportunity, campaign against the war, Putin and United Russia. Hugs to you all."