Democrats blasted the White House on Tuesday for reportedly considering reinstating a policy that would detain migrant families who cross the U.S. border illegally.
White House press secretary Karine Jean-Pierre told reporters that she would not comment on a New York Times report that the administration was considering reviving a family detention policy, adding, "I'm not saying it's being considered. … I'm not saying it is not."
Democrats have sounded the alarm over the idea, demanding the White House not reimplement the policy that former President Donald Trump enacted, which Biden ended when he took office.
"I am disgusted and disappointed that our nation would ever consider reinstating a program that has been proven to cause harmful, long-term effects on migrant families, especially children, who have been forced to flee their home nations in search of freedom, safety, and democracy," said Rep. Maxwell Alejandro Frost (D-Fla.).
"We abandoned this family detention program for a reason – it is a failed policy that is incapable of offering humanity and compassion to migrants when they need it most," he added.
"Locking immigrant families and children into cages along the border is dangerous, ineffective, and wrong," tweeted Rep. Greg Casar (D-Texas). "The Biden Administration did the right thing by ending family detention. We can't go back."
Sen. Alex Padilla (D-Calif.) called the idea a "grave mistake."
"Instead of relying on costly failed policies that traumatize migrants and cruelly encourage more families to separate, we must focus on building a safe and humane immigration system," he tweeted.
"Family detention serves two purposes: lining the pockets of private prison companies and acting as a useless deterrent to prevent migrants from seeking their legal right to asylum. This failed policy is callous and inhumane," said Rep. Raúl M. Grijalva (D-Ariz.) in a statement.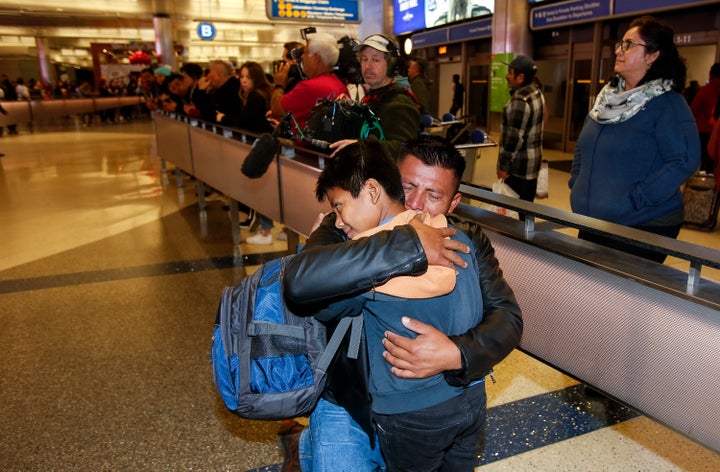 If reinstated, the family separation policy would be the latest example of Biden's crackdown on migrants at the southern U.S. border. Last month, his administration introduced its most restrictive border measure yet, which disqualified migrants from applying for asylum in the U.S. if they had traveled through other countries.
In January, nearly 80 Democratic lawmakers wrote a letter to Biden voicing concern about his immigration measures. Democrats have repeatedly criticized the White House for resorting to immigration policies similar to Trump's. White House officials, meanwhile, have vehemently rejected those comparisons.
The report about the Biden administration considering family separation comes as the administration prepares for Title 42 to expire in May. The Trump-era policy has allowed border authorities to swiftly expel migrants under the pretext of the coronavirus pandemic. But lawmakers have chastised the White House for implementing more aggressive policies instead of fulfilling its promise of a more compassionate approach to immigration.
"No decisions have been made as we prepare for the Title 42 Public Health Order to lift," a Department of Homeland Security official told HuffPost. "The Administration will continue to prioritize safe, orderly, and humane processing of migrants."
Local city offices have vowed to fight family separations.
"If this inhumane policy returns, we will join advocates & welcoming cities in fighting it, just as we did when all the past administrations instituted this cruel practice," tweeted the Seattle Office of Immigrant and Refugee Affairs.
"President Biden promised to end family detention on the campaign trail and repeatedly condemned the Trump administration for detaining families. Yet, the Biden administration is now seemingly moving towards repeating mistakes from the past," Setareh Ghandehari, the advocacy director of Detention Watch Network, a coalition of immigration organizations, said in a statement.
"If the Biden administration revives family detention, it will be yet another example of how the Biden administration has reneged on its promises to bring fairness to the immigration system," Ghandehari added. "Instead, this administration has doubled-down on the use of detention, surveillance, and restrictive border policies that result in deportations – tearing apart families and communities."