Dominion Settles Defamation Suit With Fox News
Dominion Voting Systems abruptly reached a $787.5 million settlement with Fox News on Tuesday in its massive defamation suit against the media giant, the same day the blockbuster trial was expected to begin.
Delaware Supreme Court Judge Eric M. Davis thanked the jury of 12 people who were sworn in earlier in the day.
"Without you, the parties would not have been able to resolve their situation," he said before telling the lawyers on each side they had also done good work.
The court was about to reconvene from a lunch break when a delay allowed lawyers from both sides to work out a deal.
Fox News hailed the compromise while also admitting that it broadcast falsehoods:
"We are pleased to have reached a settlement of our dispute with Dominion Voting Systems. We acknowledge the Court's rulings finding certain claims about Dominion to be false. This settlement reflects FOX's continued commitment to the highest journalistic standards. We are hopeful that our decision to resolve this dispute with Dominion amicably, instead of the acrimony of a divisive trial, allows the country to move forward from these issues."
An attorney for Dominion, Justin Nelson, said the agreement represented "accountability."
"The truth matters," Nelson told members of the press outside the courthouse.
"Fox has admitted to telling lies about Dominion that caused enormous damage to my company, our employees, and the customers that we serve," Dominion CEO John Poulos said, adding that his side believes "the evidence brought to light through this case underscores the consequences of spreading lies."
The decision means the right-wing cable network will avoid a potentially embarrassing trial and protect top brass from publicly testifying. It also serves to inoculate the network from legal repercussions linked to the spread of misinformation during and after the 2020 presidential election — at least for now.
Dominion's lawyers said in a court filing they planned to call a number of high-profile figures to the stand, including Fox founder Rupert Murdoch, his son Lachlan, network hosts Tucker Carlson and Sean Hannity, and a number of top executives.
The Wilmington courthouse had been packed to the brim with reporters, according to those at the scene.
The defamation trial was set to begin Monday before it was suddenly delayed Sunday night, prompting reports that Fox News was pushing for a last-minute settlement. Dominion had previously insisted the company would settle only if Fox issued an apology and admitted to spreading lies on the air.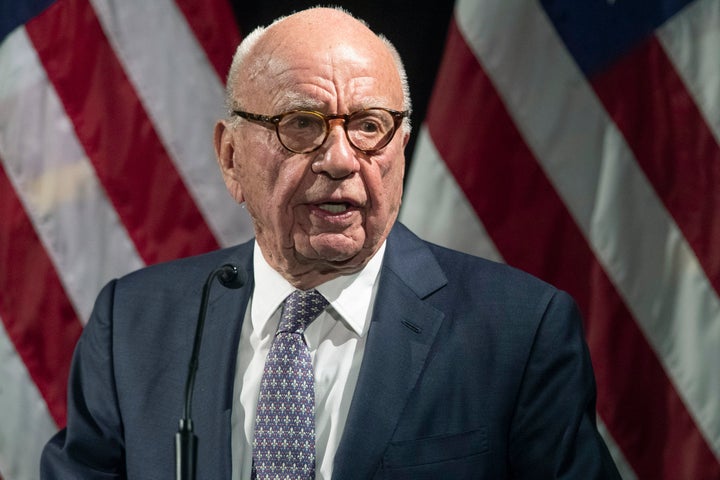 The tech company had been seeking $1.6 billion in damages from Fox after nearly two years of back-and-forth proceedings between the judge and lawyers for both sides.
At the center of the suit were baseless claims that Dominion's voting machines were somehow rigged to prevent former President Donald Trump from winning a second term in 2020. Dominion said that the airtime Fox gave to these claims led to threats and harassment against the company's employees, and resulted in lost profits.
Prior to the settlement, Davis ruled it was "CRYSTAL clear" that 20 specific statements broadcast by Fox in the wake of the 2020 election were not true, but left the key question of whether they meet the legal definition of defamation up to a panel of a dozen jurors.
The judge also chided Fox for its handling of documentation in the case, and on Tuesday ordered a special master to look into the matter involving Murdoch, who serves as chair of the broader Fox Corp. Dominion discovered that Murdoch also holds a formal title at Fox News, and the company's lawyers argued this entitled them to more records in the discovery process than Fox handed over.
Media advocates had expected the landmark case — the biggest media lawsuit in decades — to delve into the spread of misinformation and the intricacies of American libel law, questions that have grown exponentially in recent years.
Fox argued its actions were protected under the First Amendment and that its hosts had an "absolute right to cover the news."
However, a deluge of bombshells that appeared in court filings in recent months demonstrated how senior executives at the network expressed doubt about Trump's claims of election fraud.
Murdoch himself called it "crazy stuff" in one email. Texts and emails between other Fox employees were even more blunt.
"MIND BLOWINGLY NUTS," wrote Fox Corp. senior vice president Raj Shah, per court documents.
Murdoch said in sworn testimony in the case that several Fox hosts had "endorsed" false conspiracy theories, but the billionaire media mogul attempted to distance their comments from the network itself.
Fox is still facing a separate, but related, defamation suit from Smartmatic USA Corp. The voting machine company has sued for $2.7 billion over similar claims to those of Dominion.