Editor's Note: Sign up for Unlocking the World, CNN Travel's weekly newsletter. Get news about destinations opening, inspiration for future adventures, plus the latest in aviation, food and drink, where to stay and other travel developments.


CNN
 — 

A most welcome flight diversion. That's a rarity for commercial airline passengers, but it's what travelers on at least two flights got this week when their planes looped around to give everyone a good view of the northern lights.
Also known as the aurora borealis, the natural phenomenon is something travelers often make pricey trips to high latitudes just to witness.
Those on easyJet flight 1806 from Reykjavik to Manchester and Finnair flight 488 from Kuusamo to Helsinki all got a light show for the price of their airfare. Flight tracking sites show both planes made small loops mid-flight.
"Many thanks to the Captain of Finnair flight AY488 from KAO to HEL tonight for making an unscheduled 360 up in the air so all passengers can enjoy the magic," Kirsi Komi tweeted Sunday.
Finnair said such loops are usually performed to avoid bad weather. "Loops such as this are quite rare in our flight operations," the airline said in a statement.
"The captain takes the decision to make an additional diversion. When diversions take place, the first priority is always flight safety," Finnair said.
On Monday, the pilot on easyJet flight 1806 also made a loop to showcase the colorful lights.
Ross Sticka was flying to Manchester with his wife, brother and sister-in-law and was able to take pictures out the window.
He told CNN that they had heard that people on a previous flight had seen the aurora borealis, so they held magazines up near the window to block the cabin lights in hopes of catching a glimpse.
He said the easyJet crew were amazing and switched out the lights so everyone could see.
His group was lucky because they were on the left side of the plane, he said, so they "got lots of photos before they did the 360."
"Everyone was so excited as many hadn't seen them before. We [were] lucky to see them twice on our trip to Iceland. Amazing experience."
Adam Groves tweeted "big thanks" to the easyJet pilot "who did a 360 fly by mid flight to make sure all passengers could see the incredible Northern Lights."
EasyJet was "delighted" to do it, the airline said in a statement to CNN.
The captain "was able to perform a controlled manoeuvre in order to allow passengers to witness an amazing display from the air of one of nature's greatest sights, the Aurora Borealis," easyJet's statement said.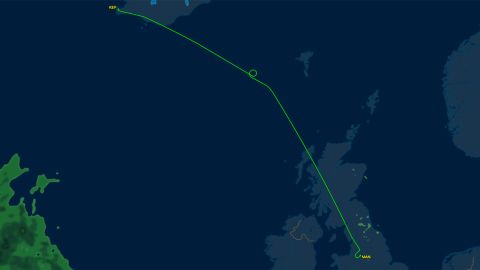 They offered photo ops not to be missed. "Too bad I did not have proper camera," tweeted Finnair Captain Tuomo Järvinen.
Still, it was not bad for a free show:
New insight into the aurora borealis was published in 2021. Authors of a study proved that the "most brilliant auroras are produced by powerful electromagnetic waves during geomagnetic storms."
Correction: A previous version of this story misidentified the captain of the Finnair flight.