A former White House staffer said she is "definitely worried" after Donald Trump called on supporters this the weekend to protest his possible indictment.
In several all-caps screeds on his social media platform Saturday, the former president said he expected to be arrested on Tuesday at the direction of Manhattan District Attorney Alvin Bragg's office. Bragg has been investigating Trump's role in a hush-money payment to adult film star Stormy Daniels in 2016.
"Protest, take our nation back," Trump told his followers. In another post, he said that "evil & sinister people" were "killing our nation as we sit back and watch."
"We must save America! Protest, protest, protest!!!" he wrote.
Sarah Matthews, who was deputy White House press secretary during the Trump administration, was asked during an appearance Tuesday on CNN if she was worried about the former president's rhetoric.
"Definitely worried," said Matthews, who resigned from the Trump administration on the day of the Jan. 6, 2021, insurrection at the U.S. Capitol. "I think it goes to show he's learned nothing in the aftermath of Jan. 6. The rhetoric he was using was similar to the rhetoric he used around Jan. 6. I think in his Truth Social post he said that they needed to protest to 'take back our nation.'"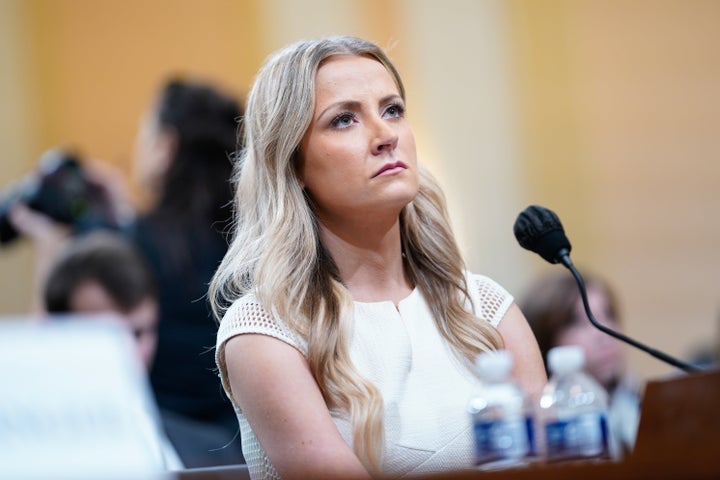 "And so it does concern me to see him using that kind of rhetoric that could lead to a violent uptick," she said, according to a clip of the interview published by Mediaite.
However, Matthews said she believed the response from supporters would likely be more muted than it was on Jan. 6, 2021.
Last summer, Matthews testified before the House panel investigating the Capitol riot. She told the select committee that Trump didn't want to include any mention of peace in his tweets to rioters and that if he had wanted to make a public address from the press briefing room, he could have walked there in less than 60 seconds.