CNN
 — 

Former University of Georgia football standout Jalen Carter was sentenced to probation on Thursday for his role in the January crash that killed his teammate and a team staffer, his attorney told CNN.
The crash happened hours after the Bulldogs' national championship victory parade.
Carter entered pleas of no contest Thursday to charges of racing and reckless driving, according to his attorney, Kim Stephens.
Carter was then sentenced to 12 months of probation, a $1,000 fine and 50 hours of community service and completion of a state-approved defensive driving course, the attorney said.
"Mr. Carter is happy and relieved to get this matter behind him, so now he can do what he needs to do for the NFL draft," the lawyer said.
"He continues to grieve for the loss of his friends," Stephens added.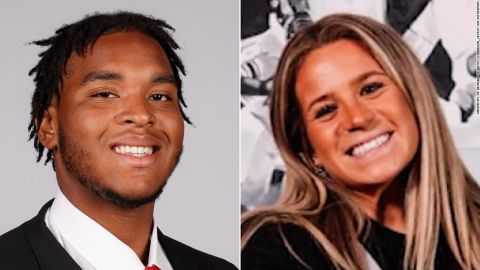 Carter has been projected as a top pick in the NFL draft next month.
CNN has reached out to Athens Solicitor's Office for comment.
Carter's teammate Devin Willock and football team staff member Chandler LeCroy were killed in the January 15 crash, which happened hours after the team participated in a parade through campus to celebrate its second consecutive national title.
Carter turned himself in at the Athens-Clarke County Jail earlier this month on charges of reckless driving and racing.
LeCroy was driving a Ford SUV near the campus with Willock and two other members of the football program also in the vehicle, police said. The SUV was traveling "about 104 miles per hour" before it veered off the road and slammed into two power poles and several trees, Athens-Clarke County police said.
Authorities said Carter was driving a separate vehicle and he and LeCroy appeared to be racing.
Police said "both vehicles switched between lanes, drove in the center turn lane, drove in opposite lanes of travel, overtook other motorists, and drove at high rates of speed, in an apparent attempt to outdistance each other."
Toxicology results show LeCroy, who was driving a university vehicle not authorized for use at the time of the crash, had a blood alcohol concentration of .197 – more than twice the legal limit in Georgia, police said.
Willock was ejected and died at the scene and LeCroy died at a local hospital. The two other passengers in the vehicle were injured, officials said.
Carter was a key part of Georgia's vaunted defense that allowed the fewest rushing yards per game (77.1) in 2022 and was named to several All-America teams.
More than four months before the fatal crash, Carter had been issued three traffic citations – including one for speeding at nearly twice the legal limit, according to documents and body camera video obtained by CNN from the Athens-Clarke County Police Department.
On September 22, Carter was stopped for speeding. An officer is heard on body camera footage telling him that he was "reckless," and issued three traffic tickets
One ticket showed Carter was driving at 89 mph in a 45 mph zone. A second ticket cited him for having "material affixed" to his car which "obstructs vision." A third citation was for an illegal windshield tint.
Bodycam video from the stop showed Carter in the driver's seat of a Black Jeep. The officer held up a radar gun showing a speed of 89 mph, according to the video.
Carter is seen on video, expressionless, as the officer named two other UGA athletes who he said he had recently stopped.
"Y'all need to slow down dude," the officer is heard telling Carter, who didn't respond.
"Look I don't know if y'all need to send out a text or something to other teammates, but slow down," the officer said, adding, "That was reckless."
"When you're around your teammates, tell them to slow down," the officer said.
The officer then tested the tint on Carter's vehicle – which he said is illegal in the state of Georgia. "The front windshield can't have nothing on it. No material on it whatsoever, OK?"
"Your break is you're not going to jail. That's your break. Because that would make all kinds of news, alright?" the officer is heard telling Carter in the footage.
The player smiled nervously. "You're getting a ticket for speeding," the officer said.
The officer added, "Slow down OK. That's all I ask."