How Oklahoma's Love Affair With Marijuana Slowly Faded Away
OKLAHOMA CITY — Damon Devereaux, the sheriff of Logan County, just north of Oklahoma City, recalls when his deputies stopped a truck carrying 17 pounds of marijuana.
Neither the driver nor the passenger had a driver's license or a license to transport medical marijuana, but Devereaux said they did have a spiral-bound notebook listing cash sales. The sheriff said the operation appeared to be "obviously illegal," and deputies arrested them.
But when the pair went before a judge, their lawyer told the district attorney that medical marijuana regulations didn't actually require licenses for transporters.
"She goes, 'Wow, you're right,'" Devereaux said. "So we had to give 17 pounds of marijuana back."
That regulation has since been changed. But Devereaux, who is part of the legalization opposition group Protect Our Kids No 820, said it is emblematic of some of the problems he and his fellow law enforcement offices have faced since Oklahoma approved medical marijuana in a statewide vote in 2018.
The approval set off a boom, and almost 400,000 of the state's 4 million residents now have medical marijuana cards. The state is home to almost three times as many dispensaries as fully weed-legal California, where the population is 10 times that of Oklahoma.
'Once-In-A-Generation Opportunity'
Access to marijuana in the state could increase soon, as voters are set to decide a full legalization referendum on Tuesday. Pollster Pat McFerron, who's affiliated with Protect Our Kids No 820, said opposition to legalization led by a few percentage points, 49% to 46%, in early January, with only a sliver of Oklahomans undecided.
Legalization proponents say it would provide a tax windfall for the state and a "sensible" regulation regime. The proposal would set a 15% tax on cannabis sales, with proceeds to go to schools, treatment programs, and state and local governments. It would also allow for expungement of low-level marijuana convictions and require product safety regulations on testing, packaging and labeling of products.
Yes on 820, a pro-legalization group, commissioned a study that found legalization would provide $821 million over five years in revenue from recreational and medical weed sales after legalization.
"We have a once-in-a-generation opportunity to bolster economic investment across the state and make major investments into education, health care and other priorities," said Mike Ervin, a board member for the Oklahoma Cannabis Industry Association.
But critics are skeptical that the benefits of legalization would outweigh potential problems, especially as access to medical marijuana has increased, outpacing regulations to keep the industry in check.
Last year, the state legislature overwhelmingly passed a bill putting in place a two-year moratorium on new dispensary and farm licenses, and both candidates in the governor's race cited the need for increased regulation.
"It's the wild, wild West with medical marijuana," said Democratic candidate Joy Hofmeister in an October debate.
A rejection of State Question 820 would mark a sharp turnabout for Oklahoma, which in 2018 enthusiastically joined what are now 38 states and the District of Columbia in legalizing marijuana for medical use.
"It's the wild, wild West with medical marijuana."

– Joy Hofmeister, 2022 Democratic candidate for Oklahoma governor
Not only did medical marijuana pass 57% to 43%, it won 36 of the state's 77 counties, not just the three urban ones.
But McFerron's data showed an erosion of support among all age groups for recreational marijuana compared with the medical marijuana effort at the same stage. Voters ages 45 to 54 and those 55 to 64 were statistically tied in January after solidly supporting the 2018 initiative.
Potentially more worrisome for legalization advocates is the decline in support from older voters, who could tip the scales in a low-turnout election. For those ages 65 to 74, only 39% supported legalization, compared with 58% for medical marijuana in 2018. For voters 75 and older, support dropped to 28%, down from 36% in 2018.
The perception that the growth of the marijuana industry has been linked to an increase of crime in Oklahoma could contribute to voters' worries about legalization, as could concerns over the environmental impact of marijuana as a large cash crop.
Kingfisher County Killings
Although there is no evidence that the medical marijuana industry has led to a significant increase in crime in Oklahoma, some point to a case in Kingfisher County as an example of what could happen if legalization is passed.
On Nov. 20, sheriff's deputies were called out to a marijuana grow farm near Hennessey, about an hour's drive northwest of Oklahoma City. But instead of the hostage situation they were expecting, they found four Chinese nationals, three men and one woman, shot to death and another wounded.
The alleged shooter, 45-year-old Wu Chen, was arrested in Miami and has been held without bail since. In their application to keep him in jail, prosecutors claim he demanded $300,000 from workers on the farm as a return on his investment and shot the four "in a matter of minutes" when they didn't comply.
The brutality of the Kingfisher killings shocked many, and politically the case involves several issues that law enforcement departments have worried would accompany the proliferation of farms — violence, trafficking in illegal immigrants and fraudulent business owners.
Oklahoma is an attractive location for marijuana businesses because of its low barriers to entry and low operating costs, said Mark Woodward, a spokesperson for the Oklahoma Bureau of Narcotics.
"It's because of a combination of our land, our law, our license. All those perfect storms that just made it advantageous not only for legitimate businesses to try to make it a go but also for the criminals to come and hide," Woodward said.
A license that can be used to both open a dispensary and set up a farm costs about $3,000. In neighboring Arkansas, the dispensary license fee is $15,000 and licensees are required to have a performance bond of $100,000. In Colorado, medical marijuana dispensary licenses go for $6,000 to $14,000.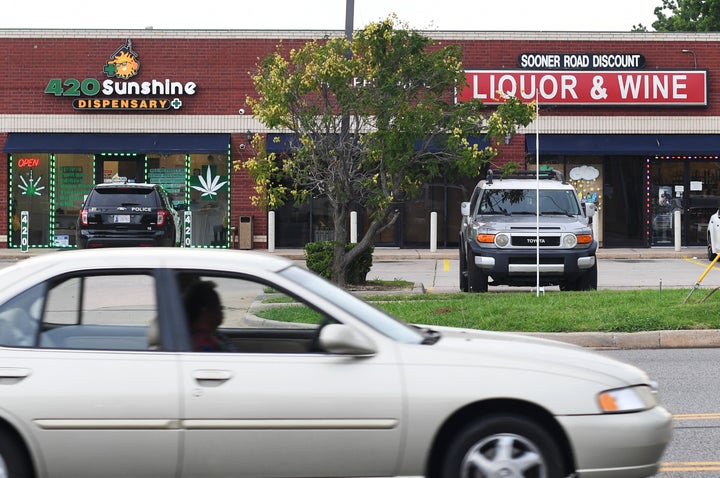 In Oklahoma, a resident can have up to 3 ounces of marijuana on them and up to 8 ounces in their residence as well as up to six mature plants and six seedling plants, 1 ounce of concentrate, 72 ounces of edibles and also up to 72 ounces of topical marijuana.
"In most states that have recreational [marijuana], that type of weight is a felony," Devereaux said.
To supply all those dispensaries, Oklahoma has licensed 7,088 farms, only about 500 less than California. Of those, Woodward said, about 2,000 are under investigation for obtaining their license by fraud, potentially with the intent of selling their products out of state illegally.
"We've got partners in law enforcement on the East Coast who say Oklahoma's their No. 1 supplier now of black market marijuana," Woodward said.
Thirsty Plants, Aging Infrastructure
For a state where the landscape still bears the scars of the Dust Bowl, water is a vital resource. And when it comes to water, thirsty weed plants and aging rural water systems are a bad mix.
As both legal and illegal pot farms have flourished, so have the demands placed on local water systems built mainly for residential use.
A typical household can use anywhere from 4,000 to 14,000 gallons of water a month, but grow operations can use anywhere from 75,000 to 200,000 gallons a month, depending on the type of irrigation used, said Brandon Bowman, state programs director for the Oklahoma Rural Water Association.
"It's just a sudden massive increase in usage and a change from what was residential usage to suddenly high-volume commercial usage that the infrastructure and the water system was not designed to handle in a lot of situations," he said.
For systems stretched by the new customers, neighbors of marijuana farms can see their water pressure fall or even fail completely. Bowman said the western side of the state, where most water comes from groundwater instead of natural and man-made lakes, has more to worry about.
"I have not heard of a system exhausting their supply, but it's something everyone's thinking about," he said.
Medical-Rec
For 24-year-old Talon Hull, medical marijuana has meant a thriving small business. His medical marijuana outlet, Sage Wellness, is located in an artsy Oklahoma City neighborhood, and its interior looks like a cross between an Apple Store and an upscale coffee shop.
But even he said the industry could use some additional regulation.
"I think that it's, just with any business, you've got to do it the right way," he said.
Hull said he began thinking about getting into the weed business even before medical marijuana had been legalized in Oklahoma. He studied the issue in high school and saw how Oregon handled it. He started his store with cannabidiol (CBD) products, changing over to offer medical marijuana in 2018.
Oklahoma, he said, has become a de facto recreational marijuana state, a "medical-rec" state.
"I mean, you can get 3 ounces a day, 72 ounces of edibles and an ounce of concentrate. So there's no way that somebody can consume that amount of cannabis in one day, you know?"
Though he said he hoped recreational marijuana would pass, he was not sure it would make much difference given regulation was still "so loose."
"The cannabis industry changed my family's life."

– Talon Hull, owner of Sage Wellness, a marijuana dispensary
Shops like Hull's are what pro-marijuana advocates see as part of a booming marijuana economy that's possible if legalization wins. And Hull is grateful for what medical marijuana has provided for him.
"We grew up in the same rental property that my mom had been renting from landlords for 18 years. She just moved out last year," he said.
"The cannabis industry changed my family's life."
Devereaux, the Logan County sheriff, is of two minds. While not happy at the prospect of more marijuana-related businesses, he also said full legalization may be a practical choice to make illegal growing less profitable.
"We can't put the cat back in the bag right now, I guess. It's too big. It's gotten too big to try to control now," he said.
"It kind of comes down to, I think, we were sold a Trojan horse, and now we're stuck dealing with it."