Paul Vallas, one of two finalists in the race for Chicago mayor, has often been critical of Illinois Gov. J.B. Pritzker (D).
The Pritzker policies with which Vallas took issue included an election-year tax cut that Vallas saw as an effort to "fool" voters, a reduction in a tax credit for low-income private school parents and, most of all, the progressive governor's cautious approach to reopening public schools and lifting mask mandates during the COVID-19 pandemic.
Speaking on a conservative talk-radio show in December 2021, Vallas, the former CEO of Chicago Public Schools, argued that Pritzker and Chicago Mayor Lori Lightfoot were relying on executive orders to implement public health policy because it "gives them the ability to act like dictators" by circumventing their respective legislatures.
Pritzker has remained neutral in the Chicago mayoral runoff, which is due to conclude on April 4. In that contest, Vallas, a centrist, faces off against Cook County Commissioner Brandon Johnson, a progressive.
HuffPost nonetheless asked Pritzker's political staff whether he had any response to Vallas' most striking criticism of the governor.
Pritzker campaign spokesperson Natalie Edelstein replied with a statement that both defended Pritzker's conduct and took a subtle jab at Vallas, homing in on his affinity for right-wing talk radio.
"Throughout the pandemic, Governor Pritzker spent every day fighting to save people's lives and livelihoods," Edelstein said. "He did it by following the advice of the nation's best virologists and epidemiologists, many of whom are at Illinois's world-class research institutions and hospitals."
"Leadership requires making tough choices and not pandering to the loudest voices driven by politics," she added. "The next mayor of Chicago may be called upon to lead in a similar type of emergency and residents deserve to know if their next Mayor will listen to experts or instead to right wing talk show hosts when making decisions about people's lives."
HuffPost sought a response from the Vallas campaign.
"Paul Vallas looks forward to working with state leaders in tackling all the issues facing Chicago, from making the city safer to improving education to confronting crisis situations whenever they emerge," Vallas campaign spokesperson Phil Swibinski said in a statement. "As a lifelong Democrat, Paul respects Gov. Pritzker's leadership and voted for him in the past election."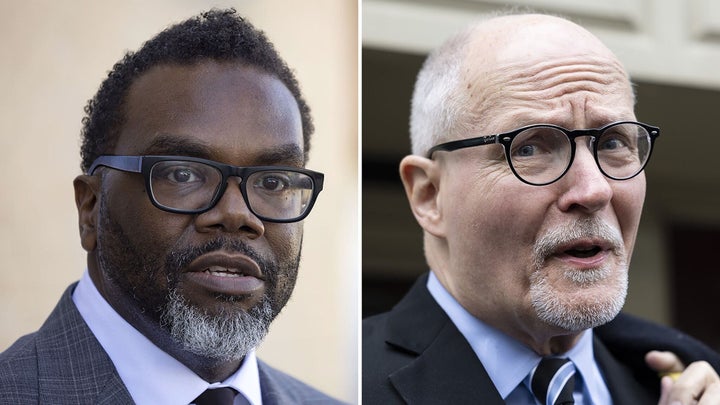 Vallas, a charter-school proponent backed by Chicago's main police union, has run on a message of restoring public safety. He proposes filling the city's more than one thousand person police backlog and reviving community policing without raising any taxes.
Johnson, a former school teacher and organizer for the Chicago Teachers Union, previously embraced the idea of cutting police funding to fund social programs. He is now running on using efficiency savings to add 200 detectives through promotion, as well as raising an array of taxes to finance youth jobs and comprehensive mental health care.
Liberal cities' prolonged school closures and other non-pharmaceutical efforts to limit the impact of the COVID-19 pandemic have elicited criticism from across the ideological spectrum as even some progressives second-guess the tradeoffs of these policies.
But Vallas's criticism of Pritzker is part of a pattern of bashing prominent Democrats and cozying up to right-wing activists, pundits, and even politicians, that has helped Johnson in his quest to define Vallas as a Republican ― and apparently even irked Pritzker.
In other appearances on right-wing radio in recent years, Vallas has suggested that certain left-wing methods for teaching Black history create an "excuse for bad behavior," and disparaged former President Barack Obama and President Joe Biden.
Vallas has had a consistently frosty attitude toward Pritzker, whom he dissed in the same interview where he spoke critically about Obama and Biden.
Vallas even encouraged the leader of a right-wing parents' rights group to run against Pritzker. He has since apologized for associating with the group after learning of its views on LGBTQ issues.
Vallas led Johnson by six percentage points in the only public poll conducted since the runoff got underway.
To close that gap, Johnson is hoping to convince enough moderate Democrats ― especially moderate Black Democrats ― that he is the only real Democrat in the race.