Growing up, I wanted to be a dwarf. I actually thought there was something wrong with me because I didn't look like everyone else in my family ― my mom, dad, brother and sister all have dwarfism. The likelihood of two parents with dwarfism having an average size child depends on the types of dwarfism they have, but in my case, I had a 75% chance of being a dwarf. I was born without dwarfism, despite the odds.
At 8 years old, I had officially outgrown everyone in the family including my parents. A few years later, I would be over 6 feet tall. By the time I turned one, my mom couldn't pick me up, and I couldn't sit on her lap.
Growing up in an all-little home had its own unique complications. Everything in the house was lowered to help my family reach things: the kitchen, bathroom, living room, bedrooms, cars, and even the toys (basketball hoop and balls, play area, etc.).
I got used to everything that comes with being the only tall one in my family, like being the designated light bulb changer and tripping over step stools daily. And I can't lie, I definitely used my situation to my advantage at times ― like hiding all the best snacks in high places.
When it came to parenting, my parents had to get creative since I could literally run away or hold things above their head. It was so easy to just ignore my parents' attempts to discipline me. When I got older, they would tell me to give them my phone as a punishment, but I could easily put it somewhere they couldn't reach.
But my whole life I saw them get discriminated against, made fun of and belittled. I never wanted my family to feel like I was perpetuating the problem. While I understand a lot about dwarfism, I will never truly comprehend what it feels like.
In addition to the discrimination, there are health issues that often come along with dwarfism. Everyone in my family has had more surgeries than I can count. My brother has a very rare type of dwarfism and there were several times during his years-long medical situations that they didn't think he would make it. My sister was practically living in the hospital and rehab centers her entire 30s due to surgeries, and it even forced her to forfeit her job as a teacher.
As a child, my mom underwent experimental practices because there was little information about dwarfism at the time. Her doctor said she needed these experiments to survive. But the reality was she didn't need them, and they traumatized her, gave her scars, and made her arms and legs twist. Over the last six years, my dad has completely lost his mobility due to countless spine fusions and stenosis.

Through all this, I've grown to realize and expect that my family is often going to rely on me for many things physically, and I'm fortunate enough to be able to help. But it is time-consuming, and it also takes an emotional toll.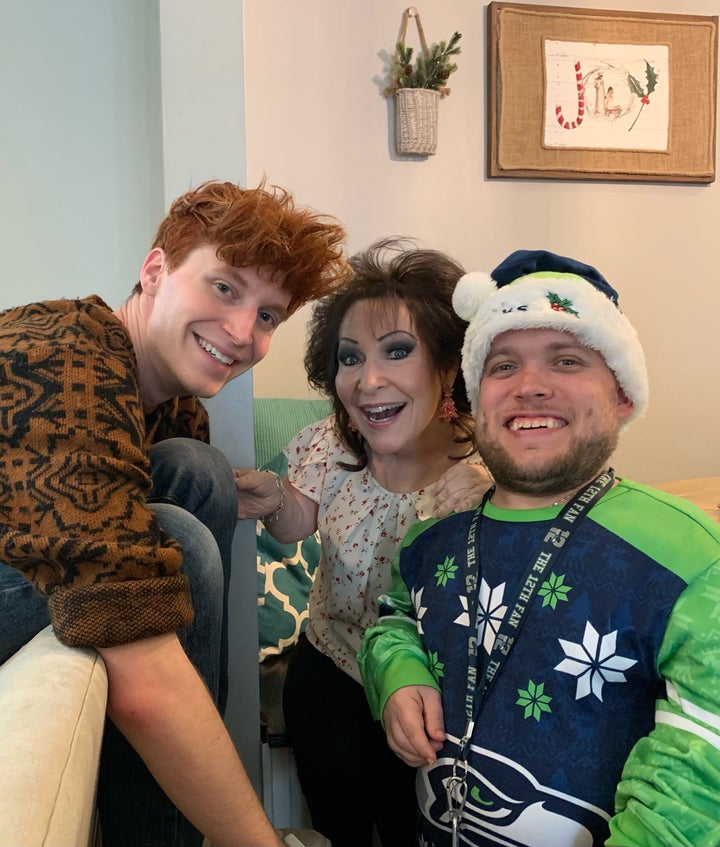 I was different in a direct, undeniable way from the very first day of my life. It was even scary for my mother to give birth to me, as there was a high risk of complications from the pregnancy. So when I popped out half my mom's size, it was as if I didn't fit into the life I was born into, right from the start. And that sense of not belonging was prolonged throughout my childhood.
There were times people wouldn't recognize me as a member of my own family, insisting that I just had to be adopted… but why would it even matter if I was? The sense of difference compounded and impacted every aspect of my life.
On family outings, I often felt like I wasn't actually supposed to be there, or that people were judging me. Everywhere we would go, acquaintances, cashiers and doctors who I'd met countless times before would reintroduce themselves to me. They only saw the little people and assumed that they belonged together. I felt forgotten, unimportant and confused.
It took me a while to understand that my position as the "tallest" person in my family was actually a privilege that meant I could do things that my family members couldn't, both physically and socially.
I was bullied at times because of my family, and I know my siblings were as well, but I was in a different position. Whenever kids would point at my family and say "Look!" my 10-year-old self would get right up in their faces and say, "Look right back at you!" I was just so angry that so many people didn't understand. I wanted to protect my family, but it got tiring doing so everywhere I went.
Now as an adult, I try to bridge the gap and bring awareness to some of those challenges. I started posting comedic videos about my family, and found that they resonated with others. I always felt that all the pointing, laughing, picture taking and discrimination around dwarfism was largely due to the misinformation or lack of information on the topic. By teaching and bringing awareness, I hope to make a difference in the way people with dwarfism are seen in society.
And it's not just about the inclusivity of the dwarfism community, I've found it's also been validating to anyone who has felt different in general. Being unique is something to be celebrated in and of itself.
I'd say I owe a big part of my success to my upbringing and my family. I truly believe that when you face adversity, it gives you a specific and unique toolset for your life. And I couldn't imagine mine any other way.
Peet Montzingo is a multifaceted artist who has more than 26 million followers across his platforms. Peet addresses the universal themes of being different, feeling like you don't fit in, and finding yourself along the way in his dazzling new picture book, Little Imperfections: A Tall Tale of Growing Up Different, available now. Find him anywhere at @peetmontzingo
Do you have a compelling personal story you'd like to see published on HuffPost? Find out what we're looking for here and send us a pitch.