WASHINGTON ― Hard-line conservative Republicans tore into the tentative budget agreement struck by President Joe Biden and Speaker Kevin McCarthy (R-Calif.) on Saturday evening that would suspend the debt limit for two years in exchange for spending reductions to some domestic programs.
"This 'deal' is insanity," tweeted Rep. Ralph Norman (R-S.C.). "A $4T debt ceiling increase with virtually no cuts is not what we agreed to. Not gonna vote to bankrupt our country. The American people deserve better."
"I am appalled by the debt ceiling surrender," added Rep. Ken Buck (R-Colo.). "That is completely unacceptable."
Rep. Dan Bishop (R-N.C.) lamented that, of the $80 billion Democrats appropriated to the IRS over 10 years, the deal rescinds only $1.9 billion. "You read that right. That's the kind of 'get' that's so good McCarthy agreed to increase the debt ceiling $4 trillion," tweeted Bishop.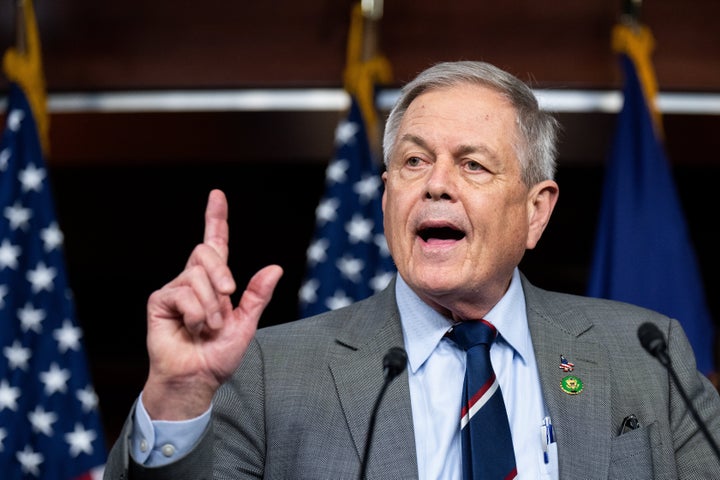 McCarthy downplayed the anger from the right on Sunday, telling Fox News that "more than 95 percent" of House Republicans are "very excited" about the debt limit deal.
At a press conference on Capitol Hill, McCarthy also said he was not worried about a GOP backlash endangering his speakership.
Asked whether he was concerned about an effort to oust him, a move that could be triggered by only one disgruntled member, McCarthy said, "Not at all."
The response from Democratic lawmakers was notably more muted, however. House Democrats are scheduled to receive a briefing from the White House detailing the agreement later on Sunday.
Progressives aren't likely to support GOP provisions Biden agreed to that would impose additional work requirements for recipients of federal nutrition assistance and other federal aid programs for vulnerable Americans. The deal would raise the age threshold for work requirements for able-bodied adults from 49 to age 54, but Biden was able to secure waivers for veterans and the homeless.
Progressives may also quibble with the fact that it would hold spending flat for 2024 and impose limits for 2025, which would mean an effective cut when adjusted for inflation.
"The agreement represents a compromise, which means not everyone gets what they want. That's the responsibility of governing," Biden said in a statement on Saturday. "And, this agreement is good news for the American people, because it prevents what could have been a catastrophic default and would have led to an economic recession, retirement accounts devastated, and millions of jobs lost."
Ultimately, though, congressional leaders are likely to rely on more moderate members on both sides of the aisle to approve the deal.
"While no one is going to be happy about every aspect of the bill, it represents a compromise and a major step forward for our country," tweeted Rep. Mike Lawler (R-N.Y.), a freshman who represents a district Biden won in 2020. "Voters elected me to serve as a check & balance on the Biden Administration & that is exactly what I have done. I will be voting for this bill."
Meanwhile, in the Senate, conservative Sen. Mike Lee (R-Utah) has threatened to block the expedited passage of any agreement that doesn't include substantial spending cuts.
Time will be of the essence in the coming days to write the legislation and pass it into law as the Treasury Department has said it will run out of money to pay its obligations on June 5. McCarthy has said he planned to hold a vote on the bill in the House on Wednesday, giving the Senate just a few days to send it to Biden's desk.
Lee reacted negatively to the assurances House Republican leadership was giving its members on Saturday, tweeting: "Promise of *future* spending cuts = fake," and "Punting at your opponent's one-yard line isn't a winning strategy."