On the surface, cooking pasta ranks pretty low in terms of difficulty. If you can boil water, you can do it, right? But there's a difference between getting the job done and actually perfecting it — and it's a difference you can taste.
As with other foods, cooking technique matters greatly when it comes to pasta-making. Knowing the best pasta shape and sauce pairings, how long to cook the pasta and even when exactly to add the pasta to the water on the stove all play a role in how well the dish turns out. Never thought about that latter point? Yep, it matters.
Maybe you're the type of person who puts the pasta in right after you put the pot on the stove. That way, you can busy yourself with other things for 10 minutes until it's time to check it. Or maybe you patiently wait until the water boils to add the pasta because, somewhere, you picked up on that's how it should be done. It's a small part of the pasta-making process, but Italian chefs say it matters.
Before you add the pasta to the pot, don't forget salt.
"I add salt when the water just begins to boil. This way, it will dissolve quickly," Contaldo said. Make sure you wait until the salt has completely dissolved before adding the pasta.
Besides making your pasta taste more flavorful, salt can help with the cooking process too. "Salted water is more stable than unsalted water due to the dissolved NaCl ions," said Steve Samson, the chef of Los Angeles restaurants Rossoblu, Superfine Pizza, and Superfine Playa, which is opening in March. "As a result, salted water has a higher boiling point than unsalted, so the pasta cooks at a slightly higher temperature, which leads to better consistency."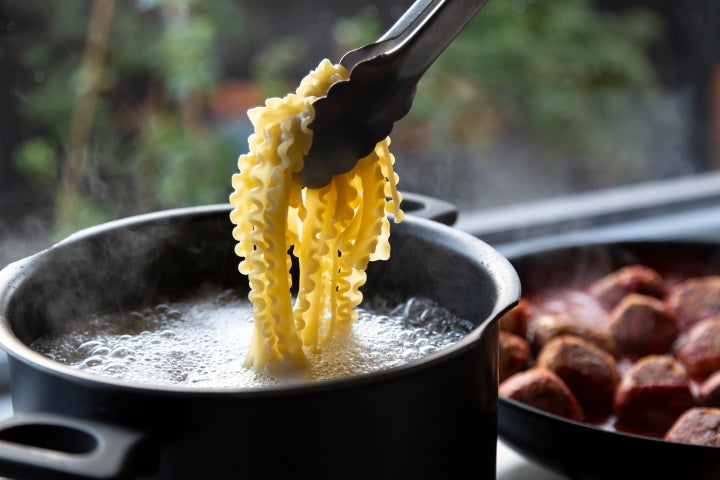 Here's when to add pasta to the pot.
If you want to make your pasta like an Italian chef, use hot water from the tap, not cold. Francesco Mazzei, the chef patron of three restaurants (Radici, Fiume and Sartoria, all located in London) and the author of "Mezzogiorno: Southern Italian Cooking," recommends starting with hot water because it will reach the boiling point faster and is more energy efficient. But while that may save you time, it won't affect the end result of how your pasta will taste. (And before you do so, consider the Environmental Protection Agency's warnings about the safety of hot tap water in older homes.)
Now that you have your hot water in a pot on the stove, what's next? Can you add the pasta? Not so fast. Patrick Money of Pazza Market & Cucina says the key is to wait until the water is boiling to drop the pasta into the pot. "If you don't wait until the water is boiling, the pasta will absorb too much water and become mushy," he said. Nicolai agrees, saying that adding pasta to water before it's boiling can make the pasta gummy.
Not only can adding pasta to the water before it's boiling make it gummy, but Contaldo says it can make the pasta stick together, too. He adds that stirring the pasta while it's cooking will help prevent this.
While the water should absolutely be boiling before you add in the pasta, the chefs say that it doesn't matter how long the water is boiling before you do it; most add the pasta as soon as the water starts boiling, but if the water is boiling for several minutes before you do it, that's OK, too.
To recap: When making pasta, fill your pot with hot water, wait for it to boil, add your salt, wait for it to dissolve and then add your pasta. According to all five Italian chefs, this is the correct step-by-step process. And don't forget to save that pasta water to integrate into your sauce.
Once you have this process down, there are all sorts of ways you can level up your pasta game. But you have to have the basics down first — and now you do.
If you want to cook great pasta, you absolutely need a proper pasta pot. Here's a roundup of the best.
HuffPost may receive a share from purchases made via links on this page. Every item is independently selected by the HuffPost Shopping team. Prices and availability are subject to change.