The "Scream" star, who became a household name thanks to the Netflix series, expressed her complicated feelings about her breakout role on Monday's episode of Dax Shepard's "Armchair Expert" podcast.
Ortega explained about 37 minutes into the episode that despite her growing public persona of being a real-life Wednesday Addams, the character and the tone of the show were completely outside of her comfort zone. She described herself as "naturally a very expressive person" who isn't a huge fan of teen shows, saying the genre is "typically not the kind of TV I'd watch."
"I can't watch my work, but I can go home from set and say, 'The scene that we shot today felt good,'" Ortega said. "[On] 'Wednesday' there was not a scene in that show that I went home and was like, 'OK, that should be fine.'"
Ortega said that this feeling wasn't her "proudest moment internally" and admitting her previous doubts about the project added an "extra level of insecurity and stress."
"Because it's like, I'm finally getting these offers to these places that I want, but I don't want to be known specifically for [playing Wednesday]," she said.
Ortega said she was initially unaware of what kind of show she'd be making.
"When I read the entire series, I realized, 'Oh, this is for younger audiences,'" Ortega said. "When I first signed on to the show, I didn't have all the scripts. I thought it was going to be a lot darker. It wasn't … I didn't know what the tone was, I didn't know what the score would sound like, or how it would be cut together."
Ortega also emphasized the disconnect she felt playing a well-established character who's known to be monotonous, morbid and droll — when as an actor she wanted Wednesday to be more three-dimensional than how the character read in the script.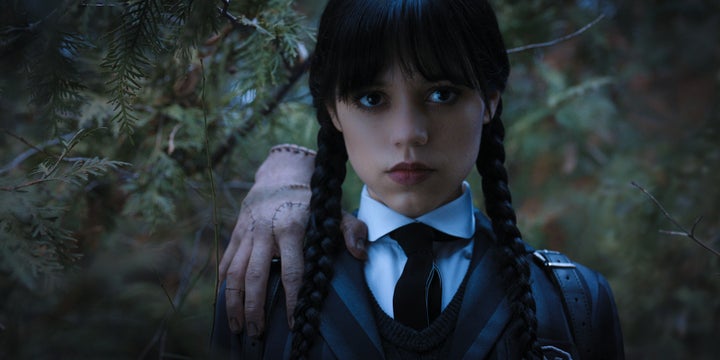 "I grew very, very protective of her," Ortega said of Wednesday. "You can't lead a story and have no emotional arc because then it's boring and nobody likes you."
She then seemed to compare her turn as Wednesday as a teenager to Christina Ricci's portrayal of the character as a child in the "Addams Family" movies in the 1990s.
"When you are little and say very morbid, offensive stuff, it's funny and endearing. But then you become a teenager and it's nasty and you know it. There's less of an excuse," Ortega said.
The "You" actor explained how this desire to portray a more complex Wednesday led her to be pretty vocal about her character while filming.
"I don't think I've ever had to put my foot down more on a set in a way that I had to on 'Wednesday,'" Ortega said. "Everything that she does, everything I had to play, did not make sense for her character at all. Her being in a love triangle? It made no sense. There was a line about a dress she has to wear for a school dance and she said, 'Oh my god, I love it. Ugh, I can't believe I said that. I literally hate myself.' And I had to go, 'No.'"
"There were times on that set where I even became almost unprofessional, in a sense, where I just started changing lines," she continued. "The script supervisor thought I was going with something and then I had to sit down with the writers, and they'd be like, 'Wait, what happened to the scene?' And I would have to go and explain why I couldn't go do certain things."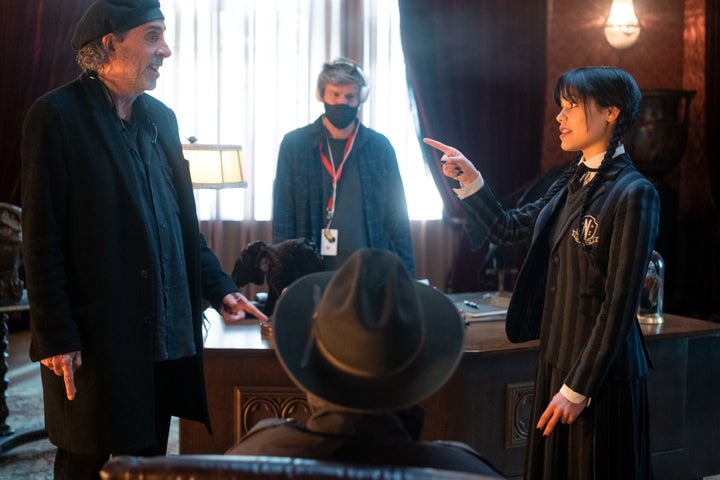 Ortega has been candid in the past about the anxiety she felt while filming "Wednesday." She told Interview magazine in October 2022 that the show's creator, Tim Burton, did not direct every episode, and the constant change at the helm left her feeling "like everybody wanted different things from" the character of Wednesday.
She said that when Burton directed, he "did not want me to have any expression or emotion at all."
"He wanted a flat surface, which I understand," she said. "It's funny and great except when you're trying to move a plot along, and Wednesday is in every scene."
She told Interview that this led to "a lot of battles" on set.
"I felt like people didn't always trust me when I was creating my path in terms of, 'Okay, this is her arc. This is where she gets emotional,'" Ortega said. "I was completely lost and confused. Typically I have no problem using my voice, but when you're in it — I just remember feeling defeated after the first month."