Jon Stewart Eviscerates Republican State Senator Who's Against Gun Control
When Oklahoma state Sen. Nathan Dahm (R) tried to argue to Jon Stewart that loose gun laws make citizens safer, the TV host wasn't hearing it.
"I'm a strong proponent of the Second Amendment," the lawmaker said on Thursday's episode of "The Problem with Jon Stewart," "I believe the right to keep and bear arms shall not be infringed," he added, emphasizing that its the one amendment that "uses that very specific affirmative language."
"Oh, it's also the one right that uses the phrase 'well-regulated,'" Stewart, who added that he's not opposed to the Second Amendment, replied.
"I don't want to ban guns. But you're saying more guns makes us more safe. So, when? We got 400 million guns in the country. We had an increase, and gun deaths went up," Stewart added. "So when exactly does this curve hit, that takes it down? Would a billion guns do it?"
Dahm filed several bills last year focused on restricting gun control measures. One bill would strengthen Oklahoma's anti-"red flag" law, which prohibits towns or counties in the state from passing ordinances giving law enforcement the ability to temporarily take away firearms from someone deemed dangerous. He also filed a bill permitting anyone with a license to carry a firearm inside the state Capitol.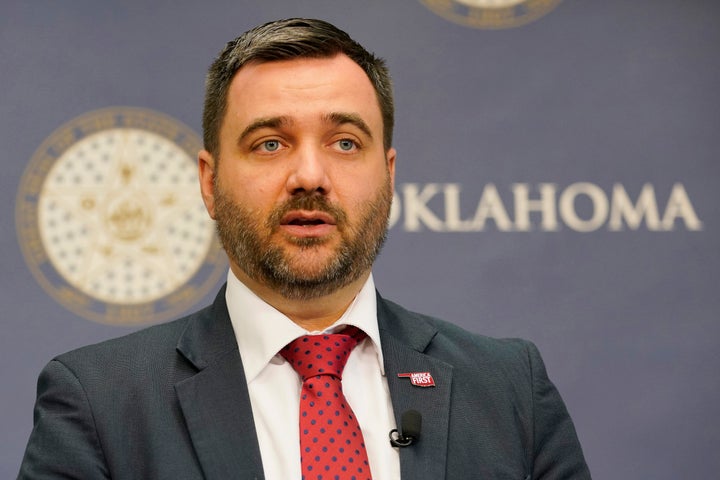 His latest bill, filed in January, stated that "a firearm, a firearm accessory, or ammunition that is manufactured commercially or privately in Oklahoma and that remains exclusively within the borders of Oklahoma is not subject to federal law … including registration."
The Centers for Disease Control and Prevention estimates over 45,000 gun-related deaths occurred in 2020, a 34% increase since 2019 and a 75% rise from the prior decade, according to the BBC.
When Dahm argued it was "the individual that's the problem" rather than easy access to firearms, he proverbially shot himself in the foot.
"We need to look at the problems that those people are facing" rather than implement reasonable gun laws, Dahm said — only for Stewart to remind him his policies "have removed the ability for the state to do that."
"If you don't have background checks, and you don't have registration and permitting, how do you know who has a problem in terms of the people who you're giving a gun to?" Stewart inquired, adding that Dahm was "bringing chaos to order."
"That's your subjective opinion," Dahm responded, sidestepping Stewart's question.
"It's not my subjective opinion," the former "Daily Show" host pushed back. "We have 50,000 gun-related deaths. That's not a subjective opinion. That's dead people."
"When the police go to a house filled with guns, why don't they breathe a sigh of relief knowing that this Second Amendment that shall not be infringed is being exercised so fruitfully in this home?" Stewart later asked in a particularly poignant moment.
When Stewart suggested simple gun registration would make both citizens and police officers safer, Dahm said registering was an infringement on his rights — despite acknowledging that other rights, just as the right to vote in elections, requires registering to do so.
"Because the government does have a responsibility to protect … children," said Dahm.
"What you're telling me, is that you don't mind infringing free speech to protect children from this amorphous thing that you think of," said Stewart. "But when it comes to children that have died, you don't give a flying fuck to stop that, because that shall not be infringed."
"That is hypocrisy at its highest order," Stewart said.