A centrist group's threat to run a third-party candidate for president in 2024 is already causing panic among Democratic strategists ― and they could soon team up with the party's most prominent third-party headache, Sen. Kyrsten Sinema (I-Ariz.).
The group, No Labels, qualified for the ballot in Arizona earlier this week as it lays the groundwork for a presidential run Democrats believe would almost certainly siphon votes from President Joe Biden's reelection bid. Progressive and Democratic strategists in the state have been buzzing about the possibility of Sinema, who has long worked with the group, running for reelection on the No Labels ballot line.
A spokesperson for Sinema did not return a request for comment, and a statement from No Labels never addressed questions about whether Sinema could run on its ballot line. Joining forces would make the run-up to Sinema's reelection bid significantly easier, drastically cutting the number of signatures she would need to gather to get on the ballot and outsourcing much of that work to a group well-funded by corporate interests.
"In the same way that a No Labels presidential candidate would threaten President Biden's reelection, a No Labels Senate ticket would threaten Democrats holding the Senate seat in Arizona," said Sacha Haworth, who worked on Sinema's first Senate bid in 2018 and now works for the Replace Sinema PAC. "But even with the millions in dark money from No Labels corporate interests, Sinema has no path to reelection ― she is a spoiler and nothing more."
Sinema has not yet announced if she plans to run for reelection after leaving the Democratic Party in the wake of the 2022 midterms. Rep. Ruben Gallego, a progressive Marine Corps veteran, has announced he will run for the Democratic Senate nomination in Arizona.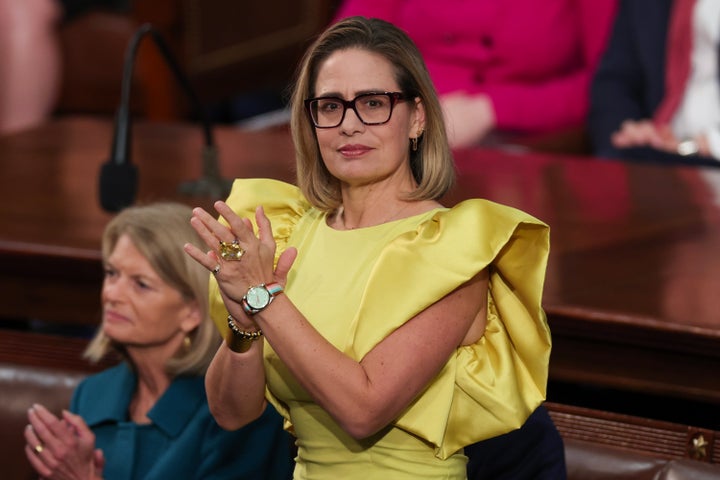 No Republican has officially entered the race, but both leading candidates for the party's gubernatorial bid in 2022 ― former news anchor and MAGA favorite Kari Lake and businesswoman Karrin Taylor Robson ― are considering Senate runs, as is Pinal County Sheriff Mark Lamb. (Lake beat Robson in the GOP primary before losing to Democratic Gov. Katie Hobbs in November.)
Way-too-early public surveys of the potential contest show a close race between Gallego and Republicans, with Sinema in third place. Local Democrats, by and large, have lined up behind Gallego and portrayed Sinema, whose opposition to key Biden administration policies helped shrink the president's legislative agenda, as a spoiler who could do nothing but tilt the election towards the GOP.
National Democrats have officially remained neutral on the contest, fearful of angering either Gallego's progressive base or Sinema, who they hope will continue to back most Biden agenda items and nominees.
The biggest barrier to Sinema's run might be the signature-gathering process. If she runs as an independent, she would need to gather roughly 60,000 signatures. (The exact requirement is based on the number of registered voters in the state and won't be known until next year.) One Democratic strategist said that would require an "unprecedented" effort for a candidate who has been cut off from the Democratic volunteer base.
However, if Sinema runs on the No Labels party line, she would only need to gather around 6,000 signatures ― a much simpler task.
While gathering signatures may seem like Politics 101, it's tricky to do in large numbers. To get 60,000 eligible signatures, it's likely an independent Sinema campaign would have to collect closer to 80,000 since a large number will get disqualified for one reason or another. Gathering signatures has tripped up multiple statewide bids for office in recent years, including now-Sen. Todd Young's (R-Ind.) initial run in 2016 and a top candidate for governor of Michigan in 2022.
Sinema has a long history with No Labels, which shares her centrist politics and friendliness with big business. The group praised her decision to leave the Democratic Party, referred to her as "one of our staunchest allies in Congress," and produced 10 different videos praising her over the past two years. A review of FEC records found she has received at least $100,000 in donations from the group's board members, affiliated PACs and donors.
No Labels does not reveal its donors, though some leaked in a 2018 story in The Daily Beast; many of them were investors and private equity executives, including the then-CEO of Bain Capital and a hedge fund manager who would later host a fundraiser for former President Donald Trump's reelection bid.
While aiding Sinema is not likely to endear No Labels to Democrats in Arizona, national Democrats have also warned that the group's plans threaten Biden's reelection. Third Way, an organization that shares No Labels' moderate policy outlook but not its non-partisan positioning, published a report on Tuesday warning No Labels' efforts to recruit and run a centrist presidential candidate would almost certainly aid the GOP nominee in 2024.
No Labels is often viewed as a joke in Washington circles ― a group selling a business-friendly, bipartisan view of the world that appeals to a handful of wealthy donors and op-ed columnists but a vanishingly small segment of the actual electorate. And any third-party candidate would have a vanishingly small chance of actually winning the presidency.
"The best-case scenario is that they make no difference. The worst-case scenario is they flip a state red."

– Jim Kessler, a co-founder of Third Way
But Third Way warned that No Labels' effort is well-funded and well-organized enough to alter the results of the election. No Labels claims to have raised more than $45 million so far, and has also qualified for the ballot in Colorado.
"The best-case scenario is that they make no difference," said Jim Kessler, a co-founder of Third Way and the group's executive vice president for policy. "The worst-case scenario is they flip a state red. And it doesn't take too many states for that to be a big problem. This is, either by design or by accident, a direct threat to Biden's reelection."
Right now, it's unclear who the No Labels candidate could actually be. Sinema and her fellow centrist, Sen. Joe Manchin (D-W.Va.), are often mentioned, and former Maryland Gov. Larry Hogan (R) didn't rule out running as a third-party presidential candidate when asked earlier this week.
No Labels insists its candidate would not play a spoiler role, saying its polling shows a potential independent candidate drawing equally from Democratic and Republican voters.
"If the two major parties nominate candidates the vast majority of Americans don't want to vote for in 2024, No Labels believes there is a once-in-a-generation opening for an independent candidate to run and win the White House," Ryan Clancy, a strategist for the group, wrote in an emailed statement to HuffPost.
"No Labels has said from the beginning that our ballot access effort is an insurance policy in the event that both parties refuse to appeal to America's common sense majority," he continued. "If the public doesn't want an independent ticket, and there is no path for one to win, No Labels will not offer our ballot line to any ticket. No one at No Labels has any interest in fueling a spoiler effort."
Third Way and other Democrats remain skeptical. They note that No Labels' own map showing a path to 270 electoral votes has them taking two-thirds of that number from states Biden won in 2020.