CNN
 — 

A gunman races across the quad at a southern California university, spraying a barrage of bullets from the barrel of an assault-style rifle.
Campus police arrive on scene and return fire as the suspect rushes toward the school's library.
As the officers give chase, throngs of screaming students and teachers flood from the building and into the path of police – the officers having to quickly assess whether the shooter might be hiding in the group of fleeing bystanders.
Smoke rapidly begins billowing from the library, making an already chaotic scene even more so.
By air and ground, law enforcement agencies from the surrounding area begin arriving. Overhead, a Los Angeles County Sheriff's Department helicopter hovers as SWAT personnel begin rapelling to the ground and rushing toward the sound of gunfire.
An officer radios that the shooter has been "neutralized," but the work of first responders is far from over. A cavalry of firefighters and paramedics staged nearby move in and begin administering life-saving first aid to the injured.
A senior officer soon announces over the public address system that the exercise is over. The exhausted teams of law enforcement and medical personnel have 20 minutes to catch their breath and hydrate, and the exercise will start again.
This was only a simulation, but one of many that continue to play out across America in this age of endless mass shootings. CNN's cameras were rolling as law enforcement recently descended upon Biola University near Los Angeles during the school's spring break, turning the empty campus into a domestic war zone as they worked to hone their active shooter response skills.
"We're trying to put what we have on paper as a plan into an exercise," said university Police Chief John Ojeisekhoba, telling CNN the training purposefully included multiple agencies from across the area who might simultaneously deploy to the scene of a mass attack. "If we don't know what each other are doing when the time comes, it can become problematic."
LA Sheriff Robert Luna told CNN his teams are continually on guard in the wake of a wave of mass shootings that have afflicted communities across the nation.
"We study them, we read about them, and we learn what went well and what didn't," Luna said.
Another reason Luna said these drills are necessary: inaction by lawmakers in Washington to enact meaningful gun safety reforms.
"We do challenge our leaders at a national level to do more about guns, to do more about mental health," said Luna, "so that we don't have to do this over and over."
It is a refrain that has been heard from police leaders across the country.
In a Senate Judiciary Committee hearing last year on the topic of gun violence, recently retired Phoenix police chief, Jeri Williams, pleaded with lawmakers to take action, telling them: "We are out outgunned, we're outmanned, we're out-staffed, we do need responsible gun legislation."
Guns in America: CNN's Investigation into the impact and business of guns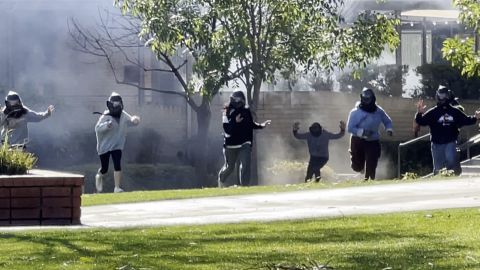 A rare moment of bipartisan action did follow the tragic mass shooting last year at Robb Elementary in Uvalde, Texas, after an 18-year-old fatally shot 19 students and two teachers and another shooting that claimed 10 lives at a supermarket in Buffalo, New York.
Fifteen Senate Republicans and 14 GOP members in the House of Representatives joined with Democrats to pass legislation expanding some background checks and dedicating billions of dollars to public safety programs.
But other measures pressed for by many gun safety advocates remain perpetually stalled in Congress, including calls for universal background checks, national red flag laws, and an assault weapons ban.
Many in law enforcement have long been advocating for a ban on assault-style weapons, including the International Association of Chiefs of Police, who say "the criminal use of semiautomatic assault weapons pose a grave risk to our officers and the communities they are sworn to protect."
The International Association of Campus Law Enforcement Administrators, an organization representing security personnel at institutions of higher education around the world, has called for similar action, indicating its members support "a ban on military-style assault weapons and high-capacity ammunition magazines for civilian use."
But an outright assault weapons ban has proved a bridge too far many conservative Republicans who have strongly expressed their belief in the sanctity of the Second Amendment.
"The irony is not lost on law enforcement," said Juliette Kayyem, CNN National Security Analyst, who advises policing agencies on active shooter training. "The very politicians who say they support the police and are against crime are the same politicians who deny us responsible gun reform legislation or any means to get this weaponry off the streets."
On Tuesday, President Joe Biden will reaffirm his desire to minimize gun crime, announcing his intention to bypass legislators and enact a series of reforms through executive action.
Biden is set to speak at an event near the scene of January's mass shooting in Monterey Park, California, where a gunman slaughtered 11 and injured nine others during the celebration of the Lunar New Year, before later taking his own life.
According to the White House, Biden's new executive order would direct the US attorney general to ensure gun sellers adhere to background check requirements, increase public awareness of red flag laws that deny the possession of firearms by people deemed by a court to be dangerous, and promote the safe storage of firearms.
"Few policy ideas are more popular among the American people than universal background checks, but Congress refuses to act," said a senior administration official briefing reporters Monday. "This move will mean fewer guns will be sold without background checks, and therefore fewer guns will end up in the hands of felons and domestic abusers."
Such efforts "are only going to change the frequency of shootings and illegal gun sales if the Biden administration and DOJ ensure that gun sellers and local police and sheriff's departments have the capacity to implement them, and will be held accountable if they purposely sidestep them," said CNN Guns in America contributor Abeńe Clayton.
With major gun reform legislation likely to go nowhere in the current Congress, including on the regulation of assault-style weapons and the separate issue of universal background checks – which, according to public opinion polling, enjoys over 80% support from the American people – it remains up to law enforcement officers to continually train and prepare for the day they may have to risk their lives to stop a gunman.
"We are essentially at our last line of defense, which is: Can the police stop a shooter from killing more people than he otherwise would have absent this kind of training?" Kayyem said. "That's going to be our standard of success."
Standing next to fellow law enforcement leaders immediately following last month's active shooter training at Biola University, Luna said he understood the gravity of the situation for America's cops.
"We don't want it to happen, statistics tell us it will happen," he said, but insisted he and his colleagues remain "ready to respond to anything that may come our way, anywhere we're called."