The FBI questioned Leonardo DiCaprio in 2018 about his relationship with fugitive businessman Jho Low, according to newly revealed documents.
Low has been accused by international authorities of stealing billions from a sovereign wealth fund known as the 1Malaysia Development Berhad, or 1MDB. In previously unreported documents revealed by Bloomberg on Thursday, DiCaprio shared that he met Low in a nightclub in 2010 and the two became friends.
Low not only showered the actor with gifts ― including a first edition of "The Great Gatsby" and the Oscar that Marlon Brando won for "On the Waterfront" ― but partied with him and financed his film "The Wolf of Wall Street." They even met each other's mothers.
"I was working for him, and that business also translates into being social," DiCaprio told a grand jury, according to Bloomberg. "And so we saw each other more, and there was more interaction."
Low was hit with an Interpol notice for his arrest in 2016 and is believed to be hiding out in China. Former Malaysian Prime Minister Najib Razak was convicted of money laundering and abuse of power as part of the 1MDB scheme in 2018.
DiCaprio wasn't the only celebrity with whom Low developed a relationship. Kim Kardashian reportedly told the FBI in 2019 that Low gave her then-fiancé Kris Humphries $100,000 for fireworks for their 2011 wedding. He also briefly dated supermodel Miranda Kerr.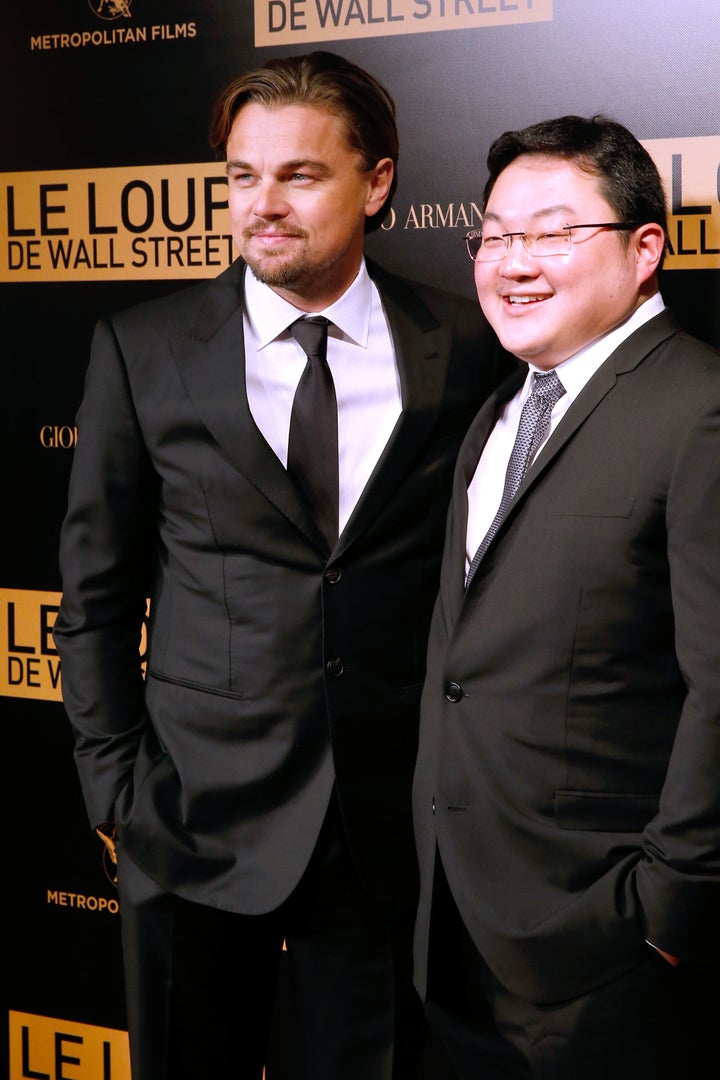 These relationships were revealed as part of a separate case against rapper Prakazrel "Pras" Michél, who is accused of directing foreign financing into Barack Obama's 2012 presidential campaign and lobbying on behalf of Low and the Chinese government.
Low referred to DiCaprio as "L-Dizzle," according to messages revealed in the FBI documents. They discussed a $1 billion fund for future projects, as well as an environmentally friendly Belize resort and a Warner Bros. theme park in Asia featuring rides based on DiCaprio's films.
DiCaprio, who told the FBI that he wasn't sure how Low made his fortune, said that his publicist Shawn Sachs had hired someone to vet the businessman. DiCaprio said he didn't "thoroughly read" the background check before starting their many dealings together.
"Usually, DiCaprio relies on his reps to read the reports and give him an okay to continue to work with someone," wrote FBI agents in the documents obtained by Bloomberg. "In this case, his reps gave him the green light to continue to work with Low."
Sachs did not immediately respond to a request for comment, nor did a manager for DiCaprio.
DiCaprio said he started to distance himself from Low when news of his alleged crimes emerged in 2015. The FBI wrote that DiCaprio was also "embarrassed" after Low promised to donate a Roy Lichtenstein piece to his foundation and it never materialized.
DiCaprio's attorneys met with the FBI in 2017 after prosecutors filed a forfeiture action against Low's assets — which included the rights to "The Wolf of Wall Street" — to hand over the gifts the actor had received. Their relationship has since come to an end.