CIUDAD VICTORIA, Mexico (AP) — A letter claiming to be from the Mexican drug cartel blamed for abducting four Americans and killing two of them condemned the violence and said the gang turned over to authorities its own members who were responsible.
In a letter obtained by The Associated Press through a Tamaulipas state law enforcement official, the Scorpions faction of the Gulf cartel apologized to the residents of Matamoros where the Americans were kidnapped, the Mexican woman who died in the cartel shootout, and the four Americans and their families.
"We have decided to turn over those who were directly involved and responsible in the events, who at all times acted under their own decision-making and lack of discipline," the letter reads, adding that those individuals had gone against the cartel's rules, which include "respecting the life and well-being of the innocent."
Drug cartels have been known to issue communiques to intimidate rivals and authorities, but also at times like these as public relations work to try to smooth over situations that could affect their business. And last Friday's violence in Matamoros was bad for cartel business.
The Americans' killings brought National Guard troops and an Army special forces outfit running patrols that "heat up the plaza" in narco terminology, Mexican security analyst David Saucedo said.
"It is very difficult right now for them to continue working in terms of street-level drug sales and transferring drugs to the United States; they are the first ones interested in closing this chapter as soon as possible," Saucedo said.
A photograph of five bound men face-down on the pavement accompanied the letter, which was shared with The Associated Press by the official on condition that they remain anonymous because they were not authorized to share the document.
State officials did not immediately publicly confirm having new suspects in custody.
A separate state security official said that five men had been found tied up inside one of the vehicles that authorities had been searching for, along with the letter. That official also spoke on condition of anonymity because they were not authorized to speak about the case.
The cousin of one of the victims said his family feels "great" knowing that Eric Williams, who was shot in the left leg, is alive but does not accept any apologies from the cartel blamed for kidnapping the Americans.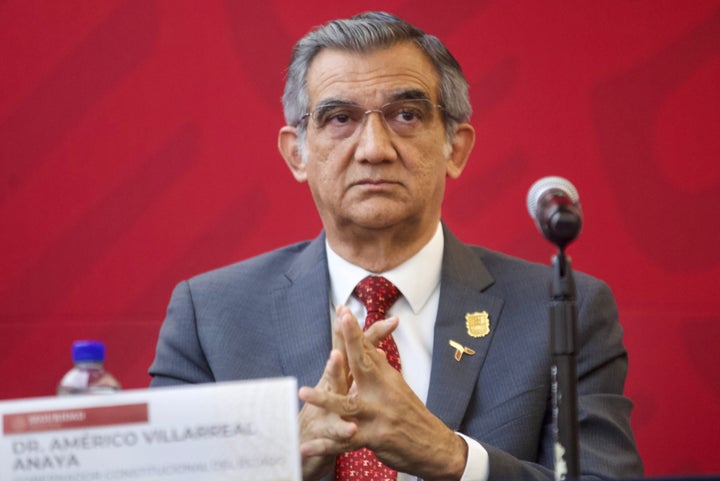 "It ain't gonna change nothing about the suffering that we went through," Jerry Wallace told the AP on Thursday. Wallace, 62, called for the American and Mexican governments to better address cartel violence.
Last Friday, the four Americans crossed into Matamoros from Texas so that one of them could have cosmetic surgery. Around midday, they were fired on in downtown Matamoros and then loaded into a pickup truck. A Mexican woman, Areli Pablo Servando, 33, was also killed, apparently by a stray bullet.
Another friend, who remained in Brownsville, called police after being unable to reach the group that crossed the border Friday morning.
Brownsville Police Department spokesman Martin Sandoval said Thursday that officers followed protocol by checking local hospitals and jails after receiving the report of the missing people. A detective was assigned to the case within the hour and then alerted the FBI after realizing the people had crossed into Mexico. Shortly after, the FBI took over the case as social media videos began to show a shootout with the victims matching the description of the missing people.
Authorities located them Tuesday morning on the outskirts of the city, guarded by a man who was arrested. Zindell Brown and Shaeed Woodard died in the attack; Williams and Latavia McGee survived.
On Thursday, two hearses carrying the bodies of Woodard and Brown crossed the international bridge to Brownsville, where the remains were handed over to U.S. authorities.
Woodard's cousin, McGee, had surprised him with the fatal road trip as a birthday getaway, according to his father, James Woodard. He said he was speechless upon hearing that the cartel had apologized for the violent abduction that killed his son and was captured in footage that quickly spread online.
"Just being helpless — not to be able to do anything, not to be able to go there and just rescue them — it's real painful," James Woodard said.
Thursday's letter was not an unheard of cartel tactic.
Cartels' community relations efforts are well-known within Mexico. In contested territory, one cartel might hang banners around a city blaming a rival for recent violence and distinguishing themselves as the gang that does not mess with civilians.
Last November, such banners appeared around Guanajuato state, purportedly written by the Jalisco New Generation cartel, that blamed a rival for a spate of killings in bars and other businesses.
In other situations, the message is more blunt: Bodies are left inside a vehicle with a note or hung from a highway overpass on a heavily transited road. The motivation is terror.
More subtly, cartels use their power to plant stories in the local press or keep stories from appearing. Their members are active on social media.
Their underlying interest is facilitating their business whether that be smuggling drugs and migrants or extortion.
Sometimes a cartel will shoot up its rival's territory hoping to trigger a law enforcement response to make business difficult for their opponents. That's what appeared to happen two years ago in Reynosa, just up the border from Matamoros. Gunmen drove into town shooting and killed 14 innocent bystanders.
Handing over alleged cartel suspects to police is also not without precedent. Saucedo cautioned that a cartel leader may have authorized the attack then regretted it and decided to offer sacrificial lambs to police.
In 2008, drug traffickers in Michoacan lobbed hand grenades into a crowd celebrating Mexico's independence, killing eight. Days later, authorities arrested three suspects, but it turns out they had been kidnapped by a cartel, beaten into confessions implicating a rival group and turned over to police.
Meanwhile, the Tamaulipas state prosecutor's office said Thursday it had seized an ambulance and a medical clinic in Matamoros that were allegedly used to provide treatment to the Americans after the shooting.
The Americans told investigators they were taken to the clinic in an ambulance to receive first aid, the statement said. By reviewing police surveillance video around the city, authorities were able to identify the ambulance and find the clinic. No arrests were made at the clinic, according to the statement.
Stevenson reported from Mexico City and Pollard from Lake City, South Carolina. Associated Press writer Acacia Coronado in Austin, Texas, and Associated Press video journalist Hilary Powell in Lake City, South Carolina, contributed to this report.