Tens of thousands of workers in the Los Angeles Unified School District walked off the job Tuesday over stalled contract talks, and they are being joined in solidarity by teachers in a three-day strike that has shut down the nation's second-largest school system.
Demonstrations began at a bus yard and are expected at schools across the city by members of Local 99 of the Service Employees International Union, which represents about 30,000 teachers' aides, special education assistants, bus drivers, custodians, cafeteria workers and other support staff.
The workers joined picket lines in a steady rain before dawn, demanding better wages and increased staffing. Some held signs that read "We keep schools safe, Respect Us!" The district has more than 500,000 students from Los Angeles and all or part of 25 other cities and unincorporated county areas.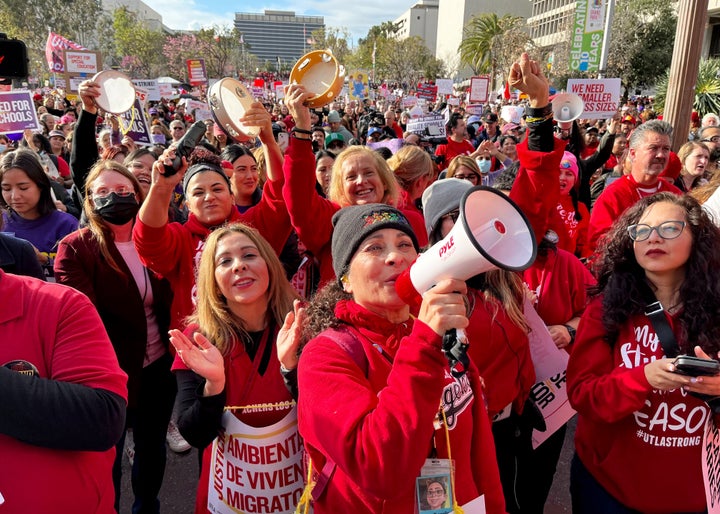 "The working conditions have gone down every year," Danielle Murray, a special education assistant who was picketing, told KABC-TV. "We're very understaffed. The custodial staff is a ghost crew, so the schools are dirty. They're doing the best they can."
She added, "Some people are saying, 'If you want more money, get a better job.' Well, some of us have bachelor's degrees, but we choose to work with a special population that some people don't want to work with. We want to make a difference to these students."
Superintendent Alberto M. Carvalho accused the union of refusing to negotiate and said that he was prepared to meet at any time day or night. He said Monday a "golden opportunity" to make progress was lost.
"I believe this strike could have been avoided. But it cannot be avoided without individuals actually speaking to one another," he said.
Local 99 said Monday evening that it was in discussions with state labor regulators over allegations that the district engaged in misconduct that has impeded the rights of workers to engage in legally protected union-related activities.
"We want to be clear that we are not in negotiations with LAUSD," the union said in a statement. "We continue to be engaged in the impasse process with the state."
Those talks would not avoid a walkout, the statement said.
During the strike, about 150 of the district's more than 1,000 schools are expected to remain open with adult supervision but no instruction, to give students somewhere to go. Dozens of libraries and parks, plus some "grab and go" spots for students to get lunches also planned to be open to kids to lessen the strain on parents now scrambling to find care.