A new report by the Department of Justice determined that the Kentucky police department responsible for the 2020 killing of Breonna Taylor "unlawfully discriminates against Black people," among other findings.
The report, released Wednesday, found that the Louisville Police Department uses excessive force, uses invalid warrants to conduct searches, unlawfully stops people and "violates the rights of people engaged in protected free speech critical of policing."
The DOJ's two-year investigation began following the killing of 26-year-old Taylor by Louisville police officers, who knocked her door down while executing a drug search warrant. Taylor was fatally shot by police after her boyfriend fired a shot at the officers as they came through the door. Last year, a Louisville officer pleaded guilty to falsifying the warrant that led to the deadly shooting.
Louisville police officers were also using neck restraints in circumstances that are "not justified," the department wrote.
The department found that officers were using neck restraints even while it was prohibited by department policy.
In one incident, officers responded to a call of an elderly Black man who was dancing in the street. Officers arrived to the scene and within seconds grabbed the man and pulled him down by his neck. One of the officers sat on the man's head and neck while they were trying to handcuff him for nearly 30 seconds.
Then, officers turned him over and one of them pressed their knee on his neck for nearly two minutes as witnesses watched, the report says.
"They are objectively unreasonable where a person is already restrained or poses no danger to others. Our review shows that LMPD officers resort to neck restraints even against people who are not resisting, or people who have already been handcuffed or otherwise subdued," the Justice Department wrote.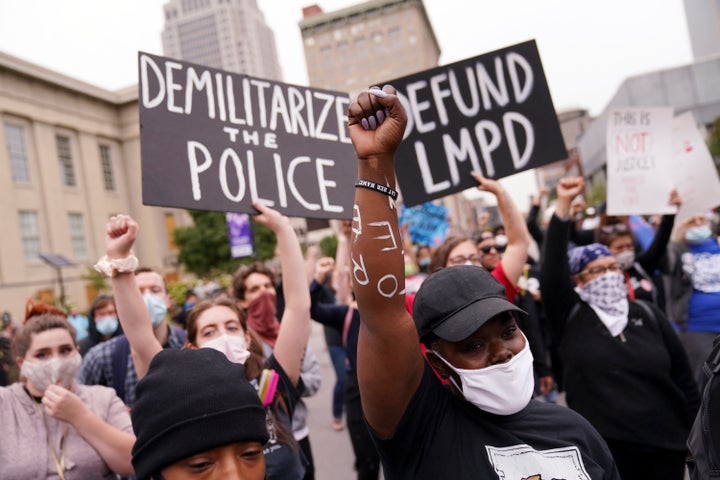 The DOJ found that Louisville police underreported certain types of uses of force after reviewing a sample of 2,217 incidents of less lethal force reports from January 2016 to Oct. 9, 2021.
Some of the examples of less lethal force included officers deploying canines, in which the DOJ found officers were setting police dogs on people who posed no threat, and allowed dogs to keep biting even after people surrendered.
One member of the canine unit told the justice department that training was "not a priority" of the unit for years.
"LMPD's dogs sometimes will not release a person even after their handler orders them to do so, requiring the handler to pull the dog off of the person being bitten. A dog's failure to release upon command calls its training into question. Using an improperly trained dog is reckless and will likely lead to excessive force," the DOJ wrote.
After reviewing 38 closed internal investigations of officer-involved shootings from 2016 to 2021, officers fired their weapons in 28 of them. The last 10 involved civilians firing at an officer without the officer firing back.
"Failures of leadership and accountability have allowed unlawful conduct to continue unchecked," the report says. "Even when city and police leaders announced solutions, they failed to follow through. In LMPD, officer misconduct too often goes unnoticed and unaddressed. At times, LMPD leaders have endorsed and defended unlawful conduct. A street enforcement unit that violated LMPD policy and federal law has been repeatedly rebranded, but never disbanded."
The report also notes that the city of Louisville has paid out more than $40 million in the past to resolve claims of police misconduct.