A Virginia man who assaulted police with a stolen baton and used a flashing strobe light to disorient officers trying to defend the U.S. Capitol on Jan. 6, 2021 was sentenced Tuesday to more than four years in prison.
The 31-year-old has already served a year and a half behind bars since his June 2021 arrest.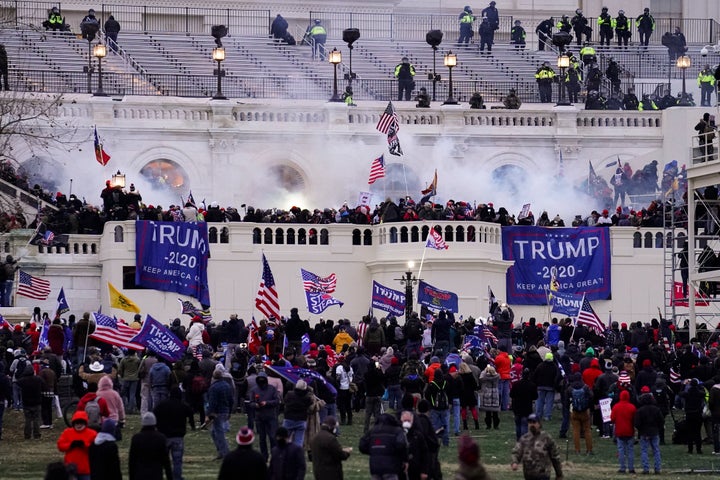 In a separate case on Tuesday, a judge declared a mistrial after jurors failed to reach an agreement on whether a man described as the Oath Keepers "operations leader" for Jan. 6 was guilty of obstruction. Michael Greene was acquitted of all other felony charges on Monday, but convicted of a misdemeanor offense. Greene is the only defendant in three trials involving more than a dozen members and associates of the far-right extremist group to not be convicted of a felony charge.
Sills — who arrived at the Capitol with a gas mask and goggles — threw several pole-like objects at police, stole a police baton from an officer and hit at least two officers with it, according to prosecutors. He also pointed a strobe light at a line of officers in the tunnel.
Sills posted videos of his actions and others on social media that day before deleting his account, prosecutors say. In one post — showing officers in riot gear — Sills wrote: "Visited the Capitol today." In another post depicting rioters flooding into the the tunnel, he wrote: "Took a tour."
U.S. District Judge Trevor McFadden found Sills guilty in August after a stipulated bench trial — an unusual legal proceeding in which defendants do not admit guilt to charges but agree with the government that certain facts are true.
Prosecutors had been seeking nine years behind bars, writing in court papers that Sills has "expressed little remorse and contrition." Prosecutors argued that his social media posts "were those of a man proud of his actions."
Sills' attorney wrote in court papers that his client didn't come to Washington on Jan. 6 with any intention to commit violence and had a gas mask and tactical gear only "because he feared a terrorist attack."
"He did not arrive that day planning or expecting to wreak violence. There is no evidence that he injured anyone. He went because his President asked him to. Once there, he stepped into a maelstrom not of his making," attorney John Kiyonaga wrote. An email seeking comment was sent to Kiyonaga after sentencing.
Sills is among roughly 1,000 people who have been charged with federal crimes in the riot that left dozens of police officers injured. More than 300 people have been charged with assaulting, resisting, or impeding officers, including more than 100 who have been charged with using a deadly or dangerous weapon or causing serious bodily injury.
More than half the Jan. 6 defendants have pleaded guilty, including more than 130 who have pleaded guilty to felony crimes. Of the 400 who have been sentenced, more than half have gotten terms of imprisonment ranging from seven days to 10 years, according to an Associated Press tally.
In the Oath Keepers case, jurors on Monday found four defendants guilty of conspiracy and obstruction: Sandra Parker, of Morrow, Ohio, Laura Steele, of Thomasville, North Carolina, William Isaacs, of Kissimmee, Florida, and Connie Meggs, of Dunnellon, Florida.
Sandra Parker's husband, Bennie Parker, was acquitted Monday of obstruction as well as one conspiracy charge, and Greene was acquitted of two conspiracy charges. The judge instructed jurors to keep deliberating after they said they couldn't reach a verdict on another conspiracy charge for Bennie Parker and the obstruction charge for Greene.
On Tuesday, the jury returned a guilty verdict for Bennie Parker on the other conspiracy charge, but deadlocked on the obstruction charge for Greene.
Greene's attorney, William Shipley, said Tuesday that "the government's case was a farce," adding that "it made no sense and the jury saw it for what it was."