CNN
 — 

The Alabama Crimson Tide, Houston Cougars, Kansas Jayhawks and Purdue Boilermakers were named as the No. 1 seeds in the men's NCAA tournament on Sunday.
Alabama enters the NCAA tournament after a tumultuous season off the court. The Crimson Tide earned the top seed for the first time in school history. They will play the winner of Texas A&M-Corpus Christi and SE Missouri State in the first round.
The Kansas Jayhawks return as one of the top seeds after capturing the fourth national championship in school history last season.
Kansas was ousted in the Big 12 championship game, as they played without head coach Bill Self, who missed the tournament due to a medical issue earlier this week. Self is expected to return to the team this week after being discharged from the hospital on Sunday.
The defending national champions are seeking to become the first back-to-back March Madness champions since the Florida Gators in 2006 and 2007. Kansas will play Howard in the first round.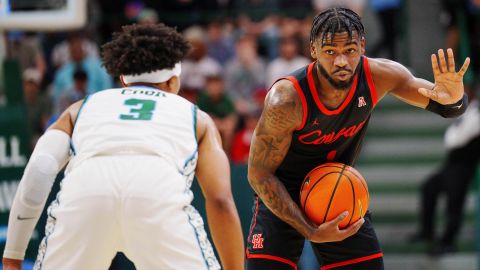 Meanwhile, despite losing in the AAC championship game to Memphis, the Houston Cougars earned a top seed after finishing the season with a 31-3 record. They'll enter March Madness hoping to get back AAC player of the year Marcus Sasser, who missed the championship game with a strained groin.
Houston will play Northern Kentucky in the first round.
Purdue edged past Penn State in the Big Ten tournament to win its first conference tournament title since 2009 – its second in school history – and earn a top seed into March Madness.
The Purdue Boilermakers will play the winner of Texas Southern and Fairleigh Dickinson in the first round.
The NCAA tournament is scheduled to tip off on March 14 and run through April 3.
The women's field is set to be announced at 8 p.m. ET and is likely to feature the undefeated, reigning champion South Carolina Gamecocks as the top seed.
The Selection Committee announced the 68-team men's field on Sunday at 6 p.m. ET, a combination of the 32 teams that won each of the 32 Division I conferences and the 36 teams selected to "at-large" berths.
The opening round of the tournament, known as the "First Four," takes place this week and sees eight low-rated teams battling it out to decide the final spots of the bracket. Once the 64 teams have been cemented, the first and second rounds of March Madness take place March 16-19 for the men and March 17-20 for the women.
From there, the winner of each game moves on and the loser heads home: "Survive and advance," as the mantra goes.
The men's "Final Four" round will take place on April 1 at NRG Stadium in Houston, Texas, and the women's "Final Four" will take place March 31 at American Airlines Center in Dallas.