In my teen years as a deeply pigmented, self-proclaimed makeup queen, finding the perfect blush and lipstick shade was a daunting experiment. Then came the discouraging hunt for the right hue of foundation and powder. Most "deep" or "dark" shades served as a glaring (and ashy) veiled reminder that not all skin tones are deemed worthy of a perfect makeup match.
Yet, I was merely one of many in the sea of Black and brown people looking for their ideal makeup palette in the one-size-fits-all beauty industry of the early '00s. This lack of inclusivity and representation is one of the key reasons Cece Meadows, founder-CEO of Prados Beauty, tapped into what is now her life's work.
Inspired by her Xicana, Yoeme and Nʉmʉnʉʉ roots, Meadows established Prados Beauty in 2018 to highlight that Indigenous representation in beauty is necessary and invaluable. Every facet of the company pays homage to Meadows' culture – from the company's moniker ("prados" means "meadows" in Spanish) to her brand's charming hummingbird insignia.
The hummingbird has a special two-fold meaning for Meadows.
"To many Indigenous people, the hummingbird is an important symbol, but it means different things to different people. First, it brings me a lot of peace when I see a hummingbird," she said. In Indigenous culture, hummingbirds are often associated with intelligence, beauty and love.
Hailing from a quaint farm town called Texas Hill outside of Yuma, Arizona, Meadows also recalls seeing hummingbirds throughout her grandparents' yard. Since she loved singing as a child, her grandparents even gave her the nickname "Bird."
Meadows' mission to layer intention into every facet of her company stems from her experience shopping for cosmetics as a youth. "I was raised by a beautiful Black woman, my godmother. I went to live with her when I was 15. We had the task of going to Walmart or Target and buying four shades. I have this range of two different colors because the melanin in my skin changes throughout the seasons — and many people don't understand that," she said.
Despite the lack of product options, Meadows still describes buying cosmetics with her godmother as straightforward. "So when someone comes to Prados Beauty, I want the experience to be easy," she explained. "I want you to pick up a blush — whether you're a redbone or a yellow bone, from Sudan, Haiti, Jamaica, Oaxaca, Cree from Canada — or wherever, you'll know our cosmetics will work for your skin tone."
"It's important to know where you come from and respect that, because the products that work for someone else aren't necessarily going to work for you. And so being inclusive, to me, is the ultimate thing," she said.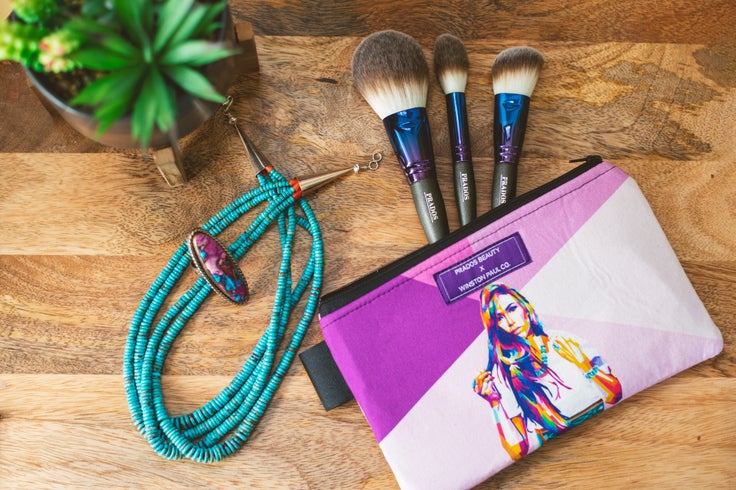 In addition to drawing inspiration from the strength of her godmother, Meadows is inspired by the journeys of other remarkable women, such as the late author and poet Maya Angelou.
"Reading about Angelou's life and the things she went through makes you step back for a moment and think to yourself, 'There are so many amazing women in this world, and they do incredible things!' I don't think they do it for the craze of being an inspiration. I think they just do it because it's their life purpose," she said.
These real-life chronicles have further motivated Meadows to share her spotlight with others.
"Me being Xicana and Indigenous, I work with other tribal nations, and there's beauty in that — to say people put us all in these little boxes, and they try to separate us, but at the end of the day, our stories are very much the same," she said. For example, in 2021, Meadows partnered with Kiowa and Choctaw filmmaker, director, writer and artist Steven Paul Judd on multiple Prados Beauty collections.
Before founding Prados Beauty in 2018, Meadows worked for major finance companies that didn't fulfill her passion and purpose. "It was always hard to have my full heart and soul into something I knew wasn't built to benefit us. It was built to wrangle us in and make us consumers of their product. Many people don't understand that that's what they're doing, but when you're working in that world, you learn the game," Meadows said. "So, I utilized those tools to figure out how I could make a global beauty brand and make it inclusive and relatable, and make it as a teaching tool so that when people came to Prados Beauty, they wouldn't just see beautiful cosmetics and makeup. They would see our story about how resilient Native American people are."
Her sincerity in sharing her truth and her keen insight into what makes a quality product make Meadows a champion for all types of makeup-wearers around the globe, especially people of color. "[I'm] able to create something that tells a story, unites people, shows the world that Indigenous people aren't just a history lesson like, 'Oh, the Pilgrims came, and they killed them all, and they died. Then they had Thanksgiving, and it was a great time,'" Meadows said.
"As Indigenous and Native Americans, we're successful people. We're doctors, lawyers, firefighters, entrepreneurs and designers — we're all things we weren't supposed to be."
The brand amplifies Meadows' and her community's contributions and shows the world that they're still here to share beautiful traditions, customs and intentions for a more just tomorrow.