Merrell recently launched the Moab 3 x Unlikely Hikers hiking boot, a playful and size-inclusive version of the brand's bestselling hiker. The collaboration was designed in close partnership with Unlikely Hikers, an outdoor community that celebrates diversity, encourages authenticity and actively works to protect and promote the outdoors as a free, open and safe space for all.
The updated Moab 3 hiking boot, which was released in September, provides greater comfort, increased traction and more sustainable materials than previous versions of the Merrell Moab hiking boot. It features a Vibram outsole with 5-millimeter lugs (deep grooves for better traction), a removable contoured footbed for reinforced heel support, protective and abrasion-resistant rubber heel and toe caps and a built-in heel shock absorber. The boots also feature 100% recycled laces, webbing and breathable mesh lining.
The new collaboration with Unlikely Hikers adds a vibrant colorway and the "My Body Took Me Here" logo on the tongue. The collaboration boots run in extended sizing from women's 5 through 13 and men's 7 through 16. (The traditional Moab 3 sizes are available up to a women's 12 and men's 15.) Wide width sizing options are available in all women's sizing and men's up to size 15.
Waterproof hiking boots designed for everybody and every body
Made for hikers of all sizes and experience levels, the Moab 3 Mid Waterproof x Unlikely Hikers were built to stand up on muddy trails, in damp conditions and along rugged terrain. These durable and size-inclusive hiking boots will keep your feet comfortable, protected and styling on the trail.
"Partnerships [like this] allow us to redefine and reimagine the outdoors through products that amplify the importance of inclusivity in sizing and representation," says Jenny Bruso, founder of Unlikely Hikers. "The right gear and clothing are also a safety issue within outdoor adventures and we need to see ourselves represented in the marketing to even know these things exist to be purchased."
Not in the market for hiking boots? The full Merrell x Unlikely Hiker collection also features two bags, a hat and "My Body Took Me Here" shirts in extended sizing.
Countless studies and globally recognized research point to the physical and mental health benefits of spending time in nature. However, a recent study by Merrell unveiled numerous barriers that many communities face to fully enjoying the outdoors, ultimately preventing them from doing so.
The Merrell Inclusivity in the Outdoors Report found nearly one in five people experience discrimination when outside. Moreover, the report found the LGBTQ+ community is 8% more likely to feel unwelcome in the outdoors than the global total and people of color are 8% to 13% more likely to experience discrimination when outside than white people.
In partnership with Unlikely Hikers, Merrell launched its Unlikely Hikers collection to represent outdoor adventurers who haven't traditionally seen themselves represented in the outdoor industry. The collection aims to inspire, support and celebrate diverse voices, experiences and identities in the outdoors, including people of size; people of color; queer, trans and gender-nonconforming people; people with disabilities; and allies in support of Unlikely Hikers' mission.
"We set out more than six years ago to build a community of hikers and adventurers of all shapes, sizes, genders and abilities after seeing a need to have more diversity represented in the outdoor community," says Bruso. "Now, we're able to give a voice and provide product to those not always heard or represented in the outdoor community."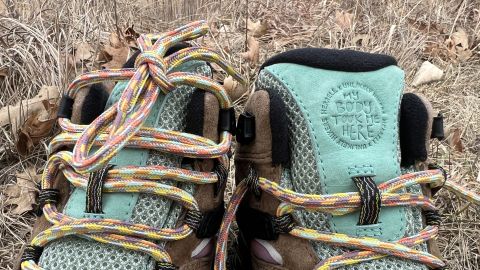 You'll not only turn heads in these flashy boots, but also stay protected and dry on the trail. The Moab 3 x Unlikely Hikers were designed to provide cushion and support when hiking on rough trails and keep moisture out too. They also come in various size, width and height options — which means they cater to all types of hikers.
My favorite thing about these boots is the fact that they're size-inclusive — giving everyone the opportunity to get outdoors. Feet of all different shapes and sizes can find their perfect fit in the Unlikely Hiker Moab 3.
Size options range from women's 5 to 13 and men's 7 to 16. They come in a mid height that rests above the ankle and a low height that rests below the ankle. The mid-height Unlikely Hiker Moab 3 boots come in a medium width and wide width in both women's and men's sizing. The mid-height boots are also waterproof. The men's low-height shoe comes in a wide width option, but the women's does not.
I tend to opt for wide shoe sizes because I find they fit my feet best. Especially when hiking in summer heat or on a long-distance trail, it's nice to have the wide-fit boot to accommodate for when my feet swell and need extra room. These boots are also true to size, which isn't the case for a lot of boots I've worn in the past. Even with a wool hiking sock on, I found my foot fit perfectly inside. I didn't have to worry about my foot slipping and sliding, which leads to blisters, hot spots and irritation around the outside of the foot, toe bed and ankle.
An added bonus of the Unlikely Hikers Moab 3 is the positive messaging stamped on the tongue and inside of the boots. As Unlikely Hikers founder Jenny Bruso describes in a post on Merrell's blog, the "My Body Took Me Here" message reminds us that, "The outdoor industry and social media have, for too long, displayed a very narrow definition of who is 'outdoorsy' that isn't representative of most of us. Unlikely Hikers creates space for people of all body types, sizes, abilities, disabilities and ages. I created the hashtag #mybodytookmehere to honor this and shed light on the unrepresented diversity of bodies in the most diverse space there is: nature."
You won't need to worry about these boots breaking down any time soon after you buy them. The Moab line by Merrell has long been known by the hiking community as some of the longest-lasting and most accessible (in size and price) hiking boots on the market. The Unlikely Hikers version of the boot was designed with even more durable (and sustainable) materials than previous versions.
Constructed with Vibram outsoles, studded with 5-millimeter lugs and reinforced with protective and abrasion-resistant rubber heel and toe caps, these shoes were built for trudging through rugged terrain. The rubber compound sole and Merrell's Air Cushion technology can absorb up to four times the hiker's body weight. I found that when hiking over smaller rocks and roots my feet weren't bothered by uneven ground and obstacles underneath me. This is perfect when needing to navigate rough terrain over a long distance. Normally, the soles of my feet start to get sore from feeling the terrain under my feet. With the Unlikely Hiker Moab 3, that wasn't the case.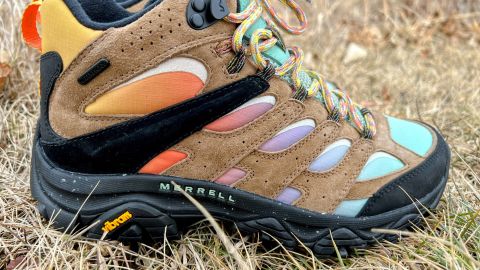 The mid-height version of the Unlikely Hiker Moab 3 gives you the best of both worlds. They keep your feet dry from rain, snow and pools of water on the trail, but also allow your feet to breathe without trapping excess moisture. These hikers are great for all types of adventures all year round.
In the spring and fall when the weather is less predictable, the boot's waterproof membrane seals out water around all sides of the boot. In the summer, when feet tend to get hot and sweaty, they'll be able to breathe through the Moab 3's mesh upper on the sides and tongue of the boot. Merrell also designed the Unlikely Hiker Moab 3 with a bellows tongue to keep debris and dirt out of the inside of the shoe. This style of tongue, which attaches directly to the upper of the boot, also makes the shoe more watertight.
I recently took these boots out on a super-wet and muddy trail at Ryerson Conservation Area outside of Chicago. The bad news: Only five minutes into the hike, the outside of my boots was caked with water and mud. (Oh, no! Not my pretty boots!) The good news: Inside my boots, my feet were completely dry. I also gave these boots a dip test in a stream along the hike. Even when I submerged my boots totally underwater, no moisture seeped in through the outer fabric of the boot. I could instantly see the water bead up on the outside of the boot's waterproof membrane as soon as I pulled them out of the stream.
Note that the low-height Moab 3 x Unlikely Hikers boots do not come in a waterproof option.
Heavy and clunky

Weighing in at 13.57 ounces per shoe, or around 1 pound 11 ounces per pair, these boots are beasts. They have an 11.5-millimeter drop (height of the heel) and 5-millimeter-deep lugs. This is great news for durability and protection on the trail, but bad news if you're looking for a lighter-weight boot.
While I didn't think the weight of these boots inhibited me in any way on the trail, I probably wouldn't opt for these boots on a long-distance hike. The weight of these boots was the biggest issue for me when hiking along muddy trails. Mud clung to the sole of the boot once it was wedged in between the 5mm lugs and around the boot's heel. I found myself struggling to keep my normal pace while hiking with the extra added weight under my feet.
The Unlikely Hiker Moab 3 is heavily padded around the inner lining and collar of the boots. This extra padding was great for added support around my ankles, but also caused some unexpected irritation while hiking. The V-shaped cut of the collar of the boot also rested against the base of my ankle. After hiking in the mid-height boots for more than a couple of miles, I started to feel a slight irritation against the underside of my ankle. The irritation increased even more when walking on uneven ground. Wearing higher and thicker socks could help prevent some of this irritation. However, as you break in these boots over time, this agitation will likely fade.
It's safe to say there are no other boots on the market that share the same aesthetic as the Moab 3 x Unlikely Hikers. The rainbow gradient upper and turquoise tongue pop against the classic brown and black suede accents of the boot, creating a unique look that embodies a playful and creative style and expression.
In terms of weight and fit, a number of boots compare. Other mid-height waterproof boots, like the REI Co-op Flash Hiking Boots ($150) and the Hoka Anacapa Mid GTX Hiking Boots ($185), are slightly more expensive and clock in around the same weight. In comparison to the Unlikely Hikers x Moab 3 boots that weigh in at about 1 pound 11 ounces per pair, the Hoka Anacapa boots weigh in at 1 pound 12 ounces and the REI Flash boots weigh in at 1 pound 13 ounces per pair. I found the Hoka Anacapa to have a bit more give and flexibility while hiking over rocky terrain and the REI Flash boots stiffer than the Unlikely Hikers x Moab 3 boots.
If you're searching for similarly waterproof mid-height hiking boots but are concerned about weight, check out the Salomon Outpulse Mid Gore-Tex ($160) or the Danner Trail 2650 Mid GTX FG ($210) boots. Both weigh in around 1 pound 7 ounces for the pair, but are more expensive.
We recognize that rainbow hiking boots might not be for everyone. But if you're looking for a durable and waterproof hiker that can accommodate larger foot shapes and sizes, you can't go wrong with the Moab 3 x Unlikely Hikers hiking boots. These boots are my go-to for trips from casual day hikes to rugged adventures, and are more than reliable while hiking nearly every season of the year (minus winter). From their durable build to extended sizing, these boots were made not only to perform, but also to protect your feet on the trail.
Merrell's Moab 3 collaboration with Unlikely Hikers reminds us the outdoors are for everyone. It also reminds us that our bodies — all bodies — are capable of taking us on amazing adventures in the outdoors.
Related: The best winter hiking essentials, according to experts