CNN
 — 

A 13-year-old girl reported missing in Dallas was found locked in a shed more than 1,000 miles away in North Carolina after she was abducted and raped by a man she met on a social media platform, authorities said.
The girl was found in Lexington, about an hour's drive northeast of Charlotte, the Davidson County Sheriff's Office said in a news release.
The sheriff's office said it was contacted about the case Friday evening by a special agent with the FBI in Texas. The FBI, working with Dallas police, determined an adult man had been chatting with the girl online, the sheriff's office said.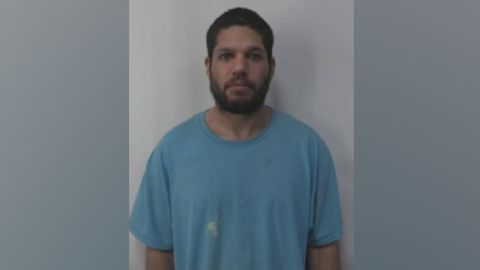 "The content of the chat was consistent with grooming and enticement," the release said.
Cameras near the teen's home captured a vehicle registered to a man living in Davidson County and the sheriff's office, along with agents from the FBI field office in Greensboro, located the vehicle and conducted a traffic stop as it was leaving the registered address, officials said.
"During the traffic stop, it was determined that the juvenile was locked in an outbuilding on the (suspect's) property," the release said. Investigators opened the shed and found the girl, the sheriff's office said. She underwent an evaluation at a hospital and was later taken back to Texas.
The suspect, 34-year-old Jorge Ivan Santos Camacho, was arrested and faces eight felony charges, including child abduction, felonious restraint, human trafficking and statutory rape of a child, the sheriff's office said.
He was being held in the Davidson County Jail on a $1,250,000 bond. CNN has been unable to determine if Camacho has an attorney.
Davidson County Sheriff Richie Simmons at a news conference Monday warned of the dangers teens face on internet chat platforms.
"This is becoming a major problem," Simmons said.
He urged parents to monitor their kids' online activity and educate themselves on "how dangerous these chat platforms are."
The case comes amid renewed attention to the impact social media is having on teens nationwide. President Joe Biden raised the issued in his recent State of the Union address, calling on Congress to pass legislation to protect kids' privacy and safety online.
Last month during a Senate Judiciary Hearing, lawmakers from both parties expressed support for federal regulation of tech platforms to protect children online.