"The Birdcage" helped elevate Nathan Lane from a New York stage performer to a bonafide movie star. The Emmy and Tony winner, however, sees the film's biggest impact as more personal.
Appearing on "Sunday Today," Lane reflected on the smash comedy, in which he and Robin Williams portrayed a Miami gay couple who find themselves in a bind when their son announces his plans to marry the daughter of a deeply conservative politician.
Lane, who is gay, said he'd been open about his sexuality to friends and family long before "The Birdcage" hit theaters in 1996. Still, he feared he'd be ostracized by Hollywood if he spoke too publicly about his private life. In his "Sunday Today" appearance, he told host Willie Geist that Williams stepped in to avoid an uncomfortable conversation as the pair were appearing on "The Oprah Winfrey Show" to promote the film.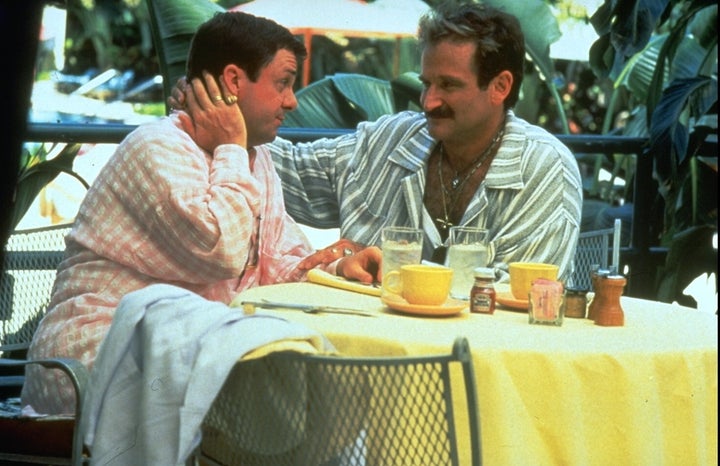 "I finally got a big part in a movie, and I didn't want to make it about my sexuality, although it was sort of unavoidable because of the nature of the film and the character," he recalled. "I don't think Oprah was trying to out me, but I said to Robin beforehand: 'I'm not prepared. I'm so scared of going out there and talking to Oprah. I'm not prepared to discuss that I'm gay on national television. I'm not ready.' He said: 'Oh, it's alright, don't worry about — we don't have to talk about it. We won't talk about it.'"
In the end, Lane said Winfrey asked him questions that hinted at his sexuality, including whether he feared being "typecast" in the wake of his "Birdcage" role, but that Williams made sure the conversation didn't lean too heavily into that discourse.
"Robin sort of swoops in, and diverts Oprah and goes off on a tangent and protects me, because he was a saint," Lane said. "I was terrified … It's great that everyone now feels comfortable, but homophobia is alive and well and there are plenty of gay people who are still hiding."
Of Williams, who died in 2014, he added: "Robin was just the greatest person ― such a beautiful, sensitive soul and so kind and generous to me."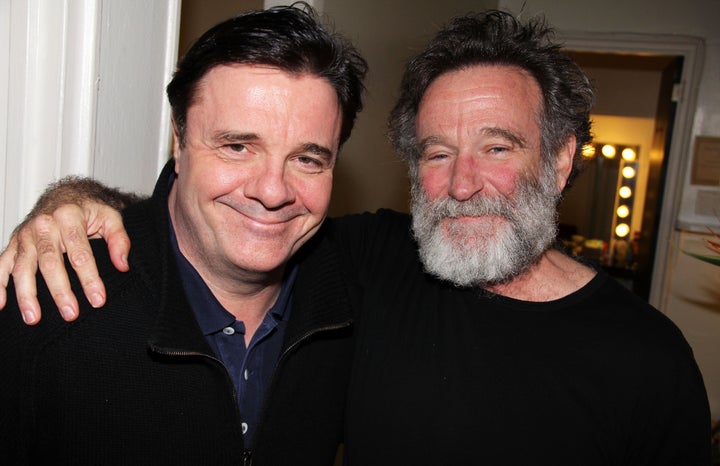 Directed by Mike Nichols, "The Birdcage" is a modernized take on the 1978 Franco-Italian film, "La Cage aux Folles." The film, which also starred Gene Hackman and Calista Flockhart, raked in a reported $185 million at the box office worldwide, while Lane nabbed a Golden Globe nomination for his performance.
Twenty-seven years later, "The Birdcage" continues to be cited as a pioneering film in terms of its depiction of a same-sex couple who also happen to be parents. For his part, Lane finds comfort when viewers tell him that the movie helped them realize they were LGBTQ, or prompted them to embrace a loved one who feared being shunned because of their queer identity.
"I think people just love the movie, because it's funny," he said. "It's disarming, that's how you draw people in."
These days, Lane is once again on a professional high. Last year, he won an Emmy for his guest appearance on Hulu's "Only Murders in the Building." This spring, he's starring alongside Danny Burstein and Zoë Wanamaker in the play "Pictures from Home," now on Broadway.
Watch part of Nathan Lane's "Sunday Today" interview below.