"RuPaul's Drag Race" put Mo Heart and Trixie Mattel on the Hollywood map, and the competition series gave the pair a foundation that has since allowed them to pursue new endeavors in TV and music.
In spite of the two drag artists' continued success, they can't resist sharing a moment of fashion nostalgia — as evidenced by next week's episode of "The Walk In," Heart's Amazon Music video series.
HuffPost caught a sneak peek at Mattel's upcoming appearance. In a clip, the drag queen shows off the custom-made gown she wore on the Season 7 finale of "Drag Race" in 2015, remembering it as "the first time I ever felt gorgeous."
"When I was 18, watching fashion shows on YouTube, the person who made some of those outfits made this," she says of designer Traver Rains, who co-founded the fashion label Heatherette and created the dress exclusively for Mattel.
The look, she tells Heart, was not as well received as she'd hoped. Still, she adds, "I loved it and I'll never get rid of it."
Watch a clip from "The Walk In" below:
In an interview with HuffPost, Heart gushed about her "amazing" on-camera reunion with Mattel.
"She's been such an example to me in my career, and all of her endeavors inspire me to be great," said Heart, who competed on the 10th season of "Drag Race" in 2018. "She taught me to say no to the things that would make you money today, so you can say yes to the things you want to say yes to that will pay you tomorrow."
Now in its fourth season, "The Walk In" follows Heart as she raids the closets of some of music's biggest stars, who are usually more than happy to share behind-the-scenes details of their most iconic fashion moments.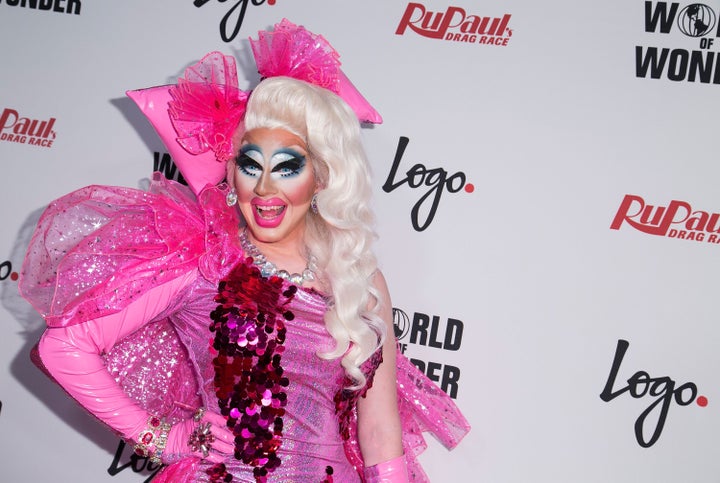 Working on "The Walk In," Heart said, has been a powerful reminder of "how moving conversation can be, and how impactful spending time with someone and listening to their story can be."
Ultimately, she's hopeful her work will inspire viewers from all walks of life, particularly as conservative-leaning states across the U.S. mount a legislative crackdown on LGBTQ+ culture, including drag performances.
"I'm truly blessed to be able to have this dream job where I meet so many wonderful, successful and interesting people," Heart explained. "I want queer people to know that they can do anything, and they can whenever they want and need to look at me as an example."