Editor's Note: Sign up to get this weekly column as a newsletter. We're looking back at the strongest, smartest opinion takes of the week from CNN and other outlets.


CNN
 — 

It was 10 years ago that "Florida Man" emerged as a buzzy Twitter account documenting outlandish headlines from the Sunshine State, but the meme can be traced back to the 1500s, during the days of Spanish explorer Juan Ponce de León's supposed quest for the fountain of youth in Florida.
In the Washington Post last year, Julio Capó Jr. and Tyler Gillespie tracked the origins of the meme through centuries of colonial and state history, and concluded, "The internet turned Florida Man into a Southern Gothic figure of indulgence, decadence and questionable decisions."
With the 2024 presidential campaign about to ramp up, Republicans are facing the prospect of having two Florida men as frontrunners. One is the former president, Donald Trump, who despite two impeachments and a sea of legal troubles, still retains a strong hold on the party's base from his Mar-a-Lago estate in Palm Beach and vowed Saturday at the Conservative Political Action Conference to be the agent of "retribution" on behalf of aggrieved voters.
The other is the state's culture-warring governor, Ron DeSantis, the so-far undeclared candidate who grew up on Florida's Gulf Coast. He is talking up his new book and winning the support of many wealthy donors as early polls show he is the strongest Republican challenger to Trump.
Trump has road-tested a variety of derogatory nicknames for DeSantis, while the governor has only pushed back obliquely. Yet within their party, Trump and DeSantis are aligned — and at the opposite end of the ideological spectrum from yet another Florida man, former Gov. Jeb Bush, who was the early leader of the Republican field for 2016.
"In this environment, old-guard corporate Republicanism is not up to the task at hand," DeSantis declares in his book, sounding a note that Trump could well agree with. The governor, fresh from his battle with Disney, implied that he is best suited to oppose "large, publicly traded corporations lining up behind leftist causes."
At CPAC, Trump said, the GOP is "never going back to the party of Paul Ryan, Karl Rove and Jeb Bush."
How did DeSantis rise to potentially challenge Trump? Justin Sayfie, a former adviser to Jeb Bush and partner at a lobbying firm, attributes "his rapid national ascent" to "the early pandemic in 2020 when he became a hero to millions for filling a vacuum of leadership at a time of global crisis and uncertainty."
"Vulnerable older adults in Florida witnessed how he prioritized their health and safety by prohibiting transfers of patients infected with the coronavirus from hospitals into long-term care facilities, unlike in New York," Sayfie wrote. "Parents of Florida schoolchildren witnessed how he focused on keeping schools open, so students wouldn't fall behind in their learning. Small-business owners witnessed how he battled to get and keep businesses open, so they and their employees could continue to feed their families during the pandemic."
And the flood of tourists to Florida took note. Moreover, DeSantis has a knack for picking issues that unite Republicans and divide Democrats, Sayfie observed.
Reading the governor's new book, Jay Parini noted that "everywhere … one senses his rage against political correctness. He rails, on nearly every page, about 'the woke agenda' that he sees permeating almost every level of life in America…"
"The title of this book must surely be ironic: 'The Courage to Be Free.' DeSantis is all about the restriction of freedoms wherever possible. He wants to cancel librarians who allow kids to read certain Black or LGBTQ writers and to fire tenured professors in the state university system who teach 'woke' ideas. He wants to restrict the rights of women seeking abortions and those of LGBTQ people seeking to live their lives. He hopes to punish corporations, such as the Walt Disney Company, for criticizing his policies."
In Parini's view, DeSantis is "a chilly man, with a heart of ice and — like so many politicians on both the right and left these days — full of resentments, grudges and the urge to destroy anyone who doesn't agree with him. … I shudder to think what he might do if handed the presidential bully pulpit."
The first primaries won't start until early next year, so there's still plenty of time for GOP contenders from states other than Florida to jostle for the nomination.
For more on politics:
SE Cupp: CPAC allowed Trump's 'cartoonish displays of buffoonery'
Jon Gabriel: Biden needs to admit his immigration policies have failed
Paul Begala: The move that's sure to elect Trump in 2024
John Avlon: Republicans shouldn't underestimate Tim Scott
For as long as people have existed, they've wondered about the big questions — why we're here, what comes next and whether there is life elsewhere in the universe. "The important thing is not to stop questioning," said Albert Einstein. In the day-to-day swirl of life, adults may set those queries aside, but they remain front of mind for many children.
This weekend, CNN Opinion launched the first in a series of videos featuring questions from kids and answers from some of the world's foremost experts. In a collaboration with the Templeton Foundation, CNN's Kirsi Goldynia and Mackenzie Happe produced a video in which Anthea, a 9-year-old Brooklyn student, asked theoretical physicist Brian Greene, "What existed before the universe?" We hope you'll watch Greene's reply — and let us know what you think.
"Student loan debt is crushing, and it has exploded in the last few decades," observed Jill Filipovic. Many of the more than 43 million Americans who collectively owe $1.75 trillion dollars cheered when President Joe Biden announced a plan to forgive as much as $20,000 per borrower.
But six Republican-led states and two debt holders have filed lawsuits challenging the policy, claiming it's "beyond the scope of Biden's power; he's using Covid as a pretext, they say, for a law that should be approved by Congress," Filipovic noted. Supreme Court justices heard arguments in the case Tuesday.
"The Republican talking point," she added "is that Biden's plan is a massive taxpayer giveaway, and that he cunningly used Covid as an excuse to push through a policy Congress would have never approved. So it's worth asking Republican politicians: Why won't Congress act to relieve student loan debt — even if it means making the uber-wealthy and large corporations pay more in taxes — and improve the economic and personal futures of so many young people?"
The US Department of Energy lent new credibility to the theory that the virus that causes Covid-19 accidentally leaked from a lab in Wuhan, China, saying last week that it has "low confidence" in that assessment. Then FBI Director Christopher Wray said his agency thinks the pandemic "most likely" resulted from a "potential lab incident in Wuhan."
Peter Bergen noted that "we may never truly know how the Covid-19 virus originated because the Chinese government didn't allow international inspectors into Wuhan for weeks after a new mysterious, lethal virus first emerged there in December 2019."
Covid has killed 6.8 million people, including 1.1 million Americans. "And yet the United States hasn't had any systematic examination by the government of how this happened," Bergen wrote. A "Covid-19 commission must be formed to investigate how the virus emerged, which responses to the virus worked or didn't work as it spread across the United States and the lessons learned for how best to prepare for the next pandemic."
The release of Fox Chairman Rupert Murdoch's deposition in a legal filing as part of a lawsuit filed by Dominion Voting Systems has ignited a new debate over the role of Fox News.
"Murdoch acknowledged that some Fox News hosts — Sean Hannity, Jeanine Pirro, Maria Bartiromo and former host Lou Dobbs — endorsed lies that the 2020 presidential election was stolen; and that he gave Jared Kushner confidential information about President Joe Biden's ads and debate strategy in 2020," David Zurawik noted.
"Murdoch's deposition clearly shows the hypocrisy, dishonesty and lack of anything resembling journalistic ethics at the top and in front of the camera at Fox News."
Zurawik considered how this will affect the network's future, writing, "For one thing, Fox was never a news network to begin with. Whereas a news network is a platform built on the premise that one of its first obligations is providing citizens with vetted information that they can use to be free and self-governing, Fox was founded in 1996 as a political platform and run by Roger Ailes, a political operative."
Now, Zurawik argued, "It's become so much deeper culturally. Fox News is a world view, a lifestyle, a way of seeing the world, a 24/7 warm bath of false nostalgia and aggrievement primarily for older adults — some of whom are likely feeling left behind or threatened by the changes in American life."
Four years ago, Lori Lightfoot won nearly 74% of the vote for Chicago's mayor. On Tuesday, she failed to advance to the runoff, having gained the support of just 17% of voters, David Axelrod pointed out.
"Crime — a perennial issue that has bedeviled mayors for decades — is far and away the top concern of Chicago voters. And while she could claim some progress in the past year over 2021, Lightfoot was widely considered a failure on the critical issue of public safety," Axelrod wrote. But there were other issues. "Lightfoot's fall is a more complicated story that goes to a clenched-fist, go-it-alone style of leadership that made consensus hard to build and drove many who should have been her allies away."
How's your Sunday going? According to TikTok creator Marisa Jo Mayes, many people spend the day putting together "insanely long to-do lists" and feeling "paralyzing" pressure to get things ready for the start of the work week.
"As a result," Holly Thomas wrote, "we hit Mondays primed for stress and unable to focus or engage properly with work. This sense of chaotic unease ripples across the week, costing us more in terms of productivity and vitality than any amount of effort can compensate for. Bare minimum Monday devotees instead make the conscious decision to coast on the first day of the working week, thus conserving their energy. 'It was like some magic spell came over me,' Mayes explains. 'I felt better. I wasn't overwhelmed, and I actually got more done than I expected.'"
As a millennial, Thomas feels for Mayes and other GenZers grasping for solutions to overwork. "The first several years of my working life passed in a haze of fluorescent office light and breakfasts consumed any time between 4 and 10 am consisting entirely of caffeine pills, Pepsi Max and coffee. I made less money each month than I'd be charged in rent a decade later and conducted my business and relationships in a permanent state of adrenalized exhaustion. …"
"Unlike millennials, who were at least motivated by the hope that it would all be worth it in the end, there's no such light on the horizon for Gen Z."
Newspapers across the country announced they would stop running "Dilbert" after the comic strip's creator Scott Adams ranted about Black Americans as a "hate group" and told White people to "get the hell away" from them.
Adams complained he was being cancelled, but, as Dean Obeidallah wrote, "this is not 'cancel culture,' but 'consequence culture' where people are rightly held accountable for their words and actions…"
"Adams is just a prime example of the era we live in, a time when some people will say racist or bigoted remarks and then play the victim card, alleging that they have been victimized by 'cancel culture' in hopes of silencing their critics."
"In the minds of people like him, freedom of expression means being free to spew all the hate-filled garbage they want and in response, requiring the rest of us to bite our tongues. But that's not how free speech works. People will and should push back against bigotry."
Winning the NCAA individual all-around title in gymnastics left Onnie Willis Rogers "elated" two decades ago. "But it was a particular kind of joy, tinged with the frustration often felt by the Black athlete who excels in a sport where they are one of only a very few."
"Even during my four years at UCLA, an urban school with a sizable Black population, I was the only Black female gymnast on my team," she wrote. "But I've noticed something different about gymnasts today, and perhaps you have, as well. There are more Black and brown athletes in the sport than ever before. And they are turning out to be a force to be reckoned with…"
"This year, Fisk University is the first HBCU to have an NCAA gymnastics team — an entire team of Black and brown girls doing gymnastics. It's radical. It's transformative. And as Black History Month draws to a close, it's a reminder of what is possible."
For more:
Julian Zelizer: Uncovering the forgotten history of slavery in the North
Peniel E. Joseph: This enduring crime continues to haunt America's efforts for racial justice
The actor Thomas Sadoski recently returned from a trip to war-torn Yemen, in conjunction with his work for the humanitarian organization War Child. He wrote that malnutrition affects as many at 95% of children in some areas.
"The resulting stunted physical development had me convinced that I was in a kindergarten classroom when in fact I was meeting with eight and nine-year-olds. And those children were, as a colleague unnervingly put it, 'the lucky ones.' Over 2 million Yemeni children are not in school, with far too many of them populating the vast child soldiery one must daily maneuver."
"Everywhere is the ache of terminal starvation — the nightmarish effects of which include the inability to regulate body temperature, to produce tears when weeping and then a final decline into ghastly, emaciated, lethargic death. All of which I saw, and which Yemenis endure daily: children's lives snuffed out by globally sanctioned neglect."
Against this backdrop, Sadoski wrote, "To stand callously by and watch indignity lumped upon depravity heaped upon agony is utterly inhuman. Nevertheless, the wheels are steadily in motion for that outcome, as global aid for Yemen is in staggering decline."
Frida Ghitis: The toxic brew poisoning American society
Sara Stewart: 'Cocaine Bear' may actually be a game changer
Q&A with Odessa Rae: How Putin's nemesis finds humor even in the darkness
Marion Messmer: The other nuclear threat you might have missed from Putin's speech
Candace Rondeaux: The higher Wagner's notorious boss rises, the harder he may fall
Tom Vilsack: How the USDA plans to protect families losing SNAP pandemic benefits
AND…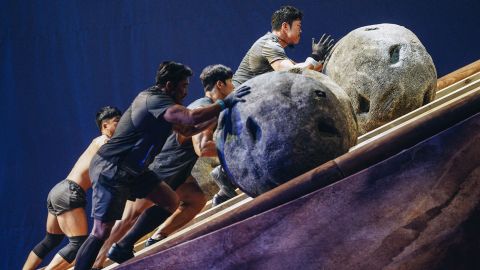 Jeff Yang is closer to Physical zero than 100, but he's still hooked on "Physical 100," the Netflix reality show from South Korea.
"Despite claiming to be a search to find the ultimate physical specimen," he noted, the show was "was more of an acknowledgment that no such single ideal exists; that different types of bodies excel at different types of achievement, and that all kinds of builds deserve respect."
"Losers cheered on survivors; winners reached their hands out to help up the fallen; and the symbolic act of trying your hardest delivered the only real victory that matters — victory over fear and self-doubt."
"As another fan-favorite contestant, 47-year-old MMA fighter Choo Sung-hoon, said after losing in the semifinal round, 'I wanted to prove that people in their 40s and 50s around the world, like me, can beat young people if they work hard. I'm sorry I lost. But old men all over the world! We can still do it!'"