Editor's Note: Sara Stewart is a film and culture writer who lives in western Pennsylvania. The views expressed here are solely the author's own. View more opinion articles on CNN.


CNN
 — 

If I could pick one refrain I heard the most from doctors and nurses during my months of treatment for colon cancer in 2018, it'd be this: "You're so young!" Often, they would follow this up by telling me they were seeing more and more people my age, and younger, being similarly diagnosed. Their distress has been confirmed in a new report released last week, at the start of Colorectal Cancer Awareness Month.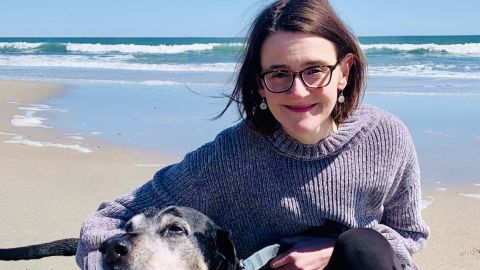 "(T)he proportion of colorectal cancer cases among adults younger than 55 increased from 11% in 1995 to 20% in 2019. There also appears to be an overall shift to more diagnoses of advanced stages of cancer. In 2019, 60% of all new colorectal cases among all ages were advanced," CNN noted from the report.
I was 45 the year I received my shocking diagnosis: stage-3 colon cancer. It was just a few months after the American Cancer Society changed its recommendation for the age at which people should get routine colonoscopies, revising it downward from age 50 to, wouldn't you know it, 45.
Because I'm a relentlessly inquisitive patient — sometimes to the annoyance of my doctors — I would always ask their thoughts on the reason for this trend of younger colorectal cancer diagnoses. And always the answer would be the same: some variation of "well, it's hard to say."
While I recognize medical professionals find it difficult to speculate, and might be in legal jeopardy if they do, I also find it infuriating that there isn't more open discussion about the link between industrially-produced toxins and colorectal cancer. The National Cancer Institute reported in 2020 on scientists "examining factors in the environment as potential causes of early-onset colorectal cancer. Such factors include things like air and water pollution, chemicals in soil and food, and pesticide use."
A Spanish study concluded that same year that "residing in the proximity of industries may be a risk factor for colorectal cancer." But there have been scant studies since then focusing on connecting colorectal cancer and environmental toxins. Considering it's the fourth most commonly-diagnosed cancer in this country and the second leading cause of cancer deaths, it stands to reason there ought to be substantially more studies dedicated exclusively to it.
There is a tendency, when one experiences the terror of a potentially fatal disease, to want to deal with it and then, if you're very lucky, put it behind you. But as the years go on in the wake of my treatment — I'll be at my five-year mark of no evidence of disease this summer — I find myself increasingly frustrated with a lack of systematic investigation of possible environmental causes.
In the category of "risk factors" for younger colorectal cancer patients, there are a few regular culprits, grouped under "lifestyle": certain diets, lack of exercise, excessive weight. For what it's worth: I am a healthy eater, a thin person and a fitness fanatic with no genetic conditions that would favor colorectal cancer. I'm not arguing that these conditions aren't contributors, but given the scope of the increase in diagnoses, it seems worth considering that something else could be at play.
A couple of recently-interviewed experts seem to agree. Dr. Kimmie Ng, director of the Young-Onset Colorectal Cancer Center at the Dana Farber Cancer Institute, told NBC News that "it isn't just diet and lifestyle, there is something else. We see so many young patients with colorectal cancer who follow very healthy lifestyles and diets." And Dr. Folasade P. May, an associate professor of medicine in the University of California, Los Angeles Vatche and Tamar Manoukian Division of Digestive Diseases, says that "when something is affecting people who have their birth years in common, then we know it's something in the environment that has led this whole group of people to have higher rates."
Yes! Finally!
There are an alarming number of reports linking cases of cancer, including colon cancer, to environmental toxins. Industrial toxins and heightened colon cancer rates (often, among other cancers) have been linked in Pompton Lakes, New Jersey; Merrimack, New Hampshire; Satellite Beach, Florida; Akron, Ohio; a school near Ground Zero; Rikers Island, a jail in New York; Juliette, Georgia; and Peterborough, Ontario – the latter being the former site of a General Electric plant.
Of course, as the Satellite Beach story acknowledges, "The complex interplay of genes and infectious and chemical agents obscure cancer's many causes. Relatively small numbers of cases to work with, limited available data on occupational risks, lifestyle and demographic factors also complicate cluster investigations." I'm aware that it's rare for cancer cluster investigations to find an increase in cancer rates because cancer is so common, and it's rarer still to find a clear cause for the cancer.
But I don't think anyone could reasonably argue there isn't a large-scale problem with carcinogens in our environment. We are at a global tipping point where, as The Guardian reported last year, "the cocktail of chemical pollution that pervades the planet now threatens the stability of global ecosystems upon which humanity depends." A study released just last month found that "at least 330 species are contaminated with cancer-causing 'forever chemicals.'" Those chemicals, known as PFAS and present in widely-used items such as nonstick pans and firefighting foam, are only just now under consideration by the Environmental Protection Agency (EPA) to restrict their presence in drinking water in this country.
The sheer scale of the problem seems completely overwhelming. So we need to do the things that are within our power, prevention-wise: making healthy choices and being more open in talking to doctors about worrying symptoms, even if it's embarrassing (it is). Colonoscopies should be available, maybe even recommended, for people in their 30s and early 40s. Perhaps even in their 20s.
For prevention on an environmental level, I'd like to suggest a model I found here in western Pennsylvania, when I wrote about a tiny town called Grant Township. The people here were fighting an oil and gas company's attempt to install a fracking waste well that could potentially poison their groundwater with cancer-causing chemicals. As the residents in this coal-centric region know all too well, the only way to prevent toxic pollution is to stop it from happening in the first place. Once it's in the ground, or air, or water, deep-pocketed companies can and will obfuscate and litigate for years while regular people get sick and die. (I'm still regularly freaked out by the sight of neon-orange streams and rivers in this part of the country, visible proof of the dangers of mine runoff.)
Six years after my story ran, I'm thrilled Grant is still free from toxic dumping – and has garnered some major attention for its efforts. Jon Perry, a then-township supervisor in Grant, asks in a New Republic story: "Should a polluting corporation have the right to inject toxic waste, or should a community have the right to protect itself?" Their case is currently in front of the state supreme court, so we will soon know Pennsylvania's stance. (The oil and gas company, for its part, has said in federal district court that Grant's pushback "is deliberate, arbitrary, and irrational, exceeds the limits of governmental authority, amounts to an abuse of official power, and shocks the conscience.")
As we watch colorectal cancer numbers ticking disturbingly upward in the young, maybe it's time to start asking that kind of question more often and more loudly. Is it easy? No. Is it worth it? Ask anyone who's survived the hell of chemotherapy, and you'll have your answer.