While appearing on Thursday's episode of the podcast "Real Ones With Jon Berthnal," the comedian got real about how he doesn't think his track record of dating 12 people in 10 years is "that crazy."
He also shared how "confusing" fans' intense interest about who he's going out with can be.
Explaining how his love life suddenly became "all anyone would talk about," Davidson told Berthnal, "I'm in my 20s and I've dated people. And for some reason, that's very crazy and interesting to people. I don't think it's interesting."
"I've been in show business for, like, half my life almost — for 14 or 15 years and on a national TV show. In 12 years I've dated 10 people. I don't think that's that crazy, but to some people, that's very interesting. That became all anyone would talk about," the actor shared.
Elsewhere in the interview, he spoke about how his acclaim comes from dating a string of super-hot women and not from being on the iconic "Saturday Night Live" show.
"I'm not on Instagram. I'm not on social media. I'm not, like, flexing, you know what I mean?" the star said, clarifying that he met all of his love interests "at work [and] wasn't in anyone's DMs."
"I worked at one of the five Hollywood epicenters of where you meet people and that's how it happened," he said, adding that he doesn't "have control" over paparazzi taking photos when he goes out.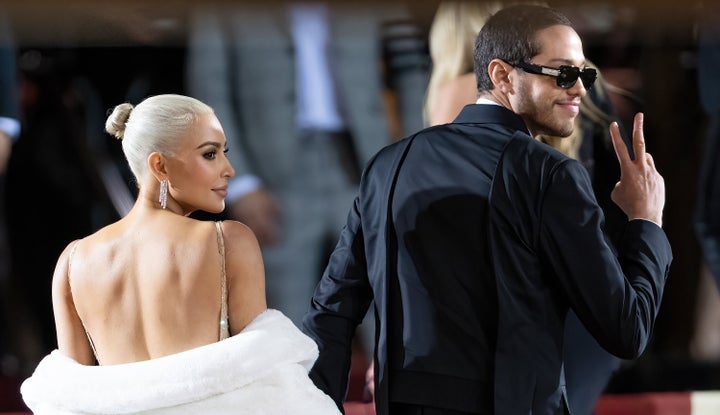 "Suddenly you're in this zeitgeist and that has nothing to do with the work. And that's a really shitty feeling. I became more known before the work was there, but I was always working," he continued.
In recent years, the self-effacing comedian has had a knack for courtship after being romantically linked to a sweeping list of high-profile Hollywood loves.
Davidson has reportedly dated Kim Kardashian, Kate Beckinsale, Ariana Grande, Carly Aquilino, Cazzie David, Margaret Qualley, Kaia Gerber, Phoebe Dynevor, Emily Ratajkowski and Chase Sui Wonders.
After splitting from Kardashian in August, Davidson reportedly began dating Ratajkowski, but things fizzled out quickly. Most recently, he was seen spending time with Wonders, his "Bodies Bodies Bodies" co-star.
In other news, the "King of Staten Island" star is set to team up with Joe Pesci for Peacock's "Bupkis," a fictional series based on Davidson's real life.
The comedy series is set to debut May 4 on Peacock.