Prepare To Brunch With Barbie This Summer At This NYC Pop-Up Restaurant
The hotly anticipated "Barbie" movie won't hit theaters until July, but people looking for a unique and immersive way to celebrate the iconic doll's legacy can do so now in New York.
The Malibu Barbie Café ― produced in affiliation with toy company Mattel ― opened Wednesday in New York's South Street Seaport district. Billed as "the ultimate form of Barbie-inspired dining," the fast-casual pop-up eatery's interior resembles a groovy beach bungalow, complete with an enormous boom box as well as sand, surf and palm trees.
"Everyone has their own Barbie moment and their own Barbie story," Julie Freeland, Mattel's senior director of location-based entertainment, told HuffPost during a press event. "If you are truly a diehard Barbie fan, you're going to walk in the door and feel like you've stepped in Barbie's world."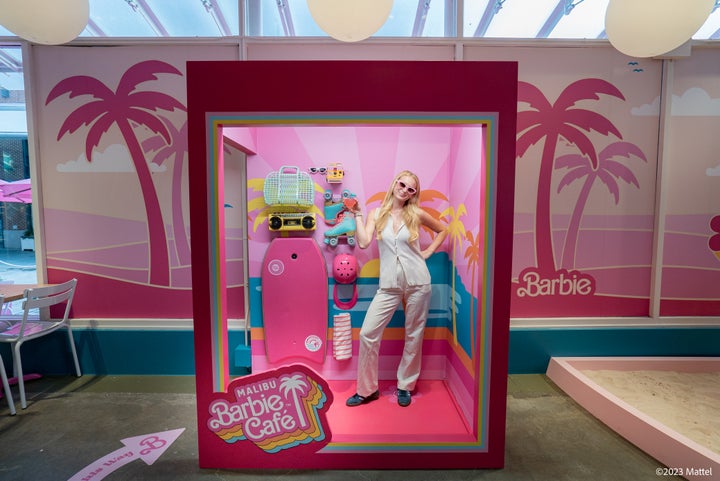 The two-story, 120-seat restaurant takes inspiration from Malibu Barbie, arguably the Mattel doll's best-known incarnation. Unveiled in 1971, Malibu Barbie was the quintessential California surfer girl.
Visitors can pose inside a life-sized Malibu Barbie box, perch atop a lifeguard chair or even "ride" a surfboard, among other photo ops. The restaurant's menu ― which was created by Becky Brown, a semifinalist on the Fox cooking series "MasterChef" ― features a variety of all-day brunch items, including the "Live Your Dream" grilled cheese, the "Pacific Paradise" pancakes and the West Coast wedge salad. In keeping with the restaurant's fitting emphasis on pink, the "Good Vibes" beet hummus is a highlight.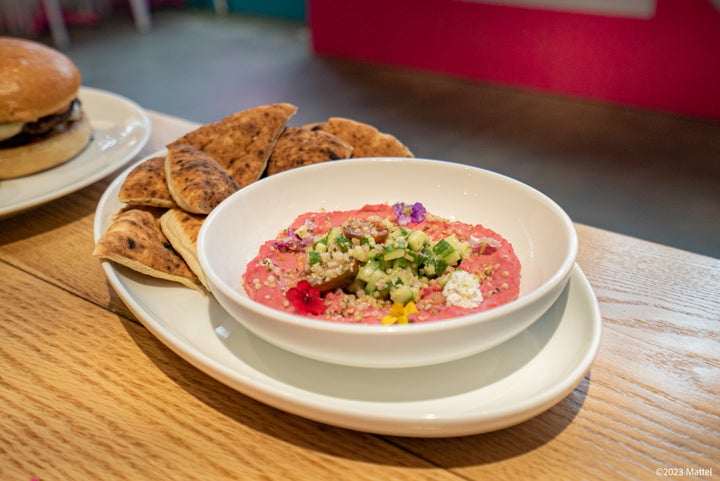 To create the Malibu Barbie Café, Mattel worked with Bucket Listers, an online events company that last year opened a "Golden Girls"-themed pop-up eatery in Los Angeles that later toured major cities across the country.
Similarly, New York won't be the only city to have a Malibu Barbie Café; a second restaurant will open in Chicago on June 7 with a similar menu. After the New York pop-up concludes its run on Sept. 15, it will likely reopen in a new, as-yet-undisclosed location in the U.S.
No doubt organizers are hopeful that the release of the "Barbie" movie will drive interest in the restaurant ― and vice versa. Though details of its plot have been kept under wraps, Greta Gerwig's live-action film boasts an all-star cast, including Margot Robbie and Ryan Gosling, and looks poised to be a box office smash. Mattel Films is one of the production companies behind the film.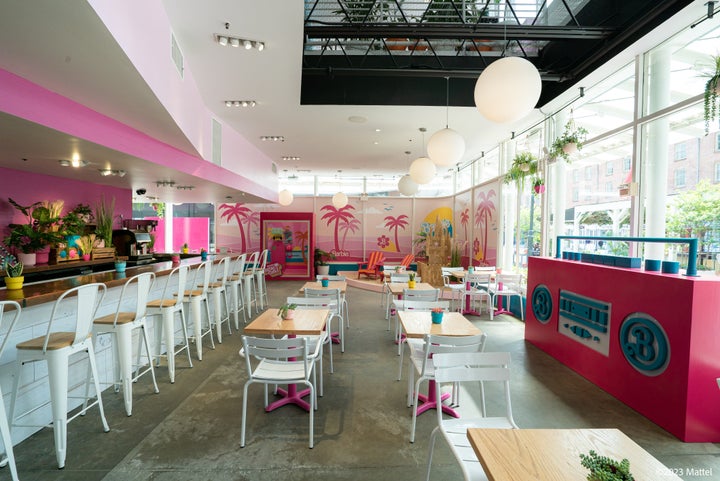 Though Freeland hasn't seen the movie, she believes its anticipated success with audiences is yet another testament to Barbie's longevity.
"She's really changed with society and culturally, and in many cases, she's actually led," she said. "It's not just Malibu Barbie, it's not just blonde Barbie. We had President Barbie before we had a female president. She's all different shapes, sizes and races. Little girls can go and find the doll that resonates with them, that they see themselves in, and that's what's kept her really interesting."