There will always be people who demand only freshly manufactured, shrink-wrapped items in their lives. But then there are the rest of us, who love nothing more than driving by an estate sale, checking out a rummage sale or making well-timed weekly visits to a local secondhand store. For lots of us, thrifting is a fun hobby that allows us to dive into dusty bins and maintain the hope that our treasure hunt will pay off.
For food stylists, set decorators, production designers, prop shop owners and other professionals, finding just the right secondhand item can be an important part of their jobs. We asked how they always seem to find the best stuff, whether it's a perfectly preserved vintage outfit, stand-out home accessories or well-built furniture that will last another lifetime. Here's how they find the best loot.
How To Design Your Own Set — At Home
Melissa Alderton is the owner of Propabilities, a longtime prop rental store in Chicago. She supplies locally filmed TV shows like the "One Chicago" series ("Med," "Fire," "P.D.") and "The Bear," as well as commercials. The term "props" is short for "theatrical property," and it refers to any object an actor uses during a performance. Right now, for example, her shop is carrying items including a gold engraved pocket watch, a costume crown with fake sapphires, a fringed leather Western-style vest, a 1950s bar cart with glass goblets and laminated vintage menus.
Give every sale a chance.
"I always find something when I'm out thrifting," she said. "The other day I drove by an estate sale being held in a very small house, but I found some jewelry for myself, in addition to gardening tools, carpentry tools, Christmas decorations and some truly luxurious art objects.
"My advice is never to be put off by the outside appearance of the space — at least go inside for a quick look around."
Try this "two-step" system.
"First, I do a quick walk-through and things will 'call' to me, almost leap out at me. But then, I go back and see what might have been hiding in the corner. I claim everything right away and start a pile at checkout. You can always return it, but if you don't act fast, someone else might get it."
"If you take a friend, you might be influenced by someone else's tastes. I can go faster by myself, and I know in my gut if I should buy something or not."
"If you want things as cheap as possible, go in the last hours of an estate sale. They'll be eager to reduce the amount of stuff they have to haul away. I've consistently gotten good things at that time."
Practice Makes Perfect
Lisa Golden Schroeder is a food stylist for commercial photography. And when it comes to secondhand shopping, she's always on the lookout for smaller dinner plates, glassware and flatware, especially old silver and serving pieces in unique patterns. "The smaller scale of older pieces works much better for photos," she explained. While she has snagged unusual pieces like an olive serving spoon, a flat tomato server or demitasse spoons, she said that most of the time, "I'm looking for more pedestrian pieces for everyday food photography, like small pitchers for maple syrup or cream, ramekins and interesting napkins and linens."
"My No. 1 tip is to get out looking on a regular basis. It's like foraging for wild food — you won't find anything if you only go out once in a while."
Consider the neighborhood.
"I prowl thrift shops in upscale neighborhoods, because people will donate extraordinarily nice things, like luxury-label clothes for a fraction of the cost. If I'm looking for props for work, I've found that dishes and glassware are an almost certain bargain."
Dress right and bring a bag.
"I try not to over-dress in a bulky coat or anything that could easily bump into displays, since many thrift shops are packed with stuff. Plus, many are small and can be warm, so you don't want to have to shed layers and carry them around when you need your hands free. I also try to carry a folded heavy shopping bag for treasures, since some places will just wrap things in paper or put them into paper grocery bags that can tear easily."
"I never miss the chance to thrift when I travel. I've collected some amazing old silverware and serving pieces that I've hauled home to use in photography."
"It's always worth asking if prices are 'firm.'"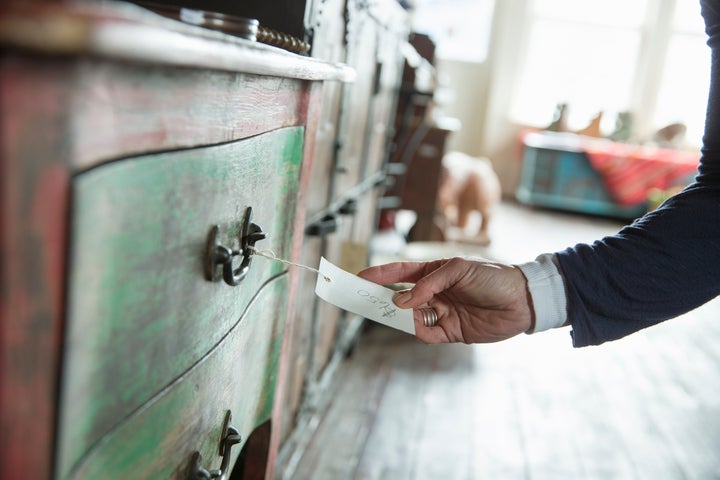 Don't Sleep On Facebook Marketplace
Lori Bohner is a Chicago-based freelance production designer and art director. She works mostly for national commercials, including this one with Chicago Bulls player Zach LaVine. For that commercial, "We needed a freestanding full-length mirror that had an 'old English' look," she said. "We didn't have time to build or order one, but I found just what we needed on Facebook Marketplace. It's no wonder I'm still a big fan of that site."
Like Alderton, she prefers to work alone. "I shop for a living, and I act pretty fast."
"Don't let yourself be sidetracked. I'm usually looking for one specific item, so when I go in a store, I remind myself what I'm looking for. I'll stand in one place and scan left to right, like I'm reading a book."
Hold out for the good stuff.
"Be patient, and wait until you fall in love with something so much that you feel you can't live without it. Otherwise, you'll end up with something in your house that you wish you hadn't bought." If your gut instinct tells you to pass, listen to that.
While Alderton noted the value of showing up at an estate sale when it's winding down, Bohner said that things work differently at a thrift store. "It's too much pressure to find something right when they're starting to turn off the lights, so allow yourself enough time to shop."
Like Schroeder, Bohner is a fan of the well-honed art of dickering, but she adheres to this guideline: "Especially if you're on Facebook Marketplace, don't ask for a discount before you see the item, because the seller is likely to view you as someone who isn't serious about buying, and they might skip down to the next request." Wondering how much of a discount to ask for? "Wait until you're in person with the seller, then ask for about 20% less than what they're asking," she suggests. "If it's a $100 table, ask if they'll take $80, not $20."
Turn Trash Into Treasure
Reyne Hirsch is a 20th century decorative arts dealer and collector who spent 13 seasons on PBS's "Antiques Roadshow." She once found a set of lithographs in an Arkansas thrift shop, bought it for $80, and eventually sold what turned out to be a genuine Picasso for $18,000. So, yeah, her "seek and find" bona fides are top-notch, but her attitude remains down to earth. "I'll dig through any bin at an auction or in a store," she said, describing her thrifting style. "I've found amazing things mixed up in a box lot."
"I've learned over the years that certain cities are better for secondhand finds. Places that have been established a long time, and that had major department stores and lots of well-to-do citizens, tend to be more of a 'target-rich environment' than, say, Texas, where I live. That's not to say things don't show up here, because they do, but we don't tend to see the great finds you get on the East Coast."
"If you're checking out certain thrift shops regularly, ask the manager what day they put out new merchandise. Shops usually have a schedule for sorting, cleaning, pricing and stocking. That matters because if they stock on Tuesday and you always visit on Saturday, all the good stuff will be gone before you arrive."
"You should always have a measuring tape on you. If you're looking for an item to fit in a particular space, measure that before you go. And then measure any item you're considering buying."
"Buy a small, portable black light and bring it with you whenever you shop. You can use it to tell if artworks have been painted over, like if that 'Monet' signature was added last week instead of in the last century. A black light also will show repairs that were made in furniture and pottery, too."
"If it looks too good to be true, it probably is. If you see something described as a Tiffany lamp, and it's selling for $500, then run, don't walk, away from that store. There's a whole lotta fake that's out there, meant to trick someone who's watched one episode of "Antiques Roadshow," so don't spend big money just on a hope."
More Ways To Save
Online Resources
Another person who takes thrifting very seriously is Margaret Wilds, vice president of the Vintage Fashion Guild. "Just gazing down a row of thrift shop clothing — with all the variety — is so much more exciting than looking at a row of monotonous new clothing," she said. Her advice for newbies: "I highly recommend the guidance you can find on our website. Even when you're out shopping, you can use the Label Resource for an idea of the era and notoriety of a label, and once you get home, there is a lot more to look at such as the Fabric Resource and the Care and Cleaning guide. There are active public forums where you can ask questions and VFG members can help."
Finally, she offered these words of wisdom: "Don't buy something because you just kind of like it and it's a good deal. Buy it because it makes your heart sing, and ask yourself if you would regret leaving it behind."