Chanting and carrying picket signs, the protesters ascended the steps of the Capitol in Nashville at 8 a.m. before marching inside ahead of the House's floor session.
"Vote them out!" the group, appearing mostly composed of young adults, shouted in unison. "Gun control, now!"
Signs read "ENOUGH" and "How many more?" while calling attention to the nation's gun violence epidemic.
Inside the Capitol, state representatives brushed past the demonstrators while entering the chamber. Some stopped to offer their support, video taken inside shows.
"You are right and we are grateful to you for being here. This is the voice of the people," Sen. Heidi Campbell (D-Nashville) called to them while pausing on a staircase. "This is what democracy looks like."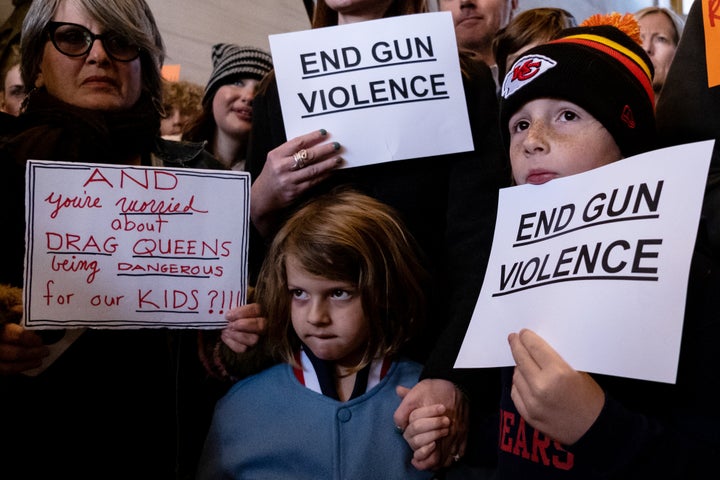 The protests also spread among Democratic leaders on the House floor, with Reps. Justin Jones (Nashville), Justin Pearson (Memphis) and Gloria Johnson (Knoxville) briefly taking over the center podium with a megaphone.
"No action, no peace!" Jones chanted along with protesters who managed to find seats inside the room.
Video captured a visibly angry House Minority Leader Karen Camper (D-Memphis) appearing to reprimand the trio before directing them out of the room. House Speaker Cameron Sexton (R-Crossville) also admonished the interruptions when the House returned to session following a break.
"That is not acceptable behavior. That is not how members to the general assembly should act and what they should do regardless of how high frustration, disappointment, anger, is," he said.
Pearson appeared to stand by his protest in a later tweet that said state Republicans "continue to support gun violence to the detriment of children, parents, and families. We must never quit!"
Thursday's demonstration followed Wednesday's candlelight vigil that memorialized the shooting victims. There, Democratic lawmakers and musicians similarly called for tighter gun control.
"Just two days ago was our city's worst day," Nashville Mayor John Cooper told the crowd, according to The Associated Press. "I so wish we weren't here, but we need to be here." Among those in attendance was first lady Jill Biden.
Absent from both day's events was Tennessee Gov. Bill Lee (R), who has advocated for less restrictive gun laws. In a video message on Tuesday, he urged Tennesseans to pray for the victims' families and said focus should be on strengthening school safety.
"I understand there is pain. I understand the desperation to have answers, to place blame, to argue about a solution that could prevent this horrible tragedy," he said. "There will come a time to ask how a person could do this. There will come a time to discuss and debate policy."
Senate Judiciary Chairman Todd Gardenhire (R-Chatanooga) on Wednesday said gun-related bills will not be taken up this legislative session, however. He reasoned that lawmakers are trying to make the recent shooting "a political issue and take advantage of a complete tragedy," according to Tennessee Lookout.
"We will not hear any gun bills, anything related to gun bills this year. If they want to take them up next year, that'll be fine," Gardenhire said. "This committee is not gonna be turned into a circus by people with other agendas. The agenda on the table now is respecting the privacy of the victims' families that were gunned down and let that healing process start."