ReMarkable — the company behind the incredible paper tablet ReMarkable 2 — just launched its new Type Folio, a keyboard case attachment that transforms the ReMarkable 2 into a full-fledged writing machine. Previously, you could only take handwritten notes on the tablet and convert it to text. Now, with the launch of Type Folio, you can turn your ReMarkable 2 into a mini laptop that can combine handwritten and typed text with ease.
ReMarkable 2 is hailed as "the world's thinnest tablet," according to the ReMarkable website. Specifically, it's a "paper tablet" on which you can digitally take notes, sketch and write using a stylus it dubs as the Marker or Marker Plus (the Marker Plus has a built-in eraser, while the Marker does not). Using the stylus to take handwritten notes is super fluid and feels like writing on paper, with even the same satisfying scratchiness as paper.
At 4.7mm thin and just 14 ounces, it's extremely portable and easy to hold. While its lack of backlight might turn some folks off from it, it's meant to be easier on the eyes so you can focus solely on your writing or sketching. It also lacks internet browser access for a truly distraction-free experience; this is a tablet specifically designed to keep you focused on your creativity instead of constantly checking social media.
The ReMarkable 2 also connects to your mobile device and laptop via Wi-Fi so you can access your notebooks from anywhere you go. With a monthly Connect membership ($3 per month), you can even edit your notes from other devices and receive unlimited cloud storage. With its impeccable hardware and robust software, the ReMarkable 2 is our favorite paper tablet on the market, outperforming even Amazon Kindle's new offering in the Kindle Scribe.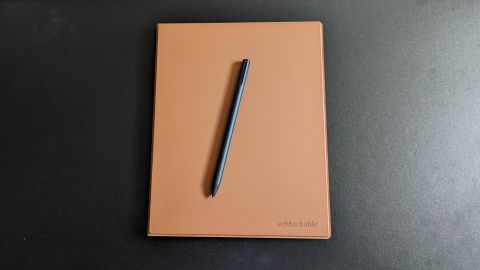 First of all, the Type Folio for ReMarkable 2 is an extremely well-built and gorgeous accessory. It's both a keyboard attachment and protective case in one, and at just 1.3mm thick and 16 ounces, it doesn't add much bulk or weight to your existing ReMarkable tablet. Setup is a cinch — all you have to do is magnetically attach your ReMarkable tablet to the inside of the Type Folio, and voilà! You're ready to go. No Wi-Fi or Bluetooth connection necessary. No having to charge the Type Folio — ever. Just snap it into place and you're ready to start typing.
Despite the Type Folio's slim size, I was never worried about it not protecting my ReMarkable. It covers the entire tablet when closed, leaving just the edges exposed so you can still charge it, power it on or off and magnetically attach the stylus to it. From a closed position, you open the front, then lift and slide the ReMarkable upward to reveal the ultra-slim keyboard underneath. From there, you can prop it so it's in a laptop-like position or you can lay it almost flat to make writing by hand or drawing using the stylus easier.
But let's address the most important factor: typing on the Type Folio. Well, I'm happy to report that using the keyboard is a dream. It's very similar to an Apple Magic Keyboard, but its keys are a little less clicky and — dare I say? — more comfortable. I loved it so much, I decided to type this entire review on it. Getting accustomed to the placement of certain keys like Delete and Shift takes about a couple of minutes of typing, then it's smooth sailing from there. I think the Type Folio works so well because it combines such a slim profile with full-size letter keys. I have a keyboard attachment for my iPad Mini, but I hardly use it anymore because the keys are much smaller than a regular keyboard's and it's extremely cramped to type on. I'm thrilled that this isn't a problem with the Type Folio.
I'm also happy that there's no latency between clicking the keys and text appearing on the screen. I can type 98 words per minute (humblebrag), and the Type Folio had no issues keeping up with me. It felt very much like typing on a laptop, except I could also use the stylus to make handwritten notes in the margins of my text when I wanted or needed to. I took it for a spin at my local coffee shop, and I gotta say, I felt like the coolest person there. The ReMarkable with Type Folio looks like a device of the future with its compact frame and ability to combine handwritten and typed text.
In terms of design, hardware and functionality, there's not much to dislike about the Type Folio for ReMarkable. Unfortunately, though, it all comes at a price: $199, to be exact. That's double the price of an Apple Magic Keyboard and more than most decent mechanical keyboards. Given that the price of a ReMarkable and stylus is already around $400, I'm not sure the price of this accessory will be easy to swallow for most consumers.
For such an expensive device, I'm also bummed that it doesn't include sleep/wake functionality. When you open the cover, it doesn't wake your device, and when you close it, it doesn't put it to sleep. I'm used to this feature on most of the Kindle and Kobo e-readers I own, so its nonexistence here is curious.
If you're an avid writer and ReMarkable 2 owner, the luxe-looking and -feeling Type Folio is a game changer for the tablet, allowing you to effortlessly combine typed text with handwritten notes. I personally enjoy toting it around with me more than even a laptop, as it keeps me focused with its distraction-free backlightless screen and lack of internet browser access. However, the expensive price may turn away even the most devoted paper tablet users.