CNN
 — 

The "Rocky" sequels aren't exactly known for their nuanced opponents, so give "Creed III" credit for trying to flesh out its antagonist, played by Jonathan Majors. But bulking up the back story slows the pacing, in a movie that finally delivers the goods but whose broader ambitions under director/star Michael B. Jordan get boxed in by its ring-shaped formula.
If only the script and story were in the same kind of fighting shape as its leads. Grounding the narrative in Adonis Creed's past does provide a weightier foundation, but the tradeoff is an element of sluggishness in a movie that, despite its impressive cast, never feels particularly light on its toes.
A 20-year-old flashback introduces the young Adonis at a pivotal moment with his friend Damian (Majors when he grows up), a promising Golden Gloves boxer. Something happens that sends the latter to jail, and after his release 18 years later he's eager to make up for lost time, even though he's past what would normally be considered any fighter's prime.
Adonis, meanwhile, is happily retired from the ring, helping develop boxers (including the reigning heavyweight champ) and orchestrate fights, while happily raising his young daughter (Mila Davis-Kent) with his wife Bianca (Tessa Thompson). Still, he carries guilt over what transpired with Damian, resisting Bianca's pleas to open up about their history and what's gnawing at him.
Hoping to make amends, Adonis throws Damian work as a sparring partner for the champ, though his old friend still hungers for the title shot he was denied. When circumstances derail a planned championship bout an opportunity presents itself, with the prospect of giving an unknown his chance drawing comparisons to the late Apollo Creed's long-ago stunt with that Rocky guy.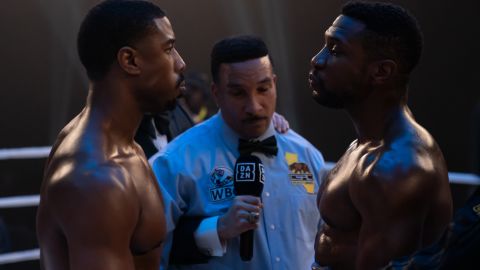 Adonis presses ahead, ignoring the objections of his former trainer and now partner, played by Wood Harris. (Sylvester Stallone, for the first time, has opted to sit this one out, although he is credited among the producers.)
"I still got gas in the tank," Damian insists in response to Adonis' initial skepticism, and Majors – the highlight of the recent "Ant-Man" sequel – invests the character with a quiet sense of menace and determination that does feel combustible.
While that construction makes a good deal of sense ("Creed" director Ryan Coogler shares story credit with his brother, Keenan Coogler, and Zach Baylin), there's a flatness to the middle rounds – including the time devoted to Adonis' domestic bliss – before getting down to business.
The same goes for the boxing sequences, which stumble a bit when Jordan seeks to expand the template by incorporating slow motion and a moment when the world essentially melts away, leaving only the fighters to duke it out in an empty void – an interesting device that ultimately doesn't quite work.
Those deductions aside, the Jordan-Majors dynamic (as it happens, a faceoff of two topnotch Marvel villains) imbues the movie with heavyweight talent in more ways than one. The challenge is that the durability of the "Rocky" franchise from which "Creed" has cleverly drawn in the earlier films makes it as difficult to mess up its simplest charms as it is to enhance or deviate from them.
"Creed III" offers enough appealing elements, old and new, to finally come out ahead on points. Yet those strengths are balanced by shortcomings that make that judgment something seldom seen in this winner-take-all movie world of boxing – namely, a split decision.
"Creed III" premieres March 3 in US theaters. It's rated PG-13.