Whenever new phones are released, the majority of attention is reserved for the flagship, high-end models, like the iPhone 14 Pro Max, Pixel 7 Pro or Galaxy S23 Ultra. And rightfully so; that's where most of the new features and innovation is found.
However, the more affordable and almost as capable entry-level models, such as Samsung's $799 Galaxy S23 and Google's $599 Pixel 7 are definitely worth considering. Not only do you get almost the same experience in a smaller overall package, but it's a decision that will save you hundreds of dollars.
But which affordable Android flagship is better for you? I've spent some time testing both the S23 and Pixel 7 in order to figure out just that.
| | | |
| --- | --- | --- |
| Operating system | Android 13 with One UI 5.1 | Android 13 |
| Display | 6.1-inch Dynamic AMOLED 2X FHD+ display, 120Hz | 6.3-inch FHD+ OLED, 90Hz |
| Processor | Qualcomm Snapdragon 8 Gen 2 | Google Tensor G2 |
| Storage | 128GB / 256GB | 128GB / 256GB |
| Memory | 8GB | 8GB |
| Rear cameras | 50-megapixel wide camera, 12-megapixel ultra wide camera, 10-megapixel telephoto camera with 3X optical zoom | 50-megapixel main camera, 12-megapixel ultra wide camera |
| Front camera | 12-megapixel | 10.8-megapixel |
| Colors | Green, phantom black, lavender, cream, graphite, lime | Lemongrass, snow, obsidian |
| Size and weight | 5.76 x 2.79 x 0.3 inches, 6.9 ounces | 6.1 x 2.9 x 0.3 inches, 7.27 ounces |
| Price | $800 | $500 |
I've been saying it for years — smartphones are boring, particularly when it comes to the overall design. There are only so many changes and tweaks you can make to a rectangular slab of glass, and Samsung's Galaxy S23 along with Google's Pixel 7 are no exception. However, Google's design approach for its smartphones has changed over the last few years, bringing with it unique colors and a slightly, albeit still rectangular, look to the phone's overall design.
I'll just say it — the Galaxy S23 looks like an iPhone 14, especially when the screen's off and it's laying flat on a desk. With the Pixel 7, however, there's no mistaking that it's not an iPhone. It doesn't lay flat on a table, and is instead slightly angled thanks to the camera bar where the dual rear facing cameras are housed. While the S23 is familiar, it's also a safe choice. I'm rather fond of the Pixel 7's different-enough approach; especially the camera bar that just looks cool.
Samsung has several color options for the S23, with four main colors available when you buy the phone through any retailer, and two Samsung.com specific colors. The complete list includes green, phantom black, lavender, cream, graphite and lime — with the latter two being the Samsung-exclusive colors.
Google currently has three color options for the Pixel 7. Two of which — white and obsidian (black) — are, admittedly, boring. However, the lemongrass option, which has a light yellow tint to it, is a definite mood.
There are some size differences between the S23 and Pixel 7 that are worth noting. The S23 has a 6.1-inch display, while the Pixel 7's screen is 6.3 inches. The difference in display size means the overall size of the phones vary, as well. Of course, the S23 is slightly smaller and easier for those with smaller hands to maintain a grip. The Pixel 7 is bigger, but I've found it to be just as usable with one hand, partly because of the camera bump that acts as a ledge that rests on top of my finger while holding the phone.
Neither device is too big, especially when you compare them to the size of phones like the Pixel 7 Pro, S23 Ultra or iPhone 14 Pro Max.
TL;DR: Smartphones generally all look the same, and Samsung's Galaxy S23 is no exception. Google, on the other hand, continues to take a slightly different — if not odd, at times — approach that grows on you.
Samsung's known for its superior displays, and for good reason

Not to say there's anything wrong with the Pixel 7's screen, but the screen on Samsung's Galaxy S23 (and the rest of the S23 lineup, for that matter), looks downright stunning.
The S23 has a 6.1-inch Dynamic AMOLED 2x display, with a total resolution of 2340 x 1080, and a maximum refresh rate of 120Hz. The Pixel 7's 6.3-inch OLED display has a max refresh rate of 90Hz and a resolution of 2400 x 1080.
On paper, the Pixel 7 has a minimal advantage in overall resolution, but that's due to the difference in display size. If you look at pixel density, which equates to the overall sharpness of a display, the S23's 425 ppi narrowly beats out the Pixel 7's 416 ppi. And odds are, you won't truly notice a difference without nitpicking. When playing Asphalt 9, for example, the game looks almost identical on the Pixel 7 and S23. However, the street lights and the background scenery are brighter and more saturated on the S23, leading to a more immersive experience as you race through each track.
The difference in refresh rate between the S23 and Pixel 7 means that common tasks like scrolling through Instagram, a website or long email is going to look buttery smooth on the S23. That doesn't mean the same tasks on the Pixel 7 are going to stutter and look meaningfully worse — a 90Hz refresh rate is still very much a welcomed feature — but the S23's screen has an effortless feel when scrolling to it. As is the case with the overall resolution, the differences in refresh rate come down to nitpicking the finer details of the overall experience.But where I think the S23's display outshines — literally — the Pixel 7 is when it comes to overall brightness, color saturation and refresh rate. I much prefer the overall look and feel of the S23's display in side by side comparisons with the Pixel 7. Colors seem to have that elusive pop to them that many find appealing.
TL;DR: The Galaxy S23's display edges out the Pixel 7 on brightness (handy for outdoor use), speed and overall visual appeal. That said, the Pixel 7's display isn't a negative by any means.
Software is a big piece of this Android puzzle

If Samsung's Galaxy line has an Achilles heel, it's without a doubt the software experience. Out of the box, the S23 runs Android 13 with Samsung's proprietary One UI 5.1 skin that contains broad tweaks and customization over stock Android.
That extra layer of software includes duplicative apps, like Samsung's own Gallery, Internet Messages, Calendar and even a Mail app, to name a few.
The Pixel 7, however, currently runs Android 13 with Google's Pixel Launcher skin, which runs atop stock Android. But for all intents and purposes, the Pixel's operating system is as close to stock Android as you'll get on any Android-powered smartphone. You're not going to find multiple of the same apps, nor are you going to find a long list of extra apps and services from carriers and other partners on a Pixel phone.
What's more, Google likes to use its Pixel phone lineup to launch new features, some of which are exclusive to the Pixel line. For instance, the Pixel's Call Screen feature remains a staple feature for Pixel phones, allowing you to answer and screen incoming calls using Google Assistant. Another phone call-specific feature will use Google Assistant to wait on hold for you whenever you call a business.
A new feature that's limited to the Pixel 7 called Photo Unblur takes old blurry photos and fixes them. It's akin to black magic, and it's limited to Google's latest phones, including the Pixel 7.
Other features, like Magic Eraser that helps you remove unwanted objects and people from photos was a Pixel exclusive feature since its launch in late 2021. But Google recently made it available to all Android and iPhone users who subscribe to Google One. Point being? Pixel users had access to the feature first.
Given the choice, I'd pick Google's software experience over Samsung's every single time.
TL;DR: Samsung's phones are known for having excess software apps and features, while Google's Pixel line takes a more restrained approach. The Pixel is also the first crop of phones to receive major Android updates, serving a playing ground of sorts for Google's latest apps and features.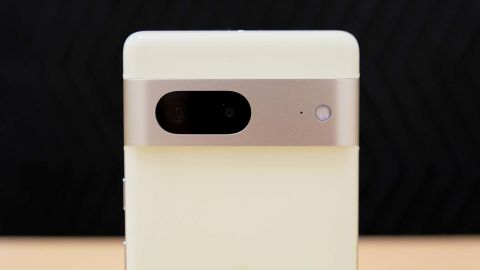 For years, Google's Pixel phones were arguably considered to be the best smartphone camera money could buy. At the very least, it was the best camera setup on an Android phone. But then the Android-maker became complacent, using the same hardware and software tricks without any significant overall gains. Since then, Samsung has confidently sat in the top spot.
So, why the history lesson? Because you can't look at the spec sheet and immediately write off the Pixel 7's camera as inferior.
The Galaxy S23 has three rear cameras: a 50-megapixel main, 12-megapixel ultra wide and 10-megapixel telephoto that offers a 3x optical zoom, in addition to a 30x Space Zoom feature.
The Pixel 7 has two rear-facing cameras. There's a 50-megapixel main camera and 12-megapixel ultra wide camera. The main camera has an 8x Super Res Zoom feature that's similar to the Space Zoom feature of the S23, albeit at a lower amplification.
Both phones are capable of capturing high-quality photos that you'd have no issues sharing across your social media accounts or privately in messages with family. Portrait mode photos on both phones do a good job of identifying the subject and adding depth to the photo.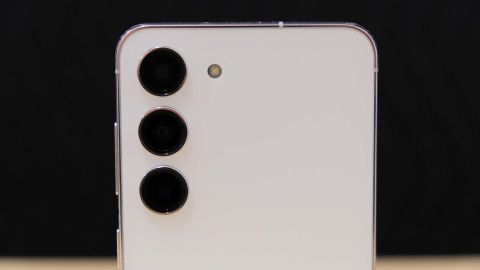 True to form, pictures taken with the Galaxy S23 appear slightly oversaturated, while photos from the Pixel 7 look more true-to-life, but at times, have a dull-looking palette. I'd wager that most people would pick a photo taken with the Galaxy S23 over the Pixel 7 based on the colors alone.
However, the Pixel 7's camera app is slightly faster from the time it takes to launch the camera to snapping a photo — something parents with young children or pet owners will surely appreciate when it comes time to capture a special moment.
One area where the S23 handily excels over the Pixel 7 is with its ability to zoom in on a subject at a long distance. With a 30x total zoom level on the S23, Samsung's offering handily beats the 8x zoom of the Pixel 7. Either zoom level isn't something you'll want to use on a regular basis to capture your most important photos, but it sure does come in handy when trying to capture a stage performance, be it of your favorite musician or your child's elementary school play.
TL;DR: The Galaxy S23 beats out the Pixel 7, but just barely. The S23's photos are arguably more appealing, and its Space Zoom feature gets you up close and personal. The Pixel 7's camera prowess doesn't disappoint, but if we're forced to pick one phone over the other simply based on camera, we're picking the S23.
On paper, the S23 and Pixel 7 aren't competitive when it comes to overall performance. Samsung partnered with Qualcomm for this year's crop of S-series phones, giving the smartphone maker a processor that's optimized for Samsung phones in the Snapdragon 8 Gen 2 for Galaxy. That's boosted by 8GB of memory and either 128GB or 256GB of storage.
Inside the Pixel 7 is Google's own Tensor G2 processor, 8GB of memory and 128GB or 256GB of storage. The Tensor G2 is only Google's second generation processor that was designed in house, and when you put the two devices through the same benchmark app, the performance numbers aren't even close.
Running the recently released Geekbench 6 app that mirrors real world use cases and workloads, the Galaxy S23 scores an average of 1,967 on the single core test, and 5,060 on the multicore test. The Pixel 7 scores 1,429 for single core, and 3,515 for multicore on the same set of tests.
But, again, those results are misleading. While benchmarks are a reliable way to objectively measure performance, the bulk of the performance story is made up of the subjective, every day experience that a user has with a device.
When using the two phones side by side, there's not really a noticeable difference in overall performance. Apps open with ease, gaming is smooth (although it's arguably smoother on the S23's 120Hz display) and any special effects are promptly applied in the camera app.
It's puzzling, right? Sort of. The benefit Google has is akin to Apple's iPhone in that they're both able to control the entire experience — software and hardware — fine-tuning the necessary parts and pieces to provide you with the best overall experience. The end result is a smooth user experience, and in the case of the Pixel, in spite of a measurably slower processor.
(As an aside, and for the record, the S23's processor still isn't as performant as Apple's A15 Bionic, which is found in the iPhone 14 line.)
Battery life between the two phones has been similarly impressive, however the S23's battery has more often had more juice left at the end of the day compared to the Pixel 7.
TL;DR: On paper, the S23 kills the Pixel 7 when it comes to overall performance, but in everyday use, the differences aren't noticeable. The S23's battery bests the Pixel 7, however.
On paper and in daily use, the S23 and Pixel 7 are very similar phones. They both have reliable camera setups, each one with its own approach to how photos should look, and the hardware it takes to make that happen. From performance to battery life, both phones offer a lot of the same. It's not until you start picking apart the design, display and camera that you're forced to make tough decisions.
The gist of it comes down to this: If you want the latest Android features and services Google has to offer, along with strong battery life and a camera that's sure to impress — not to mention a much lower price — the $599 Pixel 7 is an easy pick.
However, there's a reason the Galaxy S23 is our overall best Android phone pick. If you don't mind spending a higher $799 for an objectively faster experience and a camera that's more appealing to the masses (and you don't mind the extra software bloat and boring design), then the Galaxy S23 is where it's at.